Boxing Day @ Bixhead Trial 2019

Final Results
---
For Other Years click on the year below
---
Info
Final Results (Version 2) are linked on the right
Lost & Found - left at a section, Riding top. Contact admin@wgdfmcc.org.uk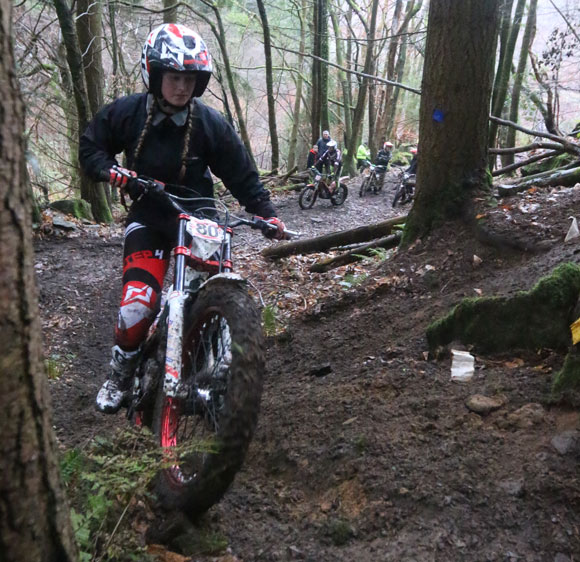 Hannah Moore took second in Sports Plus Class.
---
Snippets
Perhaps we need to re-introduce the Trailbike class, 2 riders had problems with their normal steeds but brought their alternative bikes out and stuck with it to some success. Second thoughts, We have so much trouble deciding if a 4Ride is a trailbike... But, have you seen the changes to the ACU Trailbike championship for 2020? There is a Hybrid class coming.
On what must have been one of the darkest days of winter we are glad to say twelve observers booked themselves in in advance to witness some superb riding in very challenging conditions. Perhaps it was purely because ex trials rider and now one of Britain's top MTB Enduro Masters Dan Bishop delivered the traditional Mulled wine and pies halfway through. Ahhh, warms the heart!
---
Gallery
All pics by Jackie Jones (at section 6). If any riders/parents would like shots emailed to them then please ask. admin@wgdfmcc.org.uk
| | |
| --- | --- |
| Fin Kettle heads for a 3 | Sports route climbed the same hill! |
| BVM's Craig Talbot managed one of only five cleans. See his Video below. | Winner Tom Moss gave the master class on the same rock. 3 cleans! |
---
Video
Bulto Boy Ben and BVM grabbed a few clips from the event.
---
Section Statistics
Section
Score Incidence
Tot
No.
0
1
2
3
5
10
Marks
Avg
Expert
1
7
5
4
6
10
0
81
2.53
2
9
1
3
5
13
0
87
2.81
3
8
7
1
7
8
0
70
2.26
4
12
4
3
5
7
0
60
1.94
5
6
4
5
10
6
0
74
2.39
6
5
3
5
5
13
0
93
3
7
7
2
5
8
9
0
81
2.61
8
8
8
3
6
7
0
67
2.09
9
3
2
0
7
19
0
118
3.81
10
6
5
1
2
17
0
98
3.16
11
2
12
4
10
3
0
65
2.1
12
8
7
5
10
1
0
52
1.68
Rte Tot:
81
60
39
81
113
0
946
2.53
Clubman/Expert
1
1
0
1
2
11
0
63
4.2
2
12
0
1
1
1
0
10
0.67
3
0
2
1
5
7
0
54
3.6
4
11
2
1
1
0
0
7
0.47
5
0
2
1
3
9
0
58
3.87
6
6
4
0
3
2
0
23
1.53
7
1
2
1
2
9
0
55
3.67
8
9
2
2
1
1
0
14
0.93
9
3
1
2
5
4
0
40
2.67
10
2
2
1
0
10
0
54
3.6
11
11
0
0
3
1
0
14
0.93
12
0
1
2
6
6
0
53
3.53
Rte Tot:
56
18
13
32
61
0
445
2.47
Clubman
1
10
9
4
11
20
0
150
2.78
2
41
9
1
2
1
0
22
0.41
3
29
8
6
4
7
0
67
1.24
4
18
9
6
16
5
0
94
1.74
5
23
6
9
16
0
0
72
1.33
6
21
11
5
11
6
0
84
1.56
7
3
4
0
3
44
0
233
4.31
8
27
9
1
15
2
0
66
1.22
9
10
1
0
20
23
0
176
3.26
10
24
10
7
7
6
0
75
1.39
11
38
5
4
4
3
0
40
0.74
12
31
12
7
4
0
0
38
0.7
Rte Tot:
275
93
50
113
117
0
1117
1.72
Sports Plus
1
5
11
0
0
0
0
11
0.69
2
11
2
2
1
0
0
9
0.56
3
3
2
2
4
5
0
43
2.69
4
2
1
2
10
1
0
40
2.5
5
4
5
1
6
0
0
25
1.56
6
12
2
1
1
0
0
7
0.44
7
15
2
0
0
0
0
2
0.12
8
17
0
0
0
0
0
0
0
9
12
1
1
2
2
0
19
1.06
10
6
1
2
4
3
0
32
2
11
16
0
0
0
0
0
0
0
12
2
3
3
6
2
0
37
2.31
Rte Tot:
105
30
14
34
13
0
225
1.15
Sportsman
1
8
11
4
4
1
0
36
1.29
2
19
7
1
0
0
0
9
0.33
3
23
2
2
0
0
0
6
0.22
4
4
6
5
12
0
0
52
1.93
5
12
8
3
4
0
0
26
0.96
6
10
8
4
2
3
0
37
1.37
7
29
0
0
0
0
0
0
0
8
22
3
0
1
2
0
16
0.57
9
17
4
0
7
0
0
25
0.89
10
4
3
3
15
3
0
69
2.46
11
25
3
0
0
0
0
3
0.11
12
27
0
0
1
0
0
3
0.11
Rte Tot:
200
55
22
46
9
0
282
0.85
Sports Minus
1
2
1
0
3
0
0
10
1.67
2
5
0
0
0
1
0
5
0.83
3
3
1
0
2
0
0
7
1.17
4
2
1
1
2
0
0
9
1.5
5
2
2
0
2
0
0
8
1.33
6
2
0
1
0
3
0
17
2.83
7
6
0
0
0
0
0
0
0
8
2
1
0
2
1
0
12
2
9
1
0
1
1
3
0
20
3.33
10
0
0
0
0
6
0
30
5
11
4
1
0
1
0
0
4
0.67
12
5
0
1
0
0
0
2
0.33
Rte Tot:
34
7
4
13
14
0
124
1.72
Conducted Standard
1
0
1
6
1
0
0
16
2
2
1
4
0
3
0
0
13
1.62
3
0
6
2
0
0
0
10
1.25
4
0
3
4
1
0
0
14
1.75
5
1
6
0
1
0
0
9
1.12
6
5
3
0
0
0
0
3
0.38
7
7
1
0
0
0
0
1
0.12
Rte Tot:
14
24
12
6
0
0
66
1.18
| Make. | Qty |
| --- | --- |
| Beta | 19 |
| Gas Gas | 15 |
| TRS | 9 |
| Montesa | 9 |
| Oset | 3 |
| Vertigo | 2 |
| Sherco | 2 |
| Scorpa | 1 |
| Club. | Qty |
| --- | --- |
| West Glos & Dean Forest MCC | 23 |
| Zona 1 | 8 |
| Gloucester & Cotswold | 5 |
| Wilts Border MC & LCC | 3 |
| Swindon + District MCC | 3 |
| Kingswood MCC | 2 |
| Stroud Valley AC | 2 |
| Cheltenham Home Guard MCC | 2 |
| Hookwood Trials Club | 2 |
| Horsham & District MCC | 2 |
| Builth Wells | 1 |
| Eastbourne & District MCC | 1 |
| British Arny Motor Cycling Association | 1 |
| Neath Motor Club | 1 |
| Normandy MCC | 1 |
| North Somerset Motorsports Club | 1 |
| The Motor Cycling Club | 1 |
| Malvern | 1 |
---