Boxing Day Trial - 2017

Final Results
---
For Other Years click on the year below
---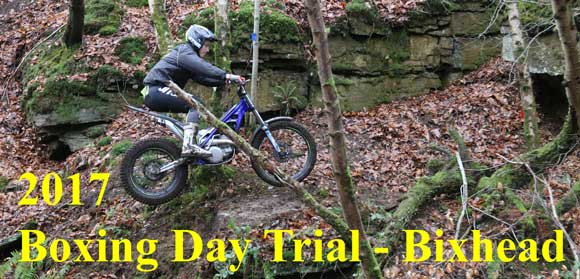 Info
FINAL Results are now linked on the right. These are same as version 2 but now include Award allocations.
---
Snippets
Did you spot that we've uprated the Section Statistics to show the average score per section per route? It certainly highlights the difficulty (and how hard the conducted route was. 'Think on' Adult Experts, you had it easy!) And because the information is there in the system, What type of bike is most popular at this event? Easy, see the extra Bike Stats table.
We sure got lucky with the weather - Rained solid for 4 hours the previous evening then started raining an hour after we'd cleared up, then snow the next morning.
We have held the Boxing Day Trial at a number of venues over the years. Back when I was 13 it was at Ned's Top at Lydney, then Jerk's Rough at Aylburton Common then up to Bixhead. Has anyone got a set of results showing other venues we've used or can remember where and when? Yes, actually - Ben Bish remembers a few extra venues: The Chicken Farm at Clearwell, The Royal Spring at Lydbrook and possibly Fetter Hill. Anyone else remember them or more?
Talking to winner Si Welch afterwards, he thinks he's never won the trial before. So this is number one. I'll get the files out and see if we have records for a roll of honour (now on right) - Has anyone got sheets from previous years?
We do have some videos from previous years, try the links on the right.
Our valiant observers were treated to a festive visit from Dan Bishop mid-trial with a Hot mulled wine delivery service before getting conscripted himself. Many many thanks to them all as they all stepped up well before the event to book-in. This gave Ben and Darren the confidence to plan for 12 sections.
The conducted route proved a tough one. Boxing Day has always been tough with the adults having to dig deep and try everything to avoid 5's. No reason why the younger ones shouldn't have a taste every now and then. Big thanks to Richard Morman who donated extra chocolates for the conducted's with enough left over for Observers and helpers with kids.
There was a number of riders having to pull out with the lurgy making a big impact. One rider had an even better excuse - 'partner is just having a baby' - Congrats from all of us Paul Pickup. Mind you, some riders have tried that excuse 3 times already!
---
Video
Jackie caught a few of you on film. Click the Vimeo logo for better quality/size options.
West Glos. Boxing Day Trial 2017 from Colin & Jackie Jones on Vimeo.
---
Gallery
Just a few shots from the day by Jackie Jones.
If any riders/parents would like shots emailed to them then please ask (Jackie took more than shown). admin@wgdfmcc.org.uk
| | |
| --- | --- |
| Dan Sanders The Wye Valley CofC takes 2nd in Club/Exp on Old Tech! on Dave Eeles' section. | Brendon Kedward found every straight line possible. |
| Steve Wallwin drops 1 dopey 5 too many for 2nd in Sports Plus. | Bruce Bendall was one of 3 or more to ride their bikes from home - good job those winkers stayed intact! |
| Battery power will get you around a whole trial. | Chepstow's John Jones proves age doesn't stop you riding harder routes. |
| Si says: "I'll hold the spindle and the footrest, you just make it look like you got up there on your own Matt". | Harry Jeffries an organiser's favourite, sadly had to retire. |
| Now Matt showed him how, Simon cleaned Dave Eeles's step. But slipped up on the last lap - And guess what, we caught it on video - coming soon. | Matt Christopher cleans it on first attempt. |
| Joe Bendall Hits the exit step at Vess's section. | Henry Bendall was back on form but 2 5's on sections he could clean knocked him back to 3rd. |
| Scout Gregory, a comparative newbie already half-way up the Sports+ ability. | Rob Maller just can't get rid of the talent. A fine win in Clubman. |
---
Section Statistics
Section
Score Incidence
Tot
No.
0
1
2
3
5
10
Marks
Avg
Expert
1
22
2
0
0
0
0
2
0.08
2
11
7
3
1
2
0
26
1.08
3
11
5
2
6
0
0
27
1.12
4
3
5
0
8
8
0
69
2.88
5
12
6
3
2
1
0
23
0.96
6
5
10
1
1
7
0
50
2.08
7
5
13
5
1
0
0
26
1.08
8
4
6
0
2
12
0
72
3
9
16
6
1
1
0
0
11
0.46
10
8
6
3
2
5
0
43
1.79
11
20
1
1
0
2
0
13
0.54
12
20
4
0
0
0
0
4
0.17
Rte Tot:
137
71
19
24
37
0
366
1.27
Clubman/Expert (Bold = Exp Rte)
1
8
3
3
7
5
0
55
2.12
2
10
9
2
2
3
0
34
1.31
3
10
10
2
1
3
0
32
1.23
4
0
0
1
3
22
0
121
4.65
5
11
6
3
0
6
0
42
1.62
6
12
5
3
3
3
0
35
1.35
7
19
6
1
0
0
0
8
0.31
8
10
9
2
5
0
0
28
1.08
9
5
4
5
10
2
0
54
2.08
10
0
2
2
9
13
0
98
3.77
11
7
8
5
5
1
0
38
1.46
12
16
6
2
0
1
0
15
0.6
Rte Tot:
108
68
31
45
59
0
560
1.8
Clubman
1
29
1
0
0
0
0
1
0.03
2
4
6
10
2
8
0
72
2.4
3
9
8
4
5
4
0
51
1.7
4
17
6
2
3
2
0
29
0.97
5
5
7
7
8
3
0
60
2
6
9
3
1
9
8
0
72
2.4
7
22
7
0
0
1
0
12
0.4
8
2
9
2
11
6
0
76
2.53
9
6
15
1
7
1
0
43
1.43
10
15
9
7
2
0
0
29
0.88
11
18
6
3
3
0
0
21
0.7
12
29
0
0
1
0
0
3
0.1
Rte Tot:
165
77
37
51
33
0
469
1.29
Sports Plus (Bold = Clubman Rte)
1
36
2
2
3
0
0
15
0.35
2
27
5
3
4
4
0
43
1
3
27
9
2
1
4
0
36
0.84
4
3
6
6
22
6
0
114
2.65
5
30
4
4
3
2
0
31
0.72
6
3
2
0
13
25
0
166
3.86
7
16
9
6
11
1
0
59
1.37
8
24
8
0
5
6
0
53
1.23
9
5
6
1
22
9
0
119
2.77
10
7
0
5
19
12
0
127
2.95
11
4
7
5
24
3
0
104
2.42
12
14
13
5
7
4
0
64
1.49
Rte Tot:
196
71
39
134
76
0
931
1.8
Sportsman
1
19
7
4
3
2
0
34
0.97
2
14
5
3
5
8
0
66
1.89
3
14
11
5
4
2
0
43
1.19
4
17
10
3
5
1
0
36
1
5
14
11
4
3
4
0
48
1.33
6
19
8
2
4
3
0
39
1.08
7
8
7
3
13
5
0
77
2.14
8
12
10
4
6
4
0
56
1.56
9
10
8
10
6
3
0
61
1.65
10
31
4
0
0
1
0
9
0.25
11
26
7
0
1
1
0
15
0.43
12
19
5
6
2
3
0
38
1.09
Rte Tot:
203
93
44
52
37
0
522
1.22
Conducted Hard
1
2
1
0
6
3
0
34
2.83
2
1
1
0
2
8
0
47
3.92
3
0
0
1
4
7
0
49
4.08
4
0
0
0
1
7
0
38
4.75
5
0
0
0
3
5
0
34
4.25
6
0
0
0
4
4
0
32
4
Rte Tot:
3
2
1
20
34
0
234
3.9
Conducted Standard
1
15
1
2
3
3
0
29
1.21
2
1
0
0
10
13
0
95
3.96
3
4
2
1
9
8
0
71
2.96
4
1
1
0
13
9
0
85
3.54
5
8
1
0
3
12
0
70
2.92
6
2
4
0
11
7
0
72
3
Rte Tot:
31
9
3
49
52
0
422
2.93
| Make. | Qty |
| --- | --- |
| Beta | 17 |
| Gas Gas | 14 |
| Montesa | 8 |
| Oset | 7 |
| TRS | 6 |
| Sherco | 5 |
| Yamaha | 2 |
| KTM | 2 |
| Fantic | 2 |
| Vertigo | 1 |
| Triumph | 1 |
| Suzuki | 1 |
| Scorpa | 1 |
| Ariel | 1 |