Boxing Day Trial - 2016

Final Results.
---
Other Years: 2015, 2014, 2013, 12, 11, 10, 09, 08, 07, 06, 05, 04, 03
---
Info
Final Results are now up. Click link on the right.
---
Video
Here is Jack's video. You can watch it in higher resolution if you click HD or on the Vimeo web site, click the Vimeo name below to visit.
West Glos. Boxing Day Trial 2016 from Colin Jones on Vimeo.
---
Snippets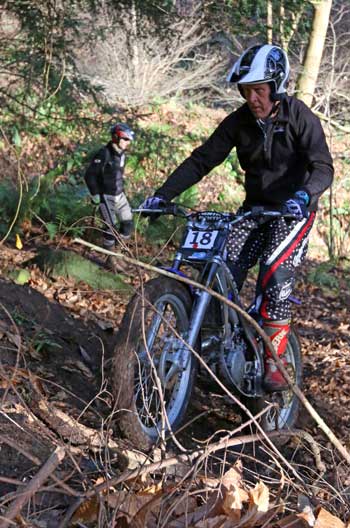 We have a new record holder, Kev Miller now holds the record for Quickest Entry. He was within 5 mins of us changing the settings to Live on Dec 1st! Now, just be assured there is No award for being Last to Enter!
The Extreme Enduro contingent didn't fully materialise, except for our local talent of Brendon on the 350 with a hastily changed second hand Trials tread. He had no other concession to trials conversions but put in an incredible performance getting over most of the difficult stuff, just suffering with some three point turn 5's on the corners. If Robbie Breakwell had spotted the engine fault on his trials bike early enough he could have brought his Enduro machine out to challenge Bren instead of feeding the cattle. Perhaps we'd better knock-up a specific Enduro Bike Trial for Extreme Enduro riders to brush up their trials skills at.
Besides Bren' facing adversity head-on at a tough Boxing Day, there was Ben Falconer using his LDT Trail Bike and Steve Cooper on his Cub and Ian Thompson on that immaculate Greeves. All had a great day despite losing a fair few marks.
Those of us riding probably didn't notice the temperature had dropped considerably in the morning but our observers did have a mulled wine brought around to warm them up, Thanks Dan.
We have to say a big thanks to our friends from Glos & Cots club for their valuable help in both setting up and marshalling, especially notable absentee rider Simon Welch who once again opened up a pathway for others to grab the trophy by observing after another minor injury. We hope you hop straight back into the saddle in the new year Simon. This year Benzo had opposition from an on form Matt Welch and Tom Culliford who has launched himself out of youth into the top rung of adults.
---
Gallery
All pics on this page courtesy of Jackie Jones.
The conducted route kept up with adult route traditions of being hard but rideable.

Dai Clothier easily makes the tight turn at the end of Tom Welch's section

Will Mustoe keeps out wide ready to turn tight to the camera.

Darren Morgan eventually gets a clean on section 8.

Sam Cooper grabbed the long straw for the families spare bike and bullied the Mont' around the Sports Plus route.

Our Conducted route riders had off-cambered turns to cope with.

On the same turn one rider thinks 'now which peg did my coach, Simon Welch, say to weight?'

Some steep drops included.

Here comes another clean..

Steve Cooper showing classic bikes should be ridden, not just polished and posed. His and Ian Thompson's Pre-65's were a welcome addition to any modern trial to put things in perspective.
---
Section Statistics
Section
Score Incidence
Tot
No.
0
1
2
3
5
Marks
Expert
1
0
0
0
11
7
68
2
12
1
1
0
4
23
3
14
1
0
1
2
14
4
17
1
0
0
0
1
5
3
1
2
0
12
65
6
3
6
1
0
8
48
7
16
0
0
2
0
6
8
5
2
5
4
2
34
9
11
3
2
2
1
18
10
10
6
0
1
2
19
11
5
3
1
1
8
48
12
5
3
3
3
4
38
Rte Tot:
101
27
15
25
50
382
Clubman/Expert
1
5
5
4
1
0
16
2
2
2
2
1
8
49
3
3
1
5
3
3
35
4
11
0
2
2
0
10
5
0
1
0
0
15
76
6
16
0
0
0
0
0
7
16
0
0
0
0
0
8
14
2
0
0
0
2
9
5
6
2
3
0
19
10
3
8
3
0
1
19
11
7
3
1
3
1
19
12
15
0
0
0
0
0
Rte Tot:
97
28
19
13
28
245
Clubman
1
8
11
18
10
1
82
2
39
6
2
1
0
13
3
32
8
0
0
8
48
4
42
5
1
0
0
7
5
4
18
7
12
7
103
6
44
0
0
1
3
18
7
32
7
0
3
6
46
8
26
13
1
7
1
41
9
13
20
5
8
2
64
10
19
17
6
4
2
51
11
13
8
6
6
15
113
12
41
6
0
1
0
9
Rte Tot:
313
119
46
53
45
595
Sports Plus
1
4
10
8
28
11
165
2
26
13
3
9
11
101
3
30
19
8
5
5
75
4
35
10
8
11
3
74
5
59
5
1
1
0
10
6
30
8
7
13
8
101
7
42
12
3
4
4
50
8
7
7
2
30
16
181
9
57
2
1
0
4
24
10
37
17
4
3
5
59
11
61
3
1
1
0
8
12
23
10
7
12
13
125
Rte Tot:
411
116
53
117
80
973
Sportsman
1
10
7
3
3
1
27
2
20
3
0
0
1
8
3
5
4
1
11
3
54
4
5
12
5
1
1
30
5
17
4
1
0
2
16
6
11
3
3
3
4
38
7
16
3
4
0
1
16
8
11
9
3
1
0
18
9
21
2
1
0
0
4
10
13
4
1
6
0
24
11
19
3
0
1
1
11
12
4
4
2
6
8
66
Rte Tot:
152
58
24
32
22
312
Conducted Hard
1
0
1
0
2
3
22
2
4
1
0
1
0
4
3
0
2
0
2
2
18
4
2
1
1
1
1
11
5
4
0
0
1
1
8
6
0
0
1
2
3
23
Rte Tot:
10
5
2
9
10
86
Conducted Standard
1
5
0
1
10
5
57
2
9
2
0
9
1
34
3
8
0
2
7
4
45
4
9
1
1
9
1
35
5
6
2
3
9
1
40
6
2
0
2
11
6
67
Rte Tot:
39
5
9
55
18
278