Boxing Day Trial 26th Dec 2008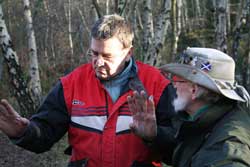 Oops! Laps 2 and 3 weren't showing for section 14 in version 1 of the results. The totals did include the marks lost though, so no change in order. Well spotted those who had the sense to contact us. The latest version is linked on the right. And version 3 now shows Steve Grindle on the correct bike which makes him ineligible for an award, but he had a good ride around anyway!
A Boxing Day Trial without frost or snow! doesn't seem right, but that's what we had. Conditions that pleased a lot of riders and spectators.
There were a few mechanicals even before the start. Dan Bishop and Steve Biddle were seen delving inside Dan's Clutch casing to no avail. Luckily Joe Bishop donated a bike for Championship pointers holder Dan to ride, but with a lot more care than usual! Steve Biddle was there having his first ride in a proper trial. Steve is one of our Centre's top Enduro riders and would find it hard to adjust to riding slow. Our centre trials have often been a major training ground for riders of speed orientated sports, Dave Watson from the World of MX was one. Steve was bravely sponsored by Wayne Hewitt with both bike and kit.
Ian Thompson was an early departure after ripping off his front brake and abandoning ship down a steep hill. Hope his nerves and brakes recover for Chelt Home Guard's Easy Trial. For any of our rookie riders looking to boost their confidence or for those of us recovering from ailments or just age (Are you up for it Billy [Update: Bill was and won his class!]) this is a great opportunity.
It was also a time for Cristmas present spotting. Some were getting trashed after their first day in the world! (See Ben's Video to see what Steve Venn did to his new toy.)
I was out taking photos for this website and the Centre's. If you would like a copy at full size (A4) and full quality for free let me know. I will email the digital image to you and you can send to one of the online firms for printing. A great way to thank your sponsors or just to keep for posterity and mark the year's end.
Want to get 50, yes 50 6"x4" prints for free? email me admin@wgdfmcc.org.uk and I'll send you a special link to one of the top online firms. Oh, and it doesn't matter if I haven't got a picture for you to print, you could use some of your own digital photo prints to give as extra Xmas presents!
Ben's Press Report
THE annual Boxing Day trial in the heart of the Forest of Dean always attracts a mix of old and new and the new came out on top this year.
Youth rider Jake Evans-Luter isn't new to the event but aboard a new Beta Evo 125, he demonstrated just how far he has come in a year by losing 21 marks over three laps of 14 sections.
That was three better than Western Centre champion Simon Welch, who had the title sealed up before this event.
Evans-Luter, who was second in this year's youth B national championship, lost 69 marks in this event last year, against a similar spread of marks.
Although he lost 14 marks on the first lap this year, dropping only two marks on the second lap more than made up for that.
Those two marks were lost on section eight, which was cleaned first by Henry Bendall on the last lap.
With the run up to rock slabs hindered by a fallen tree, Welch managed a trio of threes and Barry Husband one three – up to that point every other attempt apart from Evans-Luter on lap two resulted in a five mark maximum.
Then Bendall got the measure of it with a terrific ride, and Evans-Luter matched that effort on his last lap.
Husband matched the top two in terms of fives – losing just a pair and finished four marks behind Simon.
Losing a five on section two, during the second lap proved decisive for Welch, with Evans-Luter scoring two for the whole lap.
As a youth rider, Evans-Luter was not eligible for the overall award but the result was a useful benchmark against Welch.
Ben Bishop once again topped the Clubman/Expert route, despite what he would consider a lack of fitness. Shane Gunn, who usually airs an old TYZ Yamaha at this event, brought his Gas Gas round in second.
And just like last year, Tim Wheeler won the Clubman route but the story of the day was Glyn Smith's. Needing to finish 15th or better to win the Clubman route (formerly the Alternative route), the pressure must have told a little, as he had a few wobbles. But 10th was plenty good enough to seal a well deserved title. Motocrosser Lee Chiswell showed promise and plenty of guts at the trials game, and the finesse required will surely come. He picked up the Hangover Award for last finisher.
Expert Steve Grindle wisely opted to ride the Sportsman route on a BSA B40 but in the true spirit of the event, had a good crack at some of the Clubman route sections. Ineligible for an award, he finished a mark ahead of Sportsman route winner Bob Cobley.
As ever, the success of the event was largely down to the Bishop family, who mark out the event when most of us are tucking in to the turkey. Thanks also are due to the observers, Forestry Commission, and Forest Stone Firms.
Main Results
Expert
Best Youth: Jake Evans-Luter (Beta 125) 21 marks lost.
Best Performance: Simon Welch (Beta 270) 24.
First Class: Barry Husband (Beta 270) 28.
Clubman/Expert
Best Inter: Ben Bishop (Beta 250) 51.
Clubman
Best Over 40: Tim Wheeler (Yamaha 250) 21.
Best Novice: Chris Morris (Beta 270) 23.
Hangover award: Lee Chiswell (Beta 250) 118.
Sportsman
Best performance: Bob Cobley (Beta 270) 23.
BenF's Vid Clips
Clean ride for Vess prompts pirate noises

Steve Venn throws a new Beta at the rocks

Steve Biddle's secret practice sessions get him a 3

Cooperman counts to 2, or is it 3?!

Of course, Merv has to show our Steve how to do it!

This was the first clean all day, Jake Evans-Luter managed one after the observers knocked off at 1.30pm sharp!

Joe Bendall on Tony Falconer's section 8

Simon Welch shows how to use those legs on 8

Section Statistics
Section
0
1
2
3
5
Tot
Expert
1
13
13
3
2
2
35
2
20
6
3
0
4
32
3
31
1
0
1
0
4
4
21
7
3
2
0
19
5
19
11
2
1
0
18
6
12
8
5
2
6
54
7
13
10
5
3
2
39
8
2
0
1
4
26
144
9
11
7
9
3
3
49
10
24
3
1
4
1
22
11
9
6
2
3
13
84
12
23
5
2
0
2
23
13
13
2
1
1
16
87
14
18
7
1
4
3
36
Rte Tot:
229
86
38
30
78
646
Clubmen/Expert
1
0
1
1
11
5
61
2
16
2
0
0
0
2
3
16
1
0
1
0
4
4
1
1
3
7
6
58
5
1
2
3
11
1
46
6
11
5
1
1
0
10
7
0
1
1
6
10
71
8
3
0
4
11
0
41
9
17
1
0
0
0
1
10
1
2
1
0
14
74
11
16
1
0
1
0
4
12
4
0
1
6
7
55
13
15
3
0
0
0
3
14
1
4
5
7
1
40
Rte Tot:
102
24
20
62
44
470
Clubman
1
39
17
10
4
3
64
2
60
7
2
3
1
25
3
59
7
2
3
2
30
4
45
19
4
4
3
54
5
2
1
1
54
17
250
6
21
23
7
15
9
127
7
12
13
11
33
6
164
8
1
2
5
59
8
229
9
52
15
3
3
2
40
10
33
21
6
7
7
89
11
32
20
8
10
4
86
12
26
12
6
14
16
146
13
58
15
1
0
1
22
14
4
5
4
53
8
212
Rte Tot:
444
177
70
262
87
1538
Sportsman
1
16
4
1
9
2
43
2
19
3
1
3
5
39
3
15
7
6
1
1
27
4
29
0
0
1
2
13
5
6
3
6
7
7
71
6
0
0
0
0
0
0
7
13
6
5
3
2
35
8
2
4
2
14
7
85
9
28
2
1
0
2
14
10
7
3
5
4
10
75
11
5
7
6
8
5
68
12
23
4
1
0
3
21
13
8
3
1
5
9
69
14
5
5
2
9
3
51
Rte Tot:
176
51
37
64
58
611