Boxing Day Trial 24th Jan 2010 (the 2009 one really.)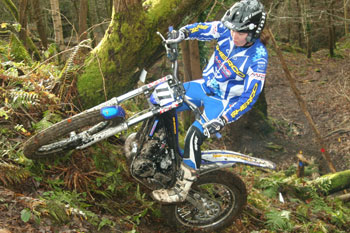 Final Results are now available on the right. No score changes have been made from version 1.
Thanks to your generosity you have helped Theresa and Suzie raise around £77 for charity from their stall. We will let you know as soon as we know who will benefit.
Snippets
Who says you need a big bike to get up that hill in Paul Dekkers' last section? Jake was the only rider to clean it each visit on a 125!
A quick look at the results and my Video tells me I put a jinx on Becky, The few times she was making mistakes I was filming! Sorry Becky, If it wasn't for my camera you'd have thrashed them all.
Ian Bridson took his Beta abseiling but forgot the rope - he reversed down a 10ft cliff on Stan Howitt's section 11 and miraculously landed on the bike, unscathed...Nice of the Bishops to lay on an ice rink at the start for those Torville and Dean moments...Anthony and Mike enjoyed a good tour of the venue and very diligently made sure there were no markers left behind...Craig Talbot was a little disappointed with his ride but no doubt when the new Sherco is dialled in, he'll be right up there again...The Falconer family discovered a few markers from years gone by in the neighbouring ravine...Simon Welch's dodgy shoulder didn't stop him coming out to observe and take charge of little Hubbo on his OSET...It might have been Steve Biddle's first trial since Boxing Day 08 but it's clear he has been practising with the Tough One in mind and he lost a very respectable total...Despite being a month late, the trial still brought out a good crowd including trail oracle, Graham Harris, en famille...Thanks to the observers, who benefitted from a 2pm deadline - it meant more riders got a move on and had a chance to sample Suzie and Teresa's excellent apres-trial grub....
Ben's Press report
IF Jake Evans-Luter's knocking on the door of the adult ranks gets any louder, by the time he leaves the schoolboys, he's going to take the door off its hinges.
The Pontypool youngster is in his last year of schoolboy A class action, and he edged Ben Bowkett by two marks at West Glos and Dean Forest MCC's Boxing Day trial.
Delayed by a month because of the snow, the Bishop family laid on a trial at Bixslade quarry which attracted an entry of almost 60, plus plenty of spectators and observers.
Cinderford's Bowkett is a former winner of this event and his experience meant he didn't lose a five mark maximum all day. Evans-Luter did but by the time he maximumed on the last lap at section 12, he'd done enough to lose the least marks for the second year running.
Because of his youth, Evans-Luter is not eligible for the premier award, but there can be no doubt that he is going to make an impact when he can ride as an adult.
Competition at the sharp end was reduced by the absence of Western Centre champion Simon Welch, who, suffering with shoulder ligament damage, turned out to observe instead.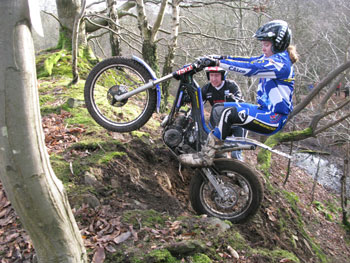 World Ladies number 2 Becky Cook gave the 2010 Sherco 290 valuable competition hours. More than half of her 22 marks were lost at section 13, which put her out of the reckoning for top spot.
Henry Bendall headed the next gaggle of riders, on 31, leading another former winner Barry Husband by one mark, John Luff by five and Martin Podesta by six.
Clubman/Expert winner, and another former Western Centre champion of some vintage, Nic Draper, gave a masterclass in sticking to the right line. On Bixslade quarry's mud and rocks, keeping a disciplined line pays dividends and his considered style was enough to head Steve Clift by five marks and Ben Bishop by 10.
On the Clubman route, Ant Millar and Tom Pike battled for top spot, neither daring to drop a five. Millar edged it by not even dropping a three, while Pike carded a pair of threes which proved the difference. Both were very creditable rides.
Billy Andrews convincingly won the battle of the Beta 200s against Garry Jones on the Sportsman route. Jones had two fives but still edged at five-less David Eeles in to third.
Section Statistics
Section
0
1
2
3
5
Tot
Expert
1
19
7
3
5
0
28
2
22
7
0
1
4
30
3
9
11
5
7
2
52
4
18
9
3
2
2
31
5
23
5
3
2
1
22
6
21
7
3
0
3
28
7
30
3
1
0
0
5
8
19
11
2
1
1
23
9
16
11
4
2
1
30
10
13
10
6
1
3
40
11
24
6
2
1
0
13
12
14
6
3
3
7
56
13
7
7
3
1
15
91
Rte Tot:
235
100
38
26
39
449
Clubmen/Expert
1
1
5
2
14
5
76
2
22
4
0
0
1
9
3
20
3
3
1
0
12
4
22
3
0
2
0
9
5
4
3
1
8
11
84
6
3
3
2
7
12
88
7
17
8
1
0
1
15
8
27
0
0
0
0
0
9
12
8
2
3
2
31
10
22
3
2
0
0
7
11
1
5
3
9
9
83
12
17
3
3
3
1
23
13
26
1
0
0
0
1
Rte Tot:
194
49
19
47
42
438
Clubman
1
12
6
7
14
13
127
2
32
12
3
5
0
33
3
28
8
7
4
5
59
4
21
10
9
6
6
76
5
15
12
10
10
6
92
6
21
6
9
9
8
91
7
26
10
4
7
5
64
8
34
15
1
3
0
26
9
9
9
6
13
15
135
10
22
12
8
9
1
60
11
36
9
0
3
4
38
12
17
8
6
11
10
103
13
39
9
1
0
3
26
Rte Tot:
312
126
71
94
76
930
Sportsman
1
41
8
1
0
0
10
2
8
16
9
12
5
95
3
9
6
6
18
9
117
4
7
4
3
34
0
112
5
6
8
5
19
9
120
6
13
7
3
19
5
95
7
10
11
4
17
5
95
8
22
15
5
5
0
40
9
22
7
2
9
7
73
10
34
4
0
8
0
28
11
37
3
1
5
1
25
12
18
13
6
8
3
64
13
24
9
4
7
4
58
Rte Tot:
251
111
49
161
48
932