Other Years: 2011, 2010, 2009, 08, 07, 06, 05, 04, 03
---
Phill Hodges' gallery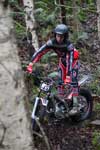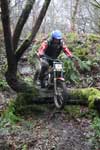 ---
Colin Jones' Pics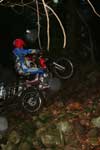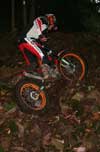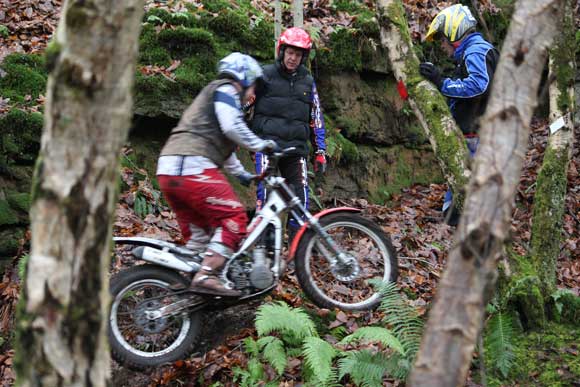 Final Results are now up.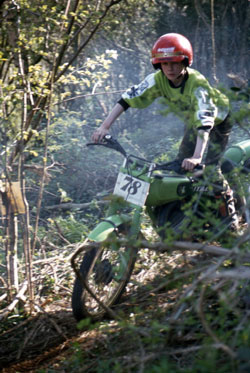 This guy was there too, but this time putting something back in to the sport. Know him?
Snippets:
Good to see an old face back out riding again. I say old...well...he was riding an Armstrong last time we saw him! And looks like he won the Sports Plus route and not as rusty as he thought.(He's in the shot above.)
Alex Muirhead was out for the first time on a 250, increasing his power to weight ratio substantially with a shiny new Jotagas. Clearly he is getting on with it well. He was one of only 2 riders to avoid 5's completely on the Clubman and Experts routes. Welsh ace James Lamin was the other, winning the clubman route.
The usual band of hardy spectators were not put off by a little bit of rain, but with conditions underfoot chose not to venture too far. Shame as rider reports were that they enjoyed the new sections further out and the good ride around to get to them. OK a couple inspected some of the descents a little too closely - nose first! Luckily not too much damage as Lee, at least, managed to tape his throttle up to keep going.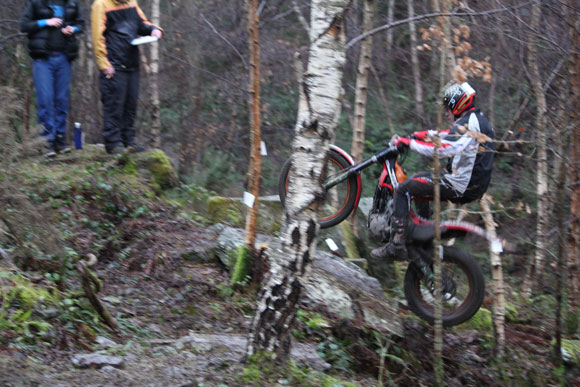 Section Statistics
Section
0
1
2
3
5
Tot
Expert Adult
1
2
1
3
6
0
25
2
2
1
3
4
2
29
3
4
0
1
1
6
35
4
1
1
0
2
8
47
5
5
3
0
2
2
19
6
9
1
0
1
1
9
7
4
6
2
0
0
10
8
0
1
2
5
4
40
9
1
2
1
1
7
42
10
3
1
1
5
2
28
11
9
1
1
1
0
6
12
0
0
0
0
12
60
13
0
6
4
1
1
22
14
6
3
2
0
1
12
Rte Tot:
46
27
20
29
46
384
Clubmen/Expert Adult
1
5
1
0
0
0
1
2
1
2
2
0
1
11
3
2
2
0
2
0
8
4
0
0
0
3
3
24
5
0
1
2
3
0
14
6
1
3
0
1
1
11
7
6
0
0
0
0
0
8
1
1
1
3
0
12
9
5
1
0
0
0
1
10
0
0
1
2
3
23
11
1
2
0
1
2
15
12
2
2
0
1
1
10
13
0
0
1
3
2
21
14
4
2
0
0
0
2
Rte Tot:
28
17
7
19
13
153
Clubman Adult
1
22
12
2
2
2
32
2
14
5
8
10
4
71
3
4
3
7
17
9
113
4
27
6
2
3
4
39
5
10
16
7
9
0
57
6
31
7
2
0
1
16
7
37
2
2
0
0
6
8
6
9
7
15
4
88
9
13
7
6
8
8
83
10
17
4
2
13
5
72
11
33
2
4
0
3
25
12
12
3
5
13
8
92
13
8
7
8
16
1
76
14
8
1
1
11
19
131
Rte Tot:
242
84
63
117
68
901
Clubmen Youth
1
4
0
0
1
0
3
2
0
1
1
2
1
14
3
0
1
0
3
0
10
4
3
0
1
1
0
5
5
1
3
1
0
0
5
6
4
0
0
1
0
3
7
4
1
0
0
0
1
8
4
0
0
0
1
5
9
0
2
2
0
1
11
10
0
1
1
2
1
14
11
3
2
0
0
0
2
12
1
2
1
1
0
7
13
1
1
0
3
0
10
14
0
0
2
0
3
19
Rte Tot:
25
14
9
14
7
109
Sportsman Plus Adult
1
4
1
2
1
0
8
2
7
0
0
1
0
3
3
3
1
2
1
1
13
4
2
1
0
1
4
24
5
1
1
1
3
2
22
6
4
1
2
1
0
8
7
6
2
0
0
0
2
8
0
0
0
7
1
26
9
0
0
0
4
4
32
10
2
2
0
1
3
20
11
5
2
0
1
0
5
12
0
0
1
3
4
31
13
0
0
0
4
4
32
14
7
0
0
1
0
3
Rte Tot:
41
11
8
29
23
229
Sportsman Adult
1
5
1
1
1
2
16
2
7
0
1
0
2
12
3
2
2
1
5
0
19
4
3
1
0
3
3
25
5
1
5
0
3
1
19
6
5
2
1
2
0
10
7
4
4
0
2
0
10
8
1
1
2
4
2
27
9
1
1
0
3
5
35
10
2
1
1
4
2
25
11
6
1
1
1
2
16
12
4
1
0
3
2
20
13
8
0
1
1
0
5
14
7
0
2
1
0
7
Rte Tot:
56
20
11
33
21
246