Boxing Day Trial - Dec 2011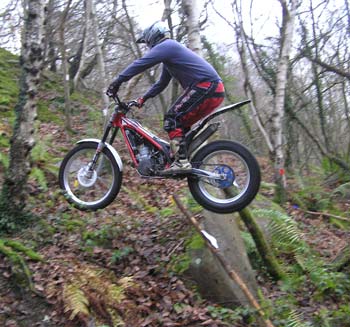 Latest: Final Results are now up.
OK, so it looks like you didn't all have terrible hangovers then, there were some brilliant rides going on out there.
I was unsure about who gets the 'Hangover award' as surely that can't go to a youth as we all know they can't drink and get one, so it goes to Matt Peake who unfortunately gained a few maximums for missing some sections (and balances out his superb win at Rockfield). Matt was acting as minder to his dad who was originally shown on wrong route of Sportsman but had actually chosen to punish himself with Clubman, despite being elligible for the over 70's class.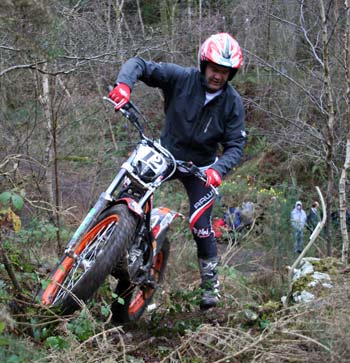 If we had an award for furthest travelled then there would have been a fight as we had riders from Yorkshire and Surrey but for nearest you can't beat newcomer Matt Whittington from a stone's throw away.
If only we'd known beforehand we could have secretly plotted something for our Centre Steward Trevor Hunt who was there for the last time ever in that role. I can remember Trev when he had a Clerk of Course armband at the Wye Valley Traders probably 42 years ago, sending us out to observe in some beautiful places (I remember the view from Red Darren - through the peasoup fog, grrrrr!). Who would have thought I'd be bumping into him for the next 43 with various armbands on.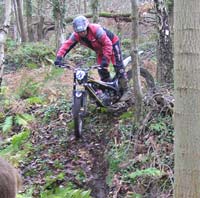 Most impressive was realising he was riding the Welsh 2 Day Enduro route behind me course closing it, after I'd been searching for a Gold just in front of him. We could do with more heroes like Trevor, who prove you don't need to win everything on a bike to still get huge respect from your fellow riders.
From an Entry Sec's perspective I'd like to say a big thanks to the many that entered on-line and even to those that posted their entry before. Can you guess what I say to those that entered on the day? Well I'm starting a campaign to add a substantial late entry tax and an observer tax, (not a new topic!) all I have to do now is persuade the committee. (Yes, I know there are many reasons why you entered late, one of which is 'your stupid form wouldn't work on my computer Colin'. You could help by telling me about it so I can fix stuff!) Anyway, that is enough whinging from an old greybeard.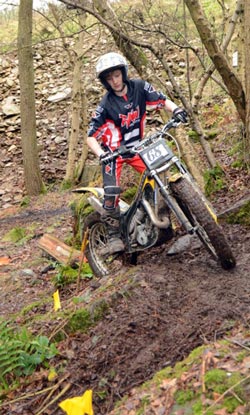 For links to some great photos, start with one of our Ex Centre champ Steve Workman's Gallery. There is more to come but we are running out of space on our website so I'll have to do some early spring cleaning.
It is good to see our younger riders out helping mark out sections without too much pressure from dad, so thanks to Tom Cooper pictured on the right. We should also say a big thanks to Simon Welch who has some great ideas to boost youth riders in the centre and included in his training plans are taking on some of the organisational roles too. If you haven't already read about this then see the article on the Centre Website.
Did you spot that we had a mini Trail Bike event going on within the trial? If Sam Jones hadn't bought his Rev3 a day before then he a Rob Breakwell would have been on Beta Alps and up for it too, making 4. As it was, Ben Falconer stole the show when Bruce Bendall admitted defeat on a sportsman route that was just about 3'able for a traillie for all the sections, but getting between them! well, between you and me and promise not to tell Merv I said so, but he admitted that was a bit tough going and will be looking for easier access next year.
---
Helena's Gotcha
Helena and Huw said rather than keep you waiting, here is a version without any music.
---
Colin's video
Finally. Not that it is worth waiting for, but a record none the less.
---
Section Statistics
For example, on the expert Adult route 11 riders had a dab in section 1 and 35 marks in total were lost in section 1.
Section
0
1
2
3
5
Tot
Expert Adult
1
7
11
3
6
0
35
2
7
1
3
15
1
57
3
13
4
4
6
0
30
4
15
5
3
4
0
23
5
12
8
5
2
0
24
6
24
3
0
0
0
3
7
23
3
0
0
1
8
8
15
5
4
1
2
26
9
11
5
3
1
7
49
10
23
3
1
0
0
5
11
9
3
1
10
4
55
12
22
3
2
0
0
7
13
12
7
4
4
0
27
14
21
2
0
3
1
16
Rte Tot:
214
63
33
52
16
365
Clubmen/Expert Adult
1
12
0
0
0
0
0
2
0
0
0
6
6
48
3
12
0
0
0
0
0
4
2
0
2
5
3
34
5
10
2
0
0
0
2
6
8
3
1
0
0
5
7
6
4
1
0
1
11
8
11
1
0
0
0
1
9
12
0
0
0
0
0
10
9
2
1
0
0
4
11
6
1
1
2
2
19
12
6
5
1
0
0
7
13
11
0
1
0
0
2
14
8
0
0
1
3
18
Rte Tot:
113
18
8
14
15
151
Clubmen/Expert Youth
1
5
1
0
0
0
1
2
0
0
0
0
6
30
3
6
0
0
0
0
0
4
0
0
0
0
6
30
5
0
0
3
3
0
15
6
1
2
3
0
0
8
7
3
1
0
2
0
7
8
3
2
0
0
1
7
9
6
0
0
0
0
0
10
3
1
2
0
0
5
11
0
2
1
2
1
15
12
4
1
0
0
1
6
13
0
4
1
1
0
9
14
1
1
0
1
3
19
Rte Tot:
32
15
10
9
18
152
Clubman Adult
1
26
13
6
4
6
67
2
42
9
3
1
1
23
3
39
5
5
1
3
33
4
2
6
12
22
14
166
5
16
2
9
26
2
108
6
43
8
0
2
2
24
7
14
13
7
17
4
98
8
23
12
7
5
8
81
9
29
10
8
2
5
57
10
32
12
3
4
3
45
11
16
11
6
13
10
112
12
32
8
5
5
4
53
13
13
17
5
15
3
87
14
41
3
4
2
6
47
Rte Tot:
368
129
80
119
71
1001
Clubmen Youth
1
3
0
0
0
0
0
2
2
1
0
0
0
1
3
3
0
0
0
0
0
4
0
0
0
2
1
11
5
0
0
0
3
0
9
6
3
0
0
0
0
0
7
0
1
2
0
0
5
8
1
1
0
0
1
6
9
3
0
0
0
0
0
10
0
1
1
1
0
6
11
0
0
0
3
0
9
12
0
1
0
1
1
9
13
0
1
0
2
0
7
14
3
0
0
0
0
0
Rte Tot:
18
6
3
12
3
63
Sportsman Adult
1
18
3
7
7
2
48
2
31
4
1
0
0
6
3
17
4
1
10
5
61
4
1
9
12
14
1
80
5
15
7
4
5
3
45
6
12
5
3
9
5
63
7
22
6
0
5
1
26
8
11
4
6
8
3
55
9
9
7
2
5
9
71
10
20
2
2
6
1
29
11
17
4
3
5
1
30
12
26
3
1
1
1
13
13
24
0
3
3
1
20
14
30
2
1
0
0
4
Rte Tot:
253
60
46
78
33
551
Sportsman Youth
1
1
1
0
1
3
19
2
3
1
0
2
0
7
3
0
0
0
5
1
20
4
1
0
1
2
2
18
5
2
1
0
2
1
12
6
0
0
0
3
3
24
7
2
1
0
2
1
12
8
0
0
1
4
1
19
9
0
1
1
2
2
19
10
0
1
1
1
3
21
11
2
1
0
1
2
14
12
2
4
0
0
0
4
13
2
0
2
1
1
12
14
6
0
0
0
0
0
Rte Tot:
21
11
6
26
20
201