Boxing Day Trial 26th Dec 2007
Other Years: 2004, 2003, 2005, 2006
Section Statistics Final Results
Photos by Andy Luff, Colin Jones and Ian Vessey
by Andy









by Colin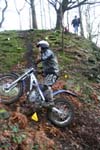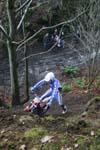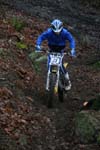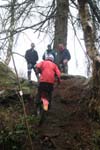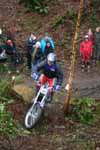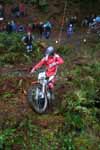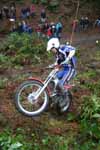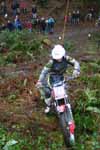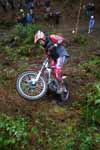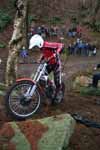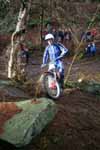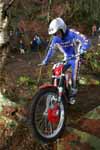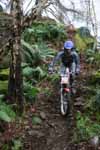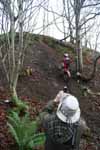 by Ian




A bit of Forest domination with Ben Bowkett grabbing the premier followed by Dan Bish then Ben Bish grabbing the Clubman/Expert route and a brilliant tactical move from Joe Bish to grab both the Intermediate award And the Hangover award, So no longer can the likes of me enter on the easy route and flail my way around to a certain award! (Just in case you don't know, the Hangover award goes to the most marks dropped for a finisher. No mean feat by the look of our current attrition rate.)
For those of you who thought this was a tough trial, consider that a pensioner came 3rd on the easy route, so there are no excuses really other than 'I thought I ought to observe!'
Ben's Report
Ben Bowkett was in a class of his own at the annual Boxing Day trial.
Dropping 24 marks in the final round of the Western Centre Championship, the Forest of Dean youngster lost only one maximum five all day, on section six. He saw off Dan Bishop, who lost 41.
There was only one mark between them on section six but Bishop fived section 13's challenging climb on each lap, while Bowkett managed a pair of dabs and a three.
In fact the only clean ride of that section was by non-finisher Mark Turner, who hit the climb with considerable vigour.
Gloucester's Barry Husband recorded the only other ride better than a three on section 13, which was the hardest hazard in the trial at Bixslade, near Coleford. He lost 50 to take third, ahead of Lydney youngster Henry Bendall and Welsh youth A rider Jake Evans-Luter. Like Bowkett, both demonstrated poise and accuracy beyond their years, as did Henry's brother Joe, who managed to ride out of section one despite having his riding shirt tangled around the throttle.
With Simon Welch confirmed again as Western Centre Champion before this event, the result meant Henry Bendall took second for the season, and Dan Bishop jumped up to from fifth before the event, to third.
The Bishop family, who organise the event each year, made the awards a family affair too and proved what a tough challenge they had marked out. The youngest of the Coleford brothers, Joe, won best intermediate and the Hangover award for last finisher.
Some five riders did not finish the expert route, however, and he was the only intermediate class rider to take up the challenge of the premier class.
Joe's older brother Ben edged the clubman/expert route, overcoming a trio of fives on section one to beat youth A centre championship winner Matthew Christopher by four marks. Ian Bridson, in fourth place on the day, was confirmed as centre champion on this route.
Alternative route winner Tim Wheeler was the only rider to avoid losing a five all day, to finish on a total of eight, with an assured ride.
Former centre champion Nic Draper lost 19 - riding a twinshock Fantic, with Cameron Thompson finishing on the same total.
Nigel Tomkins, who did not ride, already had the title at this level in the bag.
On the easy route Dave Fowler sailed to a win by quite a clear margin.
Main Results.
Expert route.
Premier: Ben Bowkett, 21 marks lost (125 Gas Gas)
First class: Dan Bishop, 41 (250 Gas Gas)
Youth: Jake Evans-Luter, 69 (125 Beta)
Intermediate: Joe Bishop, 115 (250 Gas Gas)
Clubman/Expert route.
Best performance: Ben Bishop, 42 (250 Beta)
Alternative route.
Over 40: Tim Wheeler, 8 (250 Scorpa)
Twinshock: Nic Draper, 19 (250 Fantic)
Novice: Andy Perry, 37 (250 Beta)
Youth: Ben Wilmore, 46 (320 Sherco)
Easy route:
Best performance: Dave Fowler, 13 (250 Montesa)
Section Statistics
Making sense of the stats: as an example - Section 2 for Alt route saw 7 riders get 2's. The Route totals at the bottom means there were 86 2's on the Alt route and 1485 marks dropped in total.
Section:
0:
1:
2:
3:
4:
5:
Tot
Alternative
1
34
21
5
10
0
3
76
2
52
4
7
10
0
2
58
3
68
5
0
4
0
1
22
4
6
6
4
25
0
34
259
5
39
14
6
11
0
6
89
6
20
17
7
18
0
14
155
7
6
21
21
21
0
7
161
8
9
9
5
21
0
31
237
9
46
18
7
3
0
0
41
10
31
20
8
12
0
3
87
11
42
10
2
11
0
9
92
12
21
12
10
13
0
18
161
13
53
10
4
3
0
4
47
Rte Tot
427
167
86
162
0
132
1485
Clubman/Expert
1
6
2
0
2
0
5
33
2
14
0
1
0
0
0
2
3
9
3
1
1
0
1
13
4
4
3
1
3
0
4
34
5
13
2
0
0
0
0
2
6
5
5
1
2
0
2
23
7
1
5
3
5
0
1
31
8
2
6
0
4
0
3
33
9
15
0
0
0
0
0
0
10
1
0
0
1
0
13
68
11
14
1
0
0
0
0
1
12
2
2
1
4
0
6
46
13
12
1
0
1
0
1
9
Rte Tot
98
30
8
23
0
36
295
Easy
1
14
2
1
3
0
2
23
2
4
4
3
9
0
3
52
3
16
2
0
0
0
5
27
4
11
1
0
3
0
8
50
5
7
1
7
5
0
4
50
7
1
0
2
16
0
3
67
8
8
5
1
6
0
1
30
9
11
1
4
6
0
1
32
10
10
3
4
1
0
3
29
11
5
5
1
3
0
7
51
12
10
5
1
1
0
4
30
13
2
3
4
6
0
8
69
Rte Tot
99
32
28
59
0
49
510
Standard
1
5
5
9
8
0
4
67
2
9
8
3
7
0
4
55
3
24
3
2
0
0
1
12
4
15
5
2
4
0
4
41
5
4
5
4
13
0
5
77
6
0
1
2
8
0
18
119
7
20
7
3
3
0
0
22
8
21
6
1
5
0
0
23
9
7
10
4
7
0
5
64
10
23
5
1
0
0
4
27
11
8
4
1
4
0
15
93
12
12
3
5
9
0
5
65
13
1
3
0
6
0
24
141
Rte Tot
149
65
37
74
0
89
806
Event Tot
773
294
159
318
0
306
3096