Stump Wood Hill Climb - 2nd August 2008
Other Years: 2007, 2006, 2005, 2004.
Here are some samples from Jackie's Gallery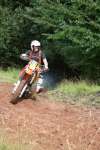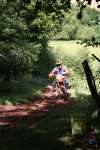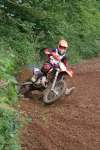 Want to see the Marauder's Gallery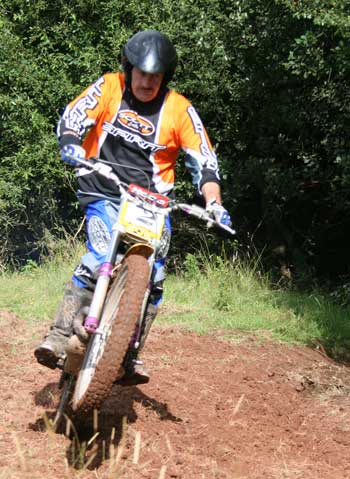 Damn! Didn't expect all that rain in the night. That changed a few of the hills. Never mind though as the afternoon's weather was perfect for a fun day out.
Sure was fun for Rob Breakwell mixed with a little pain as this extended Physiotherapy session gave him more movement by the end of the day and despite some of our regular contenders thinking for once they might have a chance, Rob's consistency paid off for an outright win. Steve Biddle proved it is not just in stamina that he can hold off the challenge of the 3 young marauders with a 2nd behind Rob. Rob was only beaten on one test and that was by Kingsley on Glenn's Hill 3. I wish I had video clip of that!
Peter Neale had 22 seconds to spare over me, so 40 bhp is no darned good if you can't get it to the ground!
Joe Bishop had a difficult ride what with discovering that his borrowed bike had an automatic clutch. it wasn't until he'd finished that it dawned on him he'd been dragging the back brake out of habit thinking it was the clutch. with a bit of practice later he'd mastered it but too late for an attack on Rob. It was good to see Joe's nephew Freddie out sussing the best lines. Sadly he will have to wait 16 years before he can ride though. Perhaps dad Ben will fill in the gaps until then!
Did you spot that Cath looks like the only rider who consistently improved her times on each hill on subsequent laps!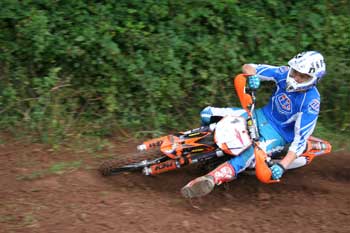 Have a look at the sequence shots of class Winners Rob And Ben for a lesson in how to...
Did you see the club's new tent for when the weather really gets to us? That will be a great help when we are hit with normal weather. The canvas and frame were supplied (No, hang on, we can only call this sponsorship really.) by Bill Brown's firm Intension. Bill had a rare old battle through the day as son Will, who is comparatively new to off-roading, is catching on fast as he beat dad on 4 of the 5 hills (Just!) but that was after his own bike had all the coolant migrate into the gearbox oil. So Will had better times riding dad's old Pamp!
It was great to see some new faces out there too with the Duberleys getting a taste for competition. We had, as usual for one of our fun events, a massive difference in riding ability from first time novices to previous centre champions. This was a hard task for Clerk of Course Matt Neale to plan for especially with the weather dependant nature of stump wood. If anyone thought those hills intimidating then come out on a trail run with some of our members for a leisurely exploration of both your skills and our beautiful countryside. We really should put on another practice day where we can do some self help training among our members. It is a great way to learn for free and make more friends. Anyway, from my point of view Matt did a great job of the hills. Well done.
Provisional Results are up. Please have a read through and correct any errors you see, even names, bikes and classes please. Just email Colin on admin@wgdfmcc.org.uk
Clerk of the Course's Ramblings
Firstly thanks must go to all who helped in any way. Without Roy's land we could not run this or other events and this as well as his help laying out the course and clearing tree's brambles etc. was much appreciated.
Colin Jones did far more than needed from a competitor, spending two long sessions course setting then running around on the day making last minute, weather induced route changes. He also managed to get the results onto the website on Sunday morning. It must be said that all this work obviously didn't help him any! (ed. says 'What a bloomin cheek, I only did it to get some advantage and save me walking the hills on the day. Damn it he is right though, although I'd rather believe everyone else has got faster than me getting slower.')
Viv and Sue also spent much time wandering about the course with stakes, staplers and arrows.
Thanks must go to all those who helped on the day. Vess as Secretary, various Thomas's as caterers and all those observers. Lastly thanks to the riders who make the event such fun.
As Clerk of the Course I had the opportunity of seeing much of the action. In no particular order
It was amusing to see Darren finding one of the holes in the far field on the way to hill 5. He didn't create such a spectacle as Nibbs did last year though. Bit like his trials riding! A new record for him as well, not last!
The youngsters, Nathan, Arron and Kingsley are getting quick if not consistent. I know they are after Steve Biddle but have a bit to go yet in the stamina stakes. They have yet to discover pain though. If competitiveness is an asset though, they will all go far. I reckon Mike W has had to give best to them though.
Rob was deceptively fast. Apparently he wasn't trying hard. Don't believe that for a minute though. What would he be like when the bionic arm is fitted? (Well it didn't do Stan any harm)
Good to see Cath Harvey out again, she obviously likes it down at Rockfield.
Mike A needs to try a bit harder though. 1 second faster over the day would have beaten both Nathan Etheridege and Joe Bishop. Too many stickers added just that little bit too much weight and a KTM 450 needs all the help it can get.
Joe was doing well for someone with concussion a few days earlier. He didn't bounce off any trees this time. Safer going up Joe. Best to learn how to ride the bike though isn't it? Mind you I reckon Julian could hear the rev limiter kicking in (on his bike) from his hill and couldn't do a thing about it.
I mentioned to a certain marshal, who shall be nameless, that if the youngsters were quick on 125 KTM's then Vess on a 200 should be just that bit faster. This certain marshal then pointed out that perhaps the power to weight ratio was rather in the favour of the young 'uns. I think money should change hands here, to buy, either my silence or the marshal's name. Best offers please chaps.
Pete carried on in what is becoming his normal pattern. Winning the trail bike class (and 10th overall). I'd like to suggest that he moves up a class but all the others, including me, on the same bike might object.
Good to see some new faces, not just to the event but also to the club. Keep coming back chaps.
The apres' event, trying other peoples bikes out, session was popular. Lots of people wanting to give Rob's Yam a go. Colin made the mistake of having a go on Mike W's 250 KTM. He made the even bigger mistake of handing it on to Viv! Sounds expensive Jackie, but then maybe they could share one. Or maybe not. Roy's use of the field for his sheep meant that was a fair amount of dung about. Not all of it was from sheep, although I couldn't actually see the bull. That was afterwards though. Anyway a good time was had by all. If you didn't come you missed some fun. See you next year?
(How come Matt could get all that in yet fail to mention the mini 4x4 Trial? could it be that the good old British Land Rovers got thrashed by an overweight slug of a Toyota! ed.)
The Press Report from BenF
Experience triumphed over youth - but only just at a unique event for most off road bikes on Saturday.
Rob Breakwell and Steve Biddle kept a trio of young guns at bay at the West Glos & Dean Forest MCC's annual hillclimb.
Breakwell, making a gentle return to two wheels after suffering a debilitating injury sustained aboard a mountainbike, was the only rider to come in under a 400 penalty point total. He looked composed, with an efficient riding style on each of the five timed hills attemped four times.
Second placed Steve Biddle would have dipped under 400 penalty points but a five mark loss on the only observed section nudged him just over that.
His efforts were enough to keep youngsters Arran Wells and Kingsley Bower at bay by only a handful of seconds, with Arran's dad Mike just ahead of the third rapid teenager, Nathan Etheridge. All three's spirited attempts at each hill provided great entertainment.
Trail class winner Peter Neale and second placed Colin Jones stayed under 500 penalty points. More importantly the event gave club members old and new a chance to get together for a friendly social outing and enjoy some excellent food laid on by the Thomas family. The club would like to thank landowner Roy Breakwell, St John Ambulance Monmouth and all marshals.