September Trial at Stony Green - 17Sep2023
(ACU Western Trials Championship)

Provisional Results
---
---
See what happened in other Years - click the year below...
Forestry venues need extra care. Make sure you bring a clean bike and kit to avoid transferring any of the tree diseases that could be transported from other areas. Likewise, clean your bike and kit after the event before going elsewhere.
Info
Latest: Provisional Results are now available on the right. Contact me if you spot what might be a typo or error and I'll double-check. admin@wgdfmcc.org.uk
We will have some pics coming later and hopefully one of BVM's fabulous videos.
Although Round 6, this is effectively the 2nd round of the ACU Western Trials championship so points are up for grabs. Here's the current state after rds 1, 3,4 and 5 had to be cancelled. Updated version will come after our series coordinator gets a minute.
Click the 2021 event link on the right to see what the venue is like with a choice of videos.
---
Gallery
Click to step through the shots.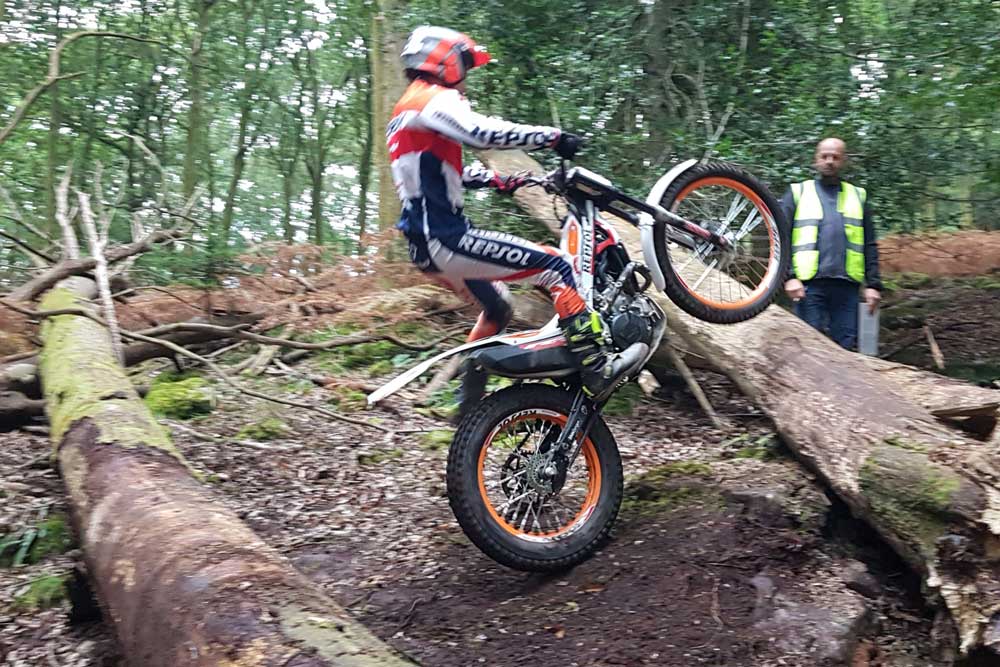 Fin Kettle could do Mike Allen's Sec9 for 1, just not every time. Pic Colin Jones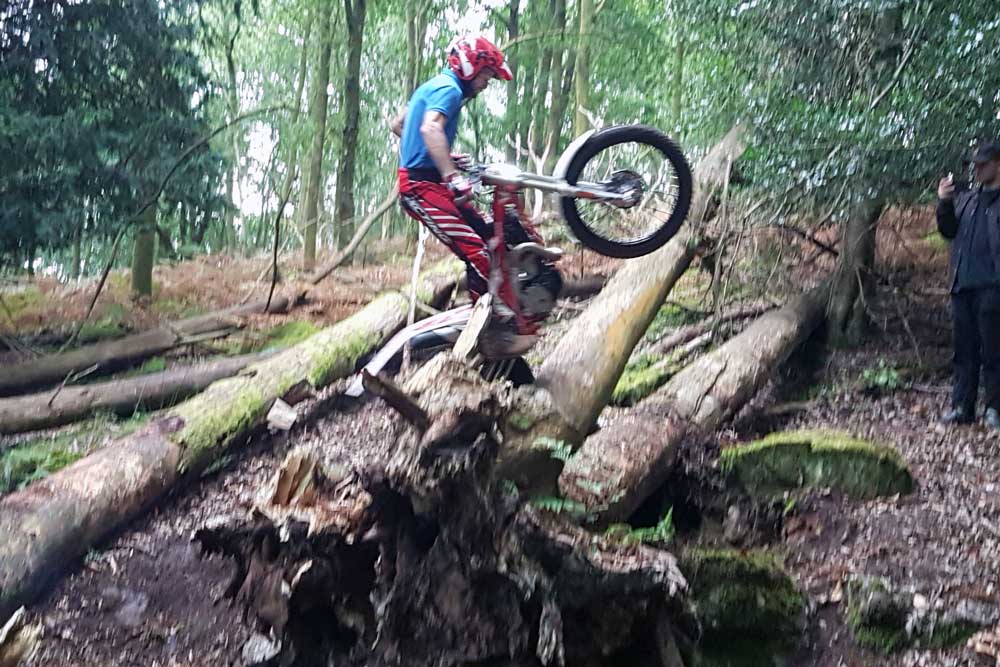 Henry Bendall goes big for a 3. Pic Colin Jones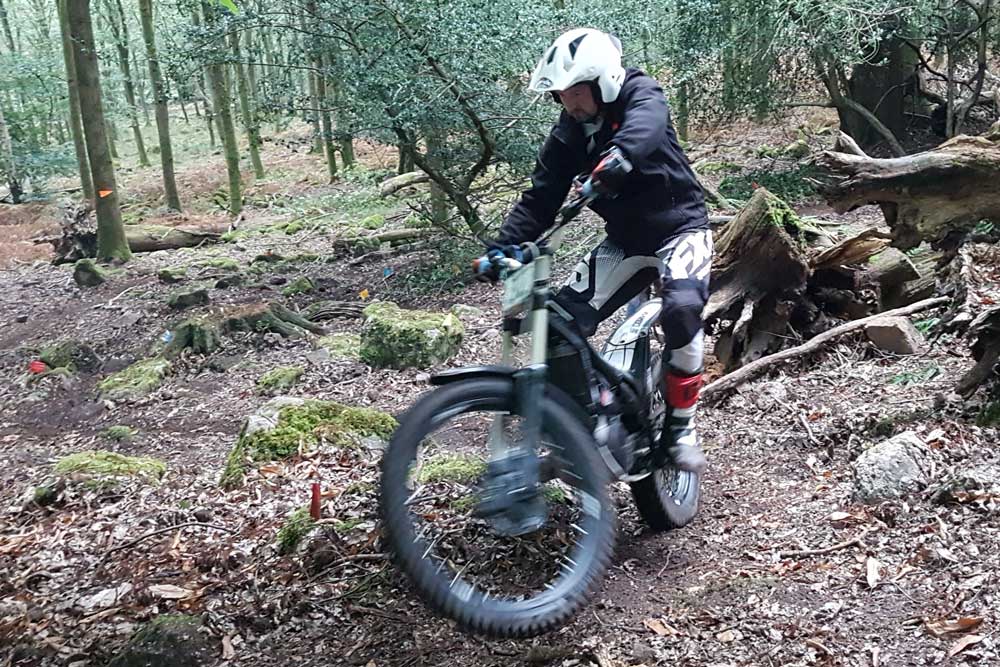 Joe Evans-Luter scored top championship points in Club class. Pic Colin Jones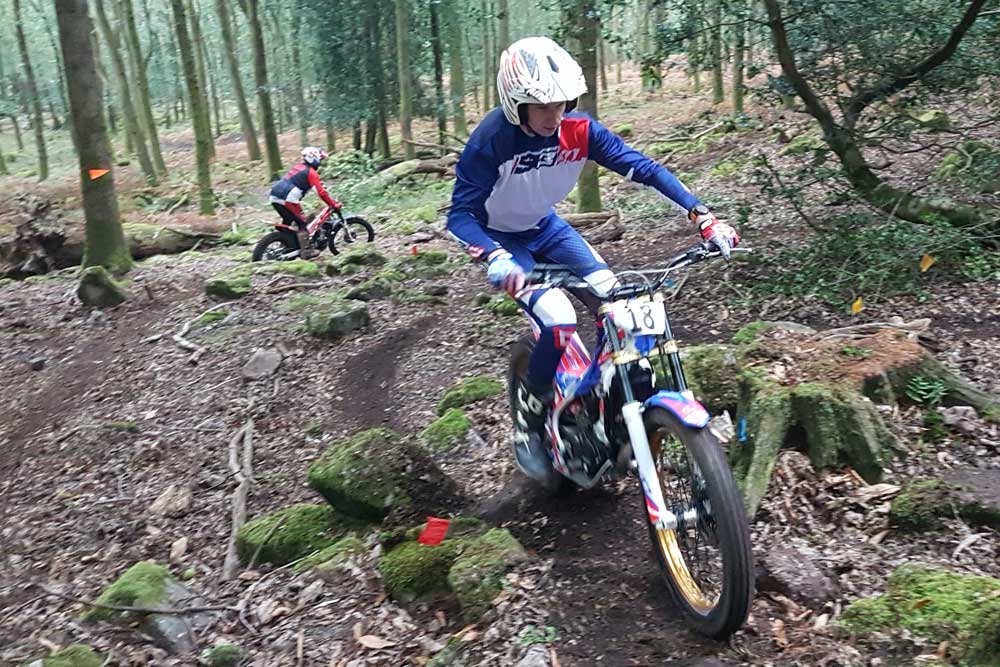 Matt Christopher was one of a few challengers to Club Expert winner Chris Morris but 3 5's to Chris's 1 made a difference. Pic Colin Jones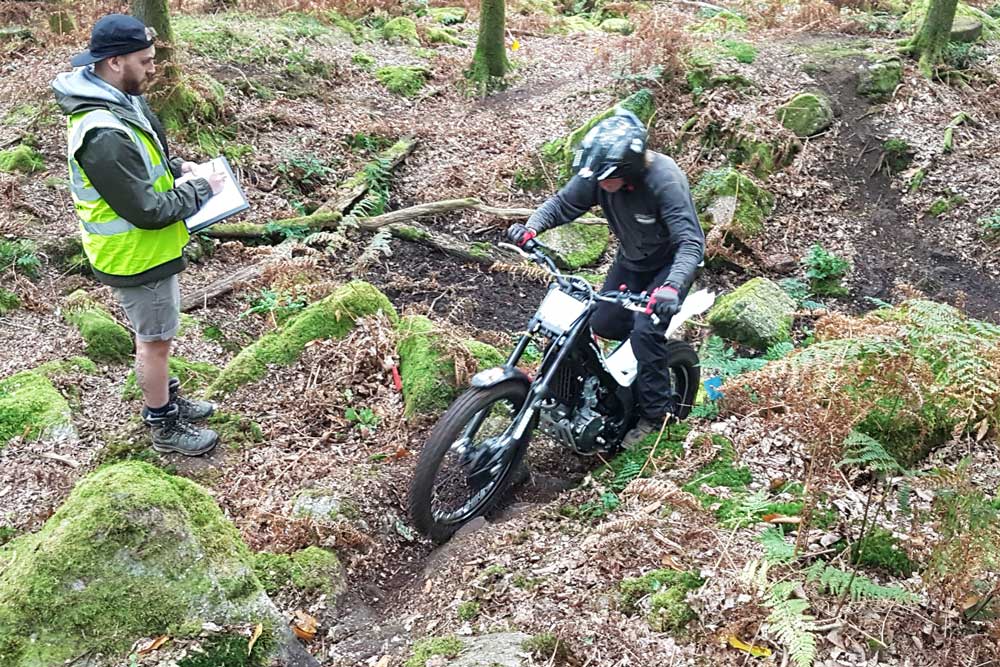 Mark Woodburn couldn't improve on a 3 in Josh Allen's Sec8. Nobody even matched Tom Cooper's lone clean though. Pic Colin Jones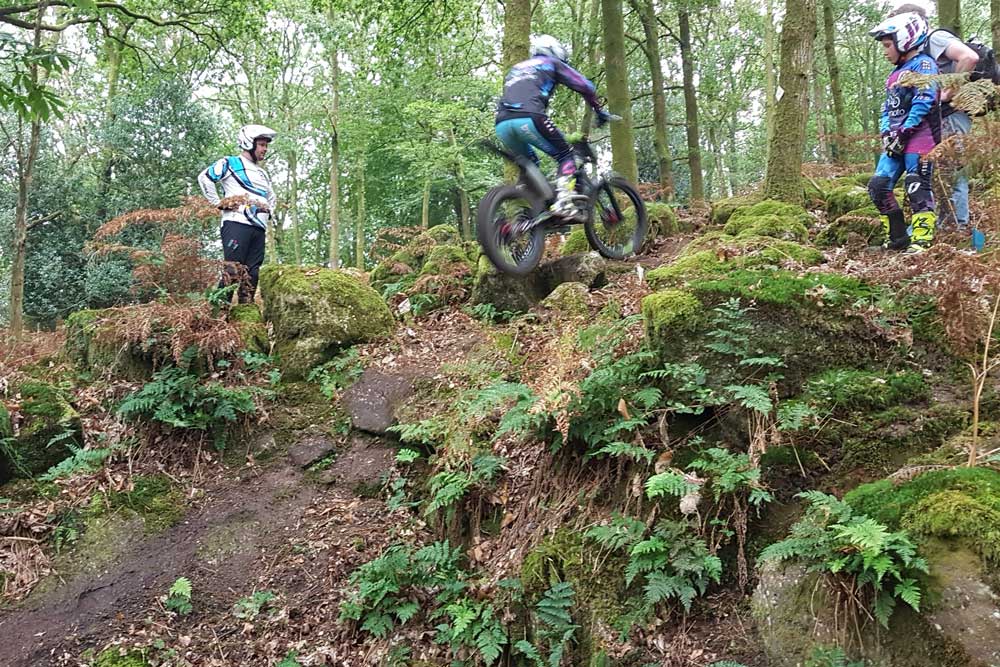 Overall winner Simon Welch demonstrates to young Edwyn how hard this Expert route is as Club/Exp riding Edwyn has to do the same. Pic Colin Jones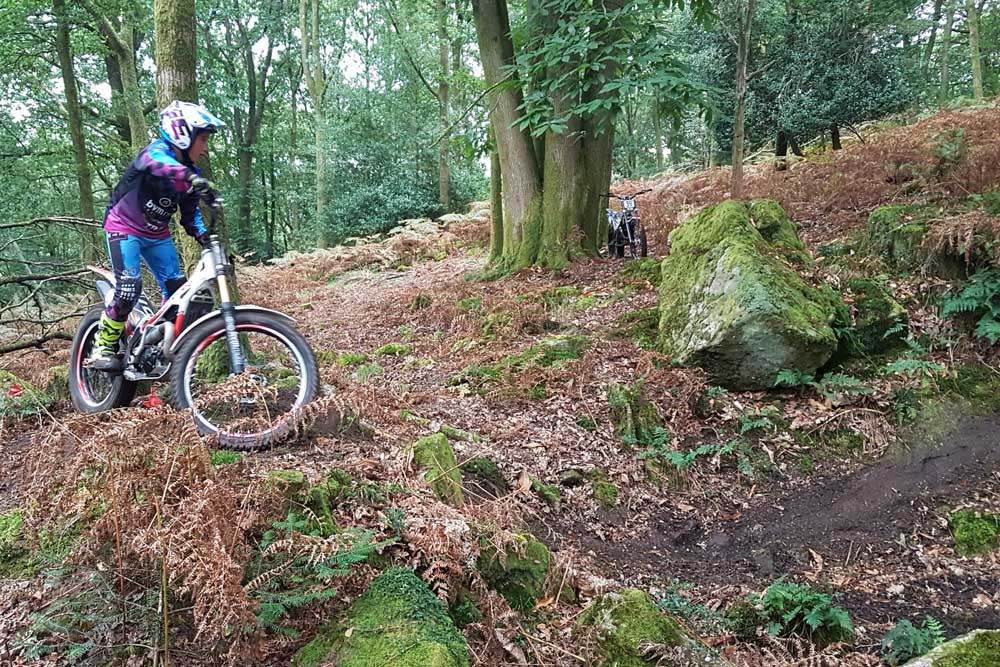 Edwyn gets lined up to see if he can match his previous best of a 3. Pic Colin Jones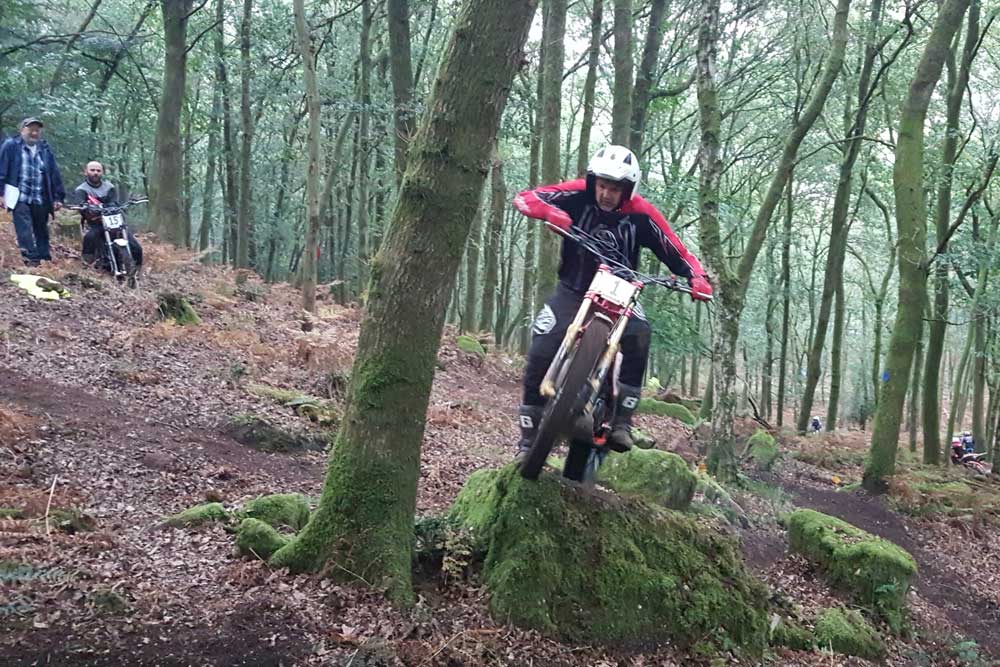 In Merv Morgan's Sec5 Robbie Breakwell feels the pressure from a watching Chris Morris who beat him in the previous week's
Stump Wood Hill Climb
, on his own turf! Pic Colin Jones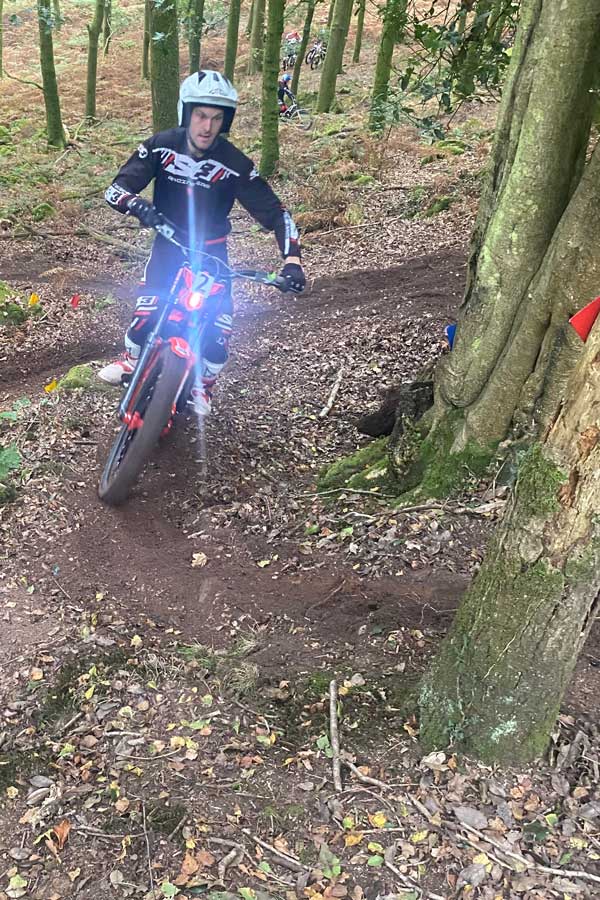 Chris Wickham couldn't improve on a dab here on James Wilden's Sec4. Pic James Wilden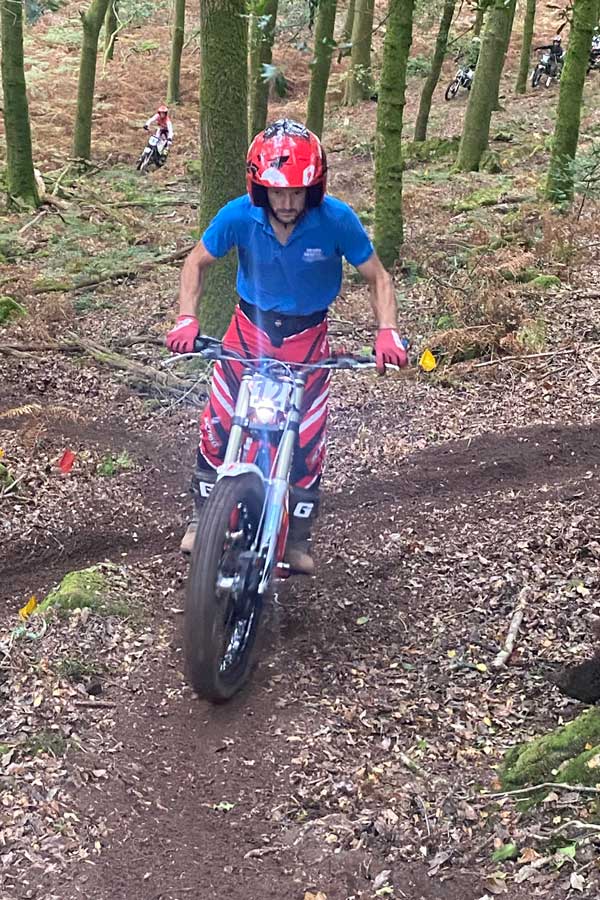 Henry Bendall's best was a clean. Pic James Wilden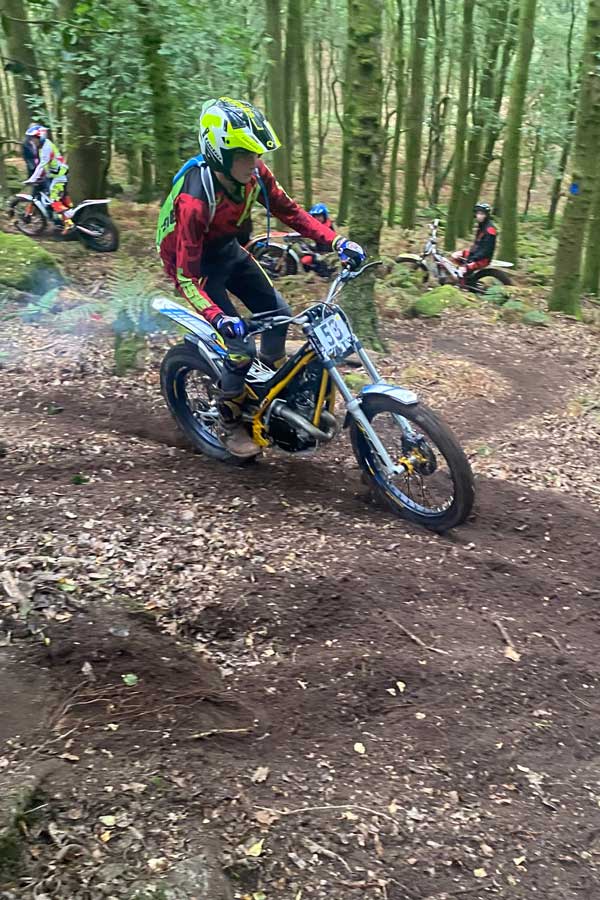 Dan Moir sensibly persevered with an off-sounding bike to claim maximum championship points for Youth A. Pic James Wilden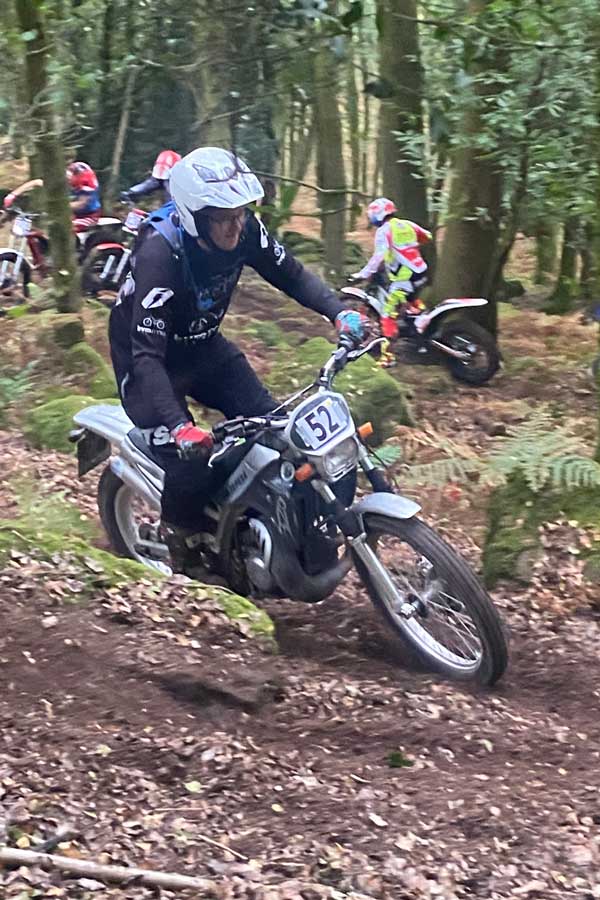 Dan's uncle, Ben Falconer bullied his winker clad trail-bike around for a creditable 28 total. Pic James Wilden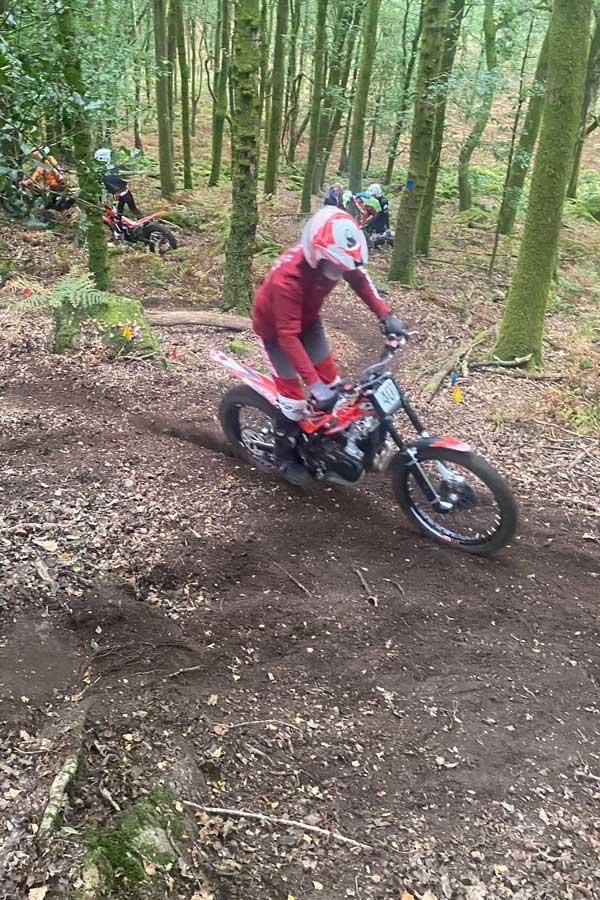 Paul Ruddock will still be raking in some championship points in the Over 50s with his 7th place. Pic James Wilden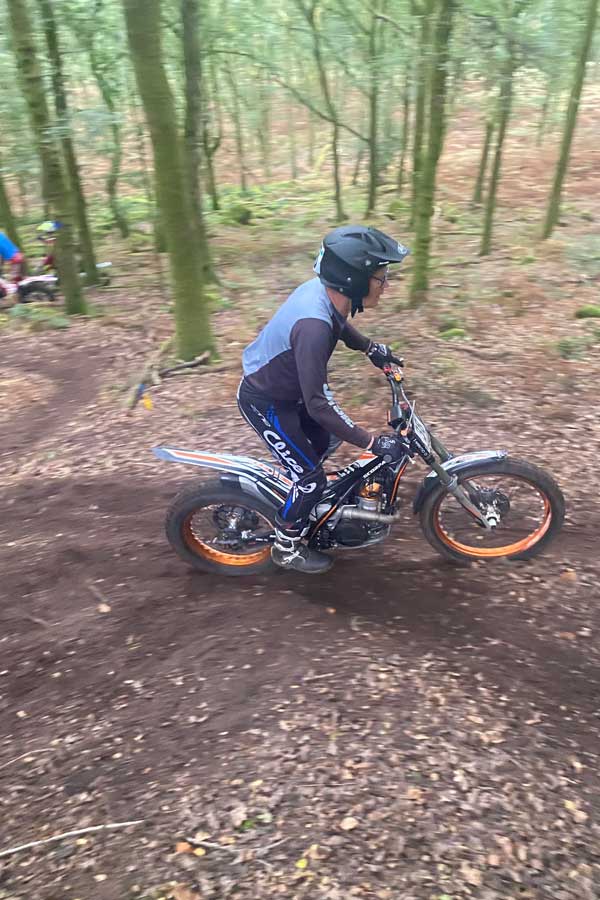 Sam Wilson gets 6th place in Over 50's. Pic James Wilden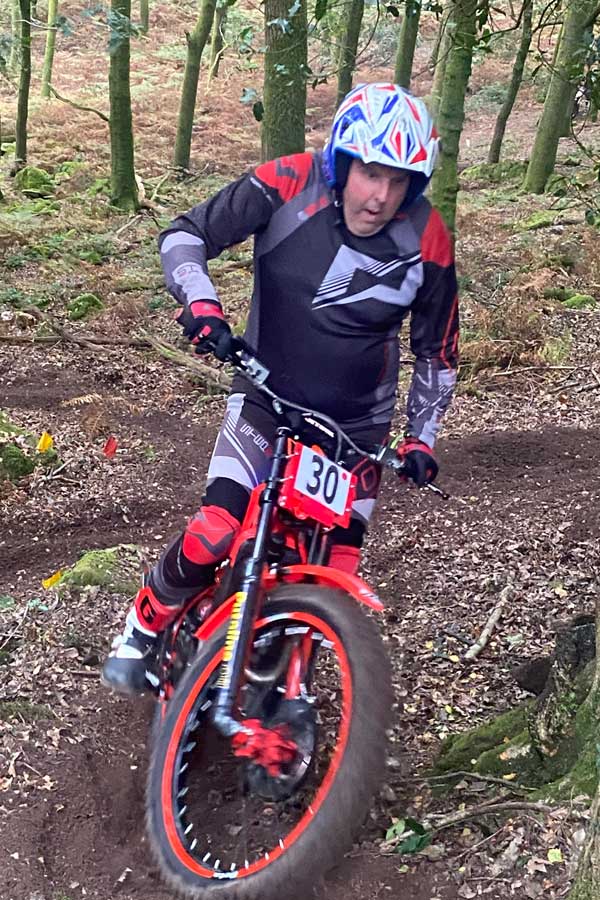 Roger Thornton is surprised to get away with a 3 again on the un-cleaned club route and picks up 8th place in Club. Pic James Wilden
---
Video
Rumour has it that BVM liked the trial, they've created a Teaser for their full video which should be ready on Sunday at 18:00. Whatever happens, you will find tons of stuff on their YouTube channel.
---
Snippets
The Section scouts report that there are a few more tree's down than 2021 which changes a few of the old favourites and replaces them with some fun new challenges.
A quick look at the Championship for WG members shows: Dan Bishop leading C/E with 20. John Jones in Club has 2. Adam Wight leads Sports+ with 20. Steve Wallwin in >50 has 15. In Sports John Brennan has 9, Rachael Wight has 6. Fred Bishop has 13 in Youth B. In Youth C Harry Bishop is tops with 20 and Zac Ellway 15.
There is a way to make Stony tougher - ride the Llandrindod's Fforest Fields long lap charity trial on the Saturday too. Only one Marathon Man so far. Well done Joseph, but I think our Phil Gardner is thinking of doing it!
---
Section Statistics
Section
Score Incidence
Tot
No.
0
1
2
3
5
10
Marks
Avg
Expert
1
12
14
3
3
4
0
49
1.36
2
3
7
7
10
9
0
96
2.67
3
9
4
4
4
15
0
99
2.75
4
15
12
3
5
1
0
38
1.06
5
8
11
5
5
7
0
71
1.97
6
32
3
0
1
0
0
6
0.17
7
13
11
5
4
3
0
48
1.33
8
9
20
2
5
0
0
39
1.08
9
3
9
4
10
10
0
97
2.69
10
19
11
4
2
0
0
25
0.69
11
27
4
3
2
0
0
16
0.44
12
7
10
10
7
2
0
61
1.69
Rte Tot:
157
116
50
58
51
0
645
1.49
Club/Expert
1
17
5
0
0
0
0
5
0.23
2
12
5
2
2
1
0
20
0.91
3
14
2
0
5
1
0
22
1
4
0
2
5
11
5
0
70
3.04
5
9
4
3
5
2
0
35
1.52
6
15
6
1
0
1
0
13
0.57
7
9
6
4
4
0
0
26
1.13
8
0
2
2
14
5
0
73
3.17
9
22
1
0
0
0
0
1
0.04
10
1
2
3
14
3
0
65
2.83
11
22
0
0
0
1
0
5
0.22
12
0
3
4
8
8
0
75
3.26
Rte Tot:
121
38
24
63
27
0
410
1.5
Club
1
24
4
2
1
5
0
36
1
2
1
17
9
9
0
0
62
1.72
3
5
3
4
17
7
0
97
2.69
4
0
3
2
25
6
0
112
3.11
5
3
7
4
19
3
0
87
2.42
6
17
10
6
2
1
0
33
0.92
7
3
9
3
18
3
0
84
2.33
8
1
0
3
31
1
0
104
2.89
9
33
2
1
0
0
0
4
0.11
10
19
7
4
5
1
0
35
0.97
11
31
2
2
0
1
0
11
0.31
12
2
2
4
18
10
0
114
3.17
Rte Tot:
139
66
44
145
38
0
779
1.8
Sports Plus
1
8
9
6
8
4
0
65
1.86
2
35
1
0
0
0
0
1
0.03
3
23
7
1
3
1
0
23
0.66
4
32
3
0
0
0
0
3
0.09
5
23
6
4
2
0
0
20
0.57
6
7
9
5
12
2
0
65
1.86
7
31
4
0
0
0
0
4
0.11
8
33
2
0
0
0
0
2
0.06
9
18
8
3
5
1
0
34
0.97
10
6
8
7
11
3
0
70
2
11
25
2
3
4
1
0
25
0.71
12
30
3
2
0
0
0
7
0.2
Rte Tot:
271
62
31
45
12
0
319
0.76
Sports
1
14
3
0
2
5
0
34
1.42
2
20
2
1
0
1
0
9
0.38
3
8
1
2
9
4
0
52
2.17
4
16
2
4
1
1
0
18
0.75
5
10
6
2
5
1
0
30
1.25
6
16
3
1
3
1
0
19
0.79
7
13
4
3
0
4
0
30
1.25
8
16
1
0
5
2
0
26
1.08
9
14
5
2
2
1
0
20
0.83
10
3
8
3
7
3
0
50
2.08
11
15
3
0
3
3
0
27
1.12
12
11
3
4
6
0
0
29
1.21
Rte Tot:
156
41
22
43
26
0
344
1.19
| Make. | Qty |
| --- | --- |
| TRS | 18 |
| Beta | 13 |
| Gas Gas | 8 |
| Montesa | 7 |
| Vertigo | 5 |
| Sherco | 2 |
| Scorpa | 2 |
| Mecatecno | 1 |
| Club. | Qty |
| --- | --- |
| West Glos & Dean Forest MCC | 13 |
| Stroud Valley AC | 13 |
| Kingswood MCC | 7 |
| Gloucester & Cotswold | 5 |
| North Berks. MCC | 4 |
| Cheltenham Home Guard MCC | 4 |
| Waltham Chase Trials MCC | 2 |
| Llandrindod Wells & District Motor Club | 2 |
| The Motor Cycling Club | 1 |
| Swindon + District MCC | 1 |
| Stratford on Avon MCC | 1 |
| Evesham MCC | 1 |
| Earl Shilton Trials Club | 1 |
| Dudley & District MCC | 1 |