Stony Green Trial - 13 May 2012
Update: Final Results now available.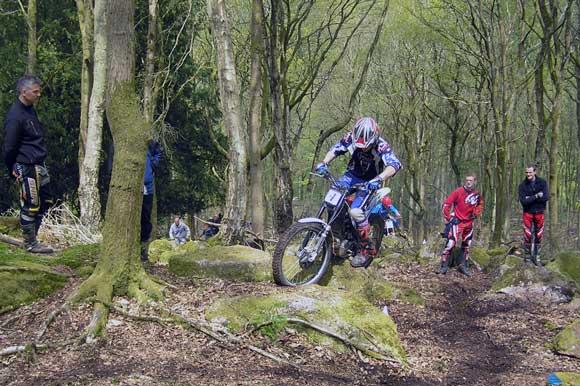 Sec Merv's view
How lucky can you get with English weather, unridable Friday, near perfect Sunday, was the script for the 2012 Stony Green Trial.
With 6 new sections including a graded hillclimb the riders were in for a treat. The three way scrap for top honours went to Simon Welch who convincingly outrode the young pretenders to his title, Ben Bowkett & Henry Bendall, made all the more admirable seeing as he lost 1/2 hour or so patching up Bro. Matt who took a nasty tumble on section 12 leading to Matt's retirement.
On the C/E route a near perfect ride by stalwart Midlands occasional visitor John Cowley gave him victory from Dursley youngster Nathan Pekala 13 and inter winner Mike James on 23. Good rides coming from our own Ben Bishop 33 and youth winner Jake Hoare 56.
Clubman honours went to local Mike Hughes 8, ahead of charitable O/40 winner Dai Clothier, who helped mark out rival Pontypool's Wellhead Trial only to choose the challenge of ours instead. Dai pipped Glyn Smith by two marks who won the biggest grin award. Chissy was puffing round well until a broken throttle cable halted his progress.
On Sportsman route Andrew Humphris took top adult spot just edging Adrian Hoare who surely must move back up to clubman soon. Star performer was Darren Thomas in 4th place (yes 4th place) just edging youth winner son of Steve, Tom Cooper, with Vess coming in 7th and a contender for biggest grin award. New club member Roge Parker riding his 4th event was going well untill a seized front brake ground him to a halt, (remember p.p.p.p.p.p. Roge.)
A massive thanks to all who helped out to make the day such a success esp, Colin who rattled out the results in record time, having just got back from his 10 day Euro trip.
Rider's view - Vess

I ride very few trials, but after seeing the course Merv and Steve were marking out on Saturday, I decided that it was definitely worth a go. As a seasoned wobbler, I found the 'yellow' route pitched at just the right level of difficulty to be challenging but not a bike-breaker. After all the recent rain, the conditions turned out to be near perfect - I don't think I've ever had such a clean bike after an event! So a great venue, great event and great weather (how did Merv and Steve organise that?) Thanks chaps!