September (Stony Green) Trial - 8 Sep 2019

Provisional Results v2.
---
See what happened in other Years - click the year's below...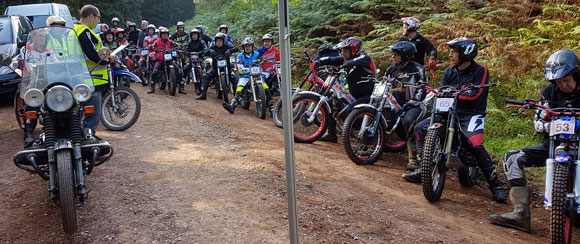 Info
Provisional Results now over on the right. Version 2, only change is Awards added.
Video to come...
This event is a round of the ACU Western Trials Championship and includes classes and routes for all with 5 adult routes and 2 conducted routes suitable for the beginners from the age of 4 up, and yes, we usually have some pensioners riding too!
---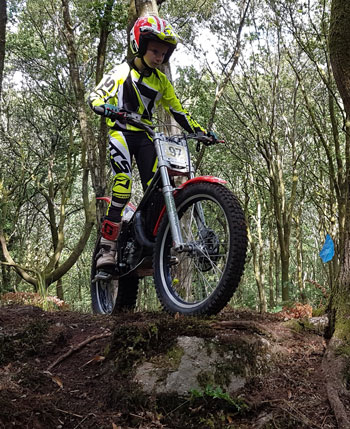 Top C on the day.
Snippets
We tried a change last year and switched venues for our Boxing Day Trial and the Sept Stony Green. The concensus of opinion appeared to be Stony is too tough in the winter. (Haha. As if Bixhead isn't tough too!) So we are back to 'normal'.
We initially feared for all future events on Forestry land as we were informed they would have to use a normal public Forestry car park and therefore be potentially parking miles away, crossing public roads and causing disruption to other car park users. Thanks to our organising team working with local Forestry officials a solution has been found to address the specific requirements of the venue for safety and minimising disruption.
Gaining permission to use the land is even more pleasing when you know there is a Police and Forestry operation underway in the Forest of Dean area to stop illegal and anti-social use of off-road bikes. The organising team appreciate that the Forestry and other Forest users all know there is a big difference between anti-social riding and an official ACU organised Trial, rather than the unfortunately held view that 'They are all illegal scramblers'! It is a shame that the Police name of the operation is 'Operation Endurance', which could be construed as a reference to Enduro bikes and tarring Enduro events with the same brush! Clearly, any type of bike can be used for illegal and anti-social riding and all the press reports from Operation Endurance when run in other parts of the county seem to show the expected stolen mopeds and scoooters (Don't let your genuine off-road bike be stolen and get trashed by the yob element!). Here is the official police report from the Cheltenham area.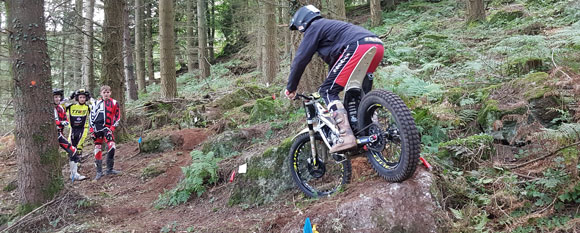 Young Guns picking up tips from c/e Top Gun Dan Sanders.
---
Section Statistics
Section
Score Incidence
Tot
No.
0
1
2
3
5
10
Marks
Avg
Expert
1
16
13
4
10
5
0
76
1.58
2
13
13
7
6
9
0
90
1.88
3
44
4
0
0
0
0
4
0.08
4
30
8
3
3
4
0
43
0.9
5
25
13
5
3
2
0
42
0.88
6
9
7
4
4
24
0
147
3.06
7
33
10
3
1
1
0
24
0.5
8
6
8
9
18
7
0
115
2.4
9
6
5
6
19
12
0
134
2.79
10
15
14
5
7
7
0
80
1.67
11
8
9
6
13
12
0
120
2.5
12
33
6
6
2
1
0
29
0.6
Rte Tot:
238
110
58
86
84
0
904
1.57
Clubman/Expert
1
12
1
0
0
0
0
1
0.08
2
0
1
0
3
9
0
55
4.23
3
10
3
0
0
0
0
3
0.23
4
11
2
0
0
0
0
2
0.15
5
13
0
0
0
0
0
0
0
6
3
2
4
3
1
0
24
1.85
7
5
2
2
1
2
0
19
1.58
8
0
0
3
5
4
0
41
3.42
9
0
2
2
8
0
0
30
2.5
10
6
4
0
2
0
0
10
0.83
11
5
5
1
1
0
0
10
0.83
12
1
1
6
1
3
0
31
2.58
Rte Tot:
66
23
18
24
19
0
226
1.51
Clubman
1
27
7
3
4
2
0
35
0.81
2
29
6
1
5
2
0
33
0.77
3
39
4
0
0
0
0
4
0.09
4
20
14
6
2
2
0
42
0.95
5
37
3
2
1
1
0
15
0.34
6
6
9
5
12
12
0
115
2.61
7
14
8
10
10
2
0
68
1.55
8
3
7
13
15
6
0
108
2.45
9
0
5
2
35
2
0
124
2.82
10
6
8
6
5
19
0
130
2.95
11
7
11
6
14
6
0
95
2.16
12
31
6
1
2
5
0
39
0.87
Rte Tot:
219
88
55
105
59
0
808
1.54
Sports Plus
1
5
2
4
6
4
0
48
2.29
2
9
3
1
5
3
0
35
1.67
3
17
1
3
0
0
0
7
0.33
4
9
11
0
0
1
0
16
0.76
5
18
2
0
0
1
0
7
0.33
6
12
5
0
1
3
0
23
1.1
7
9
4
5
3
0
0
23
1.1
8
2
2
3
11
3
0
56
2.67
9
14
4
1
1
1
0
14
0.67
10
13
7
0
0
1
0
12
0.57
11
15
4
0
2
0
0
10
0.48
12
15
4
0
2
0
0
10
0.48
Rte Tot:
138
49
17
31
17
0
261
1.04
Sportsman
1
15
6
5
2
5
0
47
1.42
2
6
5
5
12
5
0
76
2.3
3
20
8
5
0
0
0
18
0.55
4
2
12
5
11
2
0
65
2.03
5
27
1
2
0
3
0
20
0.61
6
6
5
6
10
6
0
77
2.33
7
19
9
2
4
0
0
25
0.74
8
0
4
5
22
3
0
95
2.79
9
12
3
6
9
3
0
57
1.73
10
11
12
2
2
6
0
52
1.58
11
11
8
8
3
3
0
48
1.45
12
15
10
2
3
5
0
48
1.37
Rte Tot:
144
83
53
78
41
0
628
1.57
Conducted Hard
1
2
3
3
6
2
0
37
2.31
2
2
3
5
1
4
0
36
2.4
3
2
0
4
2
4
0
34
2.83
4
4
4
1
0
3
0
21
1.75
5
1
1
0
4
5
0
38
3.45
6
0
1
2
5
0
0
20
2.5
Rte Tot:
11
12
15
18
18
0
186
2.51
Conducted Standard
1
0
1
0
3
4
0
30
3.75
2
1
1
2
3
1
0
19
2.38
3
0
2
1
3
2
0
23
2.88
4
0
0
1
7
0
0
23
2.88
5
4
0
0
1
3
0
18
2.25
6
0
0
0
7
1
0
26
3.25
Rte Tot:
5
4
4
24
11
0
139
2.9
---
| Make. | Qty |
| --- | --- |
| TRS | 14 |
| Beta | 14 |
| Gas Gas | 12 |
| Montesa | 10 |
| Oset | 4 |
| Sherco | 3 |
| Yamaha | 2 |
| Vertigo | 1 |
| Scorpa | 1 |
| James | 1 |
| Honda | 1 |
---
| Club. | Qty |
| --- | --- |
| West Glos & Dean Forest MCC | 15 |
| Zona 1 | 8 |
| Gloucester & Cotswold | 8 |
| Stroud Valley AC | 6 |
| Kingswood MCC | 6 |
| Wye Valley Auto Club | 4 |
| Wilts Border MC & LCC | 4 |
| Swindon + District MCC | 4 |
| North Somerset Motorsports Club | 2 |
| Cheltenham Home Guard MCC | 2 |
| Yeo Vale MCC | 1 |
| Somerton & DMC & LCC | 1 |
| Merthyr Motor Club | 1 |
| Leamington Victory MC & LCC | 1 |
---