Wyegate Trial 2018
Supplementary Regulations.
---
Want to see what happened in previous Years? (there are videos and photos.) Then go to the Past Winners List and click on the year number.
HELP HELP HELP!
The FAQ's page. (Frequently Asked Questions)
Also have a look at our Wyegates Remembered Page
---
Info
Online Entries are open. Apologies that the Supp Regs are the wrong ones on the ACU site. I think the ones on the right are what was intended but should I be wrong then you will all be given a chance to see and react to any differences without any comebacks.
OK. Time to wake this web page up. Everything has been going on in the background with our club's 2nd National rated Clerk of Course, Rod Jones, stepping in for 2018. Last year's CoC will of course get to ride again (And still get lumbered with some of the work!). And Rod is no newbie. He's been CofC for the Wyegate twice before.
We will need support for this big ACU British Championship event. If you are able to help out then please get in touch with our Wyegate Secretary if you don't already come to our club meetings. Planning starts 6 months before at least. Come to club meetings and find out. More information in the 'Marshal's section below.
---
Marshals
If you want to help out we are looking for Marshals so contact our Chief Marshal Darren Thomas, on yg8obbo@outlook.com
He can fit you up with a section or task to match your needs. Most sections are only open for a few hours and are in fabulous areas of countryside that you may not normally have access to. You don't have to have a bike to get to them though some sections are remote. No experience is needed and if you contact him early you get the best pick.
---
Snippets
When planning when to run the Wyegate at the ACU Western Dates meeting we have to avoid clashing with other events yet maintain a similar time of year. Thanks to Glos & Cots for moving their local trials Championship round to the 4th March, allowing riders and officials to compete at both events. In the coming entry list you may spot the reason - rumour has it we will have a few of their club members selecting some raggedy old bikes to ensure their isn't a West Glos or Chelt' HG team at the top!
In previous events the vast majority have managed the Online entry system with only a few having to attend one of our club meetings. We have added some clues above the Entry List and an email address if they are still baffled.
Chris Koch is the current Wyegate Cup holder and is coming back to retain it this year and he's won it on 4 stroke and 2 stroke and on Enduro style bike and Trials style too. The Cup has only been won by 4 Pre-65 bikes over the years; Jim Delahay 1983, Adrian Moss 1986, Tony Davis 1989 and Steve Grindle in 2004. So is this the year a Tiger Cub gets it? (If you are checking through the Past Winners List, we think Jon Bliss was on the italjet in 1998. Let us know if we've missed anyone.)
---
Entries
Entries are only available through the ACU Club Members system. If you haven't already registered then you will need to login using your licence number. Read the rest of this section before clicking the image to the right to go straight to the login page.
You will find the Wyegate entry link either on the list of 'Latest Events' on the ACU main page, Click 'View All' to then list Trials events for March. Or, Login on the members portal link then select 'Search For An Event' from the menu on the left.
Check you have given your current email/address on your member details!
First - Read the Supplementary Regs. They are on this page and the ACU site.
When you get to the Class choices:
Tick one of A, B or C for your main class, you will be asked which route you want to ride later.
Then identify any of classes D-G that apply,
Make sure you fill in the other questions too.
Note: We do not allow Day Licences for this event as full licences only cost £10 and we would suffer unnecessary paperwork. If you want to ride then you need to obtain a licence by normal means. i.e. Obtain club membership and licence as soon as possible through your normal/local club either at a club meeting or by post to the secretary. Or, thanks to the ACU system you can apply for a licence and join our club online before you then enter the Wyegate.
A bit more help: During the entry process there are some other questions you will be asked after choosing Classes. You need to decide how you would like the route delivered to you. It can be emailed in a PDF form for you to print out how you please or Posted. Also you can enter Team details. Lastly you must include the registration number of your machine. (Remember your entry will not be approved if these details are not entered!)
Below are images of the screens you will see when entering the event.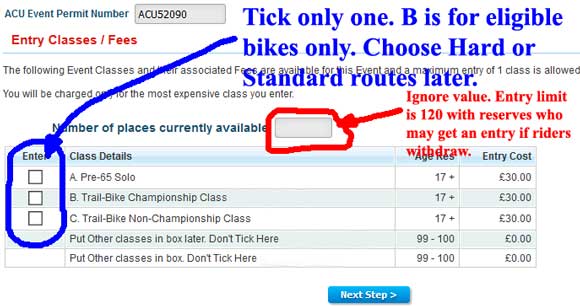 Then you will see these options after entering your details.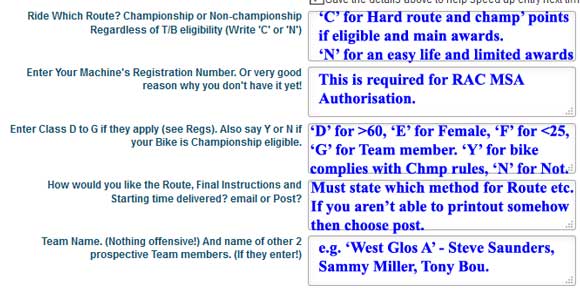 ---
Videos From Previous years
Here are a few clips from the event. To view in HD you need to click the HD or Vimeo link to open on their site.
---
Entry List
Teams are listed below Entry list.
OK, you can stop counting them yourselves. I've relented and decided to save you the effort:
Entry status: 86 of 120.
Surname Order or Class Order
Last Updated: 16Jan2018 22:56
| No. | Name | Club | Route | Class | Bike |
| --- | --- | --- | --- | --- | --- |
| - | John ADAMS | BWEMC | Std Rte | NCh | Honda TL 250 |
| - | Vince AUSTIN | Witley | Std Rte | NCh,Tm | Gas Gas Pampera 250 |
| - | Chris AYLOTT | Ixion | Std Rte | NCh | KTM Freeride 350 |
| - | Steve BALDOCK | EDMCC | Std Rte | NCh | Beta 300 |
| - | Richard BEALE | NSMSC | Std Rte | NCh | Honda CRF 230 |
| - | Colin BEASLEY | Witley | Std Rte | NCh,>60,Tm | Honda CRF 230 |
| - | Alf BENDALL | WG | Champ' Rte | >60,Chp | Gas Gas Pampera 250 |
| - | Henry BENDALL | WG | Champ' Rte | Tm,Chp | Gas Gas Pampera 250 |
| - | Joe BENDALL | WG | Champ' Rte | Tm,Chp | Gas Gas Pampera 250 |
| - | Harvey BENNION | GC | Std Rte | NCh | Honda CRM 250 |
| - | Damien BOTTLE | WoEMC | Std Rte | NCh | Gas Gas Pampera 250 |
| - | Roger BRAIN | KW | Std Rte | NCh,>60,Tm | Gas Gas Pampera 250 |
| - | David BRAWN | Walth | Std Rte | NCh | Kawasaki KDX 200 |
| - | Stuart BROWN | WG | Std Rte | NCh | KTM EXC-F 250 |
| - | Mark CHORLEY | Water | Std Rte | NCh | Honda XR 125 |
| - | Adam COLBURN | Z1 | Std Rte | Tm,Chp | Sherco X-Ride 290 |
| - | Peter COLLINS | EDMCC | Std Rte | NCh,Tm | KTM Freeride 250 |
| - | Kevan CORNWALL | EDMCC | Std Rte | NCh | KTM Freeride 250 |
| - | Lionel COX | Berk | Std Rte | NCh,>60 | Ossa Explorer 280 |
| - | David DALBY | TRF | Std Rte | NCh | KTM Freeride 350 |
| - | Steven DAY | Macc | Std Rte | NCh,>60 | KTM Freeride F 250 |
| - | Andrew DE-MERIST | Norm | Std Rte | NCh | Beta X Trainer 300 |
| - | Kevin DIXON | TRF | Std Rte | NCh | KTM Freeride 350 |
| - | Tony ERREY | EDMCC | Champ' Rte | Chp | KTM Freeride 250 |
| - | Ben FALCONER | CHG | Champ' Rte | Chp | Gas Gas Pampera 333 |
| - | Andy FOOT | Macc | Champ' Rte | Chp | Gas Gas Pampera 250 |
| - | Dave GEORGE | Berk | Std Rte | NCh,>60,Tm | Sherco X-Ride 290 |
| - | Martin GILBERT | DDMCC | Champ' Rte | Chp | Gas Gas Pampera 320 |
| - | David GILTROW | Mbuzz | Std Rte | NCh | Beta Alp 200 |
| - | Steve GRINTER | Taunt | Std Rte | NCh | Honda XTL 185 |
| - | Grace HAGAN | Berk | Std Rte | Fem,NCh,Tm | Honda 250 |
| - | Graham HARRIS | SDMCC | Std Rte | NCh,>60 | Sherco X-Ride 290 |
| - | James HIGGS | TRF | Std Rte | NCh,Tm | Yamaha XT 225 |
| - | David HODGETTS | WG | Std Rte | NCh | Honda CRF 230 |
| - | Martin HORNAK | BSSA | Std Rte | NCh | KTM EXC 250 |
| - | Mike HUSBAND | RRND | Champ' Rte | >60,Chp | Gas Gas Pampera 272 |
| - | Neil JARVIS | GestTC | Std Rte | NCh,Tm | Gas Gas TX Randonne 200 |
| - | Colin JONES | WG | Champ' Rte | >60,Tm,Chp | Beta Alp 200 |
| - | Andrew KEARNS | CVMC | Std Rte | NCh | Honda CRF 230 |
| - | Brendon KEDWARD | WG | Std Rte | NCh | KTM EXC-F 350 |
| - | Stephen KENNY | RAFMsa | Champ' Rte | Chp | KTM EXC 300 |
| - | Andrew LEAHY | MndV | Champ' Rte | >60,Tm,Chp | Sherco X-Ride 305 |
| - | Kevin LENNOX | MndV | Champ' Rte | >60,Chp | KTM Freeride 250 |
| - | Micheal MANT | WoEMC | Std Rte | NCh,>60 | Honda CRF 230 |
| - | Steve MASTERS | EDMCC | Std Rte | NCh,Tm | Gas Gas TXT 300 |
| - | Robin MILL | DDMCC | Std Rte | NCh | Montesa 4Ride 260 |
| - | Kevin MILLER | SDMCC | Champ' Rte | Chp | Sherco X-Ride 290 |
| - | Paul MILLHOUSE | Man17 | Std Rte | NCh | Ossa TR 300 |
| - | Merv MORGAN | WG | Std Rte | NCh,>60,Tm | Gas Gas Pampera 250 |
| - | Richard MUMFORD | WoEMC | Std Rte | NCh | Montesa 4Ride 260 |
| - | Paul NEWMAN | WG | Std Rte | NCh | KTM EXC 300 |
| - | Neil OCONNOR | Wcorn | Std Rte | NCh | Honda XR 280 |
| - | Alan PATON | EDMCC | Std Rte | NCh | KTM Freeride 250 |
| - | Steve PEAK | Mbuzz | Std Rte | NCh | Gas Gas Pampera 250 |
| - | Christian PEARSON | Dud | Champ' Rte | Chp | Rally Industrial Services - Beta X Trainer 300 |
| - | Robert PIKE | MndV | Champ' Rte | Tm,Chp | Honda CRF 230 |
| - | Tom PIKE | MndV | Champ' Rte | Chp | Kawasaki KDX 220 |
| - | John PRESLAND | NSMSC | Std Rte | NCh | Montesa 4Ride 260 |
| - | John QUIGG | Mbuzz | Std Rte | NCh,>60 | Beta Alp 200 |
| - | Julian RIGBY | NSMSC | Champ' Rte | Chp | GMB Racing - KTM EXC 300 |
| - | John ROBERTS | KW | Champ' Rte | Chp | Gas Gas Pampera 250 |
| - | Paul ROGERS | Bridp | Std Rte | NCh | KTM Freeride 350 |
| - | Graham SMITH | HTC | Std Rte | NCh | KTM Freeride 250 |
| - | Andy STAGG | NSMSC | Std Rte | NCh | KTM Freeride 350 |
| - | Kevin STANNARD | Macc | Champ' Rte | >60,Chp | Gas Gas Pampera 250 |
| - | Paul STEPHENS | WG | Std Rte | NCh,Tm | KTM Freeride 250 |
| - | Gary SUTTON | EDMCC | Std Rte | NCh | KTM Freeride 250 |
| - | Stuart THATCHER | KW | Champ' Rte | Chp | KTM Freeride 250 |
| - | Ian THOMPSON | MCC | Champ' Rte | NCh,p65 | Greeves TFS 246 |
| - | Wayne TIBBLES | SDMCC | Std Rte | NCh | Kawasaki KDX 200 |
| - | Steve VENN | CHG | Champ' Rte | >60,Chp | Sherco X-Ride 290 |
| - | Jerry WALTERS | NSMSC | Champ' Rte | Chp | Yamaha DT 175 |
| - | Matthew WELCH | GC | Champ' Rte | p65,Tm | Royal Enfield Bullet 350 |
| - | Simon WELCH | GC | Champ' Rte | Tm,Chp | Gas Gas Pampera 250 |
| - | Mark WELLS | Sshrop | Champ' Rte | Chp | Beta Alp 200 |
| - | Michael WHITEHOUSE | Taunt | Std Rte | NCh,>60 | Beta Alp 200 |
| - | Mark WHITTERS | Norm | Std Rte | NCh | Gas Gas Pampera 250 |
| - | Mike WILDING | Sshrop | Std Rte | NCh | Beta Alp 200 |
| - | Sam WILSON | CHG | Std Rte | NCh,Tm | Sherco X-Ride 290 |
| - | Stephen WINSTANLEY | KW | Champ' Rte | NCh | Sherco X-Ride 290 |
| - | Greg WISNIEWSKI | BSSA | Champ' Rte | Tm,Chp | KTM Freeride 250 |
| - | Ian WIXON | WG | Champ' Rte | NCh,p65 | Matchless 500 |
| - | Richard WOODFIELD | Mbuzz | Champ' Rte | NCh | Beta Alp 200 |
| - | Gary WOOSTER | SDMCC | Std Rte | NCh,>60 | Beta Alp 200 |
| - | Martin WORGAN | WG | Std Rte | NCh | AJP Ultrapassar PR3 240 |
| - | Nicholas WORGAN | WG | Std Rte | NCh | KTM Freeride 250 |
Class Order or Surname Order
Last Updated: 16Jan2018 22:56
| No. | Name | Club | Route | Class | Bike |
| --- | --- | --- | --- | --- | --- |
| - | Alf BENDALL | WG | Champ' Rte | >60,Chp | Gas Gas Pampera 250 |
| - | Mike HUSBAND | RRND | Champ' Rte | >60,Chp | Gas Gas Pampera 272 |
| - | Kevin LENNOX | MndV | Champ' Rte | >60,Chp | KTM Freeride 250 |
| - | Kevin STANNARD | Macc | Champ' Rte | >60,Chp | Gas Gas Pampera 250 |
| - | Steve VENN | CHG | Champ' Rte | >60,Chp | Sherco X-Ride 290 |
| - | Colin JONES | WG | Champ' Rte | >60,Tm,Chp | Beta Alp 200 |
| - | Andrew LEAHY | MndV | Champ' Rte | >60,Tm,Chp | Sherco X-Ride 305 |
| - | Tony ERREY | EDMCC | Champ' Rte | Chp | KTM Freeride 250 |
| - | Ben FALCONER | CHG | Champ' Rte | Chp | Gas Gas Pampera 333 |
| - | Andy FOOT | Macc | Champ' Rte | Chp | Gas Gas Pampera 250 |
| - | Martin GILBERT | DDMCC | Champ' Rte | Chp | Gas Gas Pampera 320 |
| - | Stephen KENNY | RAFMsa | Champ' Rte | Chp | KTM EXC 300 |
| - | Kevin MILLER | SDMCC | Champ' Rte | Chp | Sherco X-Ride 290 |
| - | Christian PEARSON | Dud | Champ' Rte | Chp | Rally Industrial Services - Beta X Trainer 300 |
| - | Tom PIKE | MndV | Champ' Rte | Chp | Kawasaki KDX 220 |
| - | Julian RIGBY | NSMSC | Champ' Rte | Chp | GMB Racing - KTM EXC 300 |
| - | John ROBERTS | KW | Champ' Rte | Chp | Gas Gas Pampera 250 |
| - | Stuart THATCHER | KW | Champ' Rte | Chp | KTM Freeride 250 |
| - | Jerry WALTERS | NSMSC | Champ' Rte | Chp | Yamaha DT 175 |
| - | Mark WELLS | Sshrop | Champ' Rte | Chp | Beta Alp 200 |
| - | Stephen WINSTANLEY | KW | Champ' Rte | NCh | Sherco X-Ride 290 |
| - | Richard WOODFIELD | Mbuzz | Champ' Rte | NCh | Beta Alp 200 |
| - | Ian THOMPSON | MCC | Champ' Rte | NCh,p65 | Greeves TFS 246 |
| - | Ian WIXON | WG | Champ' Rte | NCh,p65 | Matchless 500 |
| - | Matthew WELCH | GC | Champ' Rte | p65,Tm | Royal Enfield Bullet 350 |
| - | Henry BENDALL | WG | Champ' Rte | Tm,Chp | Gas Gas Pampera 250 |
| - | Joe BENDALL | WG | Champ' Rte | Tm,Chp | Gas Gas Pampera 250 |
| - | Robert PIKE | MndV | Champ' Rte | Tm,Chp | Honda CRF 230 |
| - | Simon WELCH | GC | Champ' Rte | Tm,Chp | Gas Gas Pampera 250 |
| - | Greg WISNIEWSKI | BSSA | Champ' Rte | Tm,Chp | KTM Freeride 250 |
| - | Grace HAGAN | Berk | Std Rte | Fem,NCh,Tm | Honda 250 |
| - | John ADAMS | BWEMC | Std Rte | NCh | Honda TL 250 |
| - | Chris AYLOTT | Ixion | Std Rte | NCh | KTM Freeride 350 |
| - | Steve BALDOCK | EDMCC | Std Rte | NCh | Beta 300 |
| - | Richard BEALE | NSMSC | Std Rte | NCh | Honda CRF 230 |
| - | Harvey BENNION | GC | Std Rte | NCh | Honda CRM 250 |
| - | Damien BOTTLE | WoEMC | Std Rte | NCh | Gas Gas Pampera 250 |
| - | David BRAWN | Walth | Std Rte | NCh | Kawasaki KDX 200 |
| - | Stuart BROWN | WG | Std Rte | NCh | KTM EXC-F 250 |
| - | Mark CHORLEY | Water | Std Rte | NCh | Honda XR 125 |
| - | Kevan CORNWALL | EDMCC | Std Rte | NCh | KTM Freeride 250 |
| - | David DALBY | TRF | Std Rte | NCh | KTM Freeride 350 |
| - | Andrew DE-MERIST | Norm | Std Rte | NCh | Beta X Trainer 300 |
| - | Kevin DIXON | TRF | Std Rte | NCh | KTM Freeride 350 |
| - | David GILTROW | Mbuzz | Std Rte | NCh | Beta Alp 200 |
| - | Steve GRINTER | Taunt | Std Rte | NCh | Honda XTL 185 |
| - | David HODGETTS | WG | Std Rte | NCh | Honda CRF 230 |
| - | Martin HORNAK | BSSA | Std Rte | NCh | KTM EXC 250 |
| - | Andrew KEARNS | CVMC | Std Rte | NCh | Honda CRF 230 |
| - | Brendon KEDWARD | WG | Std Rte | NCh | KTM EXC-F 350 |
| - | Robin MILL | DDMCC | Std Rte | NCh | Montesa 4Ride 260 |
| - | Paul MILLHOUSE | Man17 | Std Rte | NCh | Ossa TR 300 |
| - | Richard MUMFORD | WoEMC | Std Rte | NCh | Montesa 4Ride 260 |
| - | Paul NEWMAN | WG | Std Rte | NCh | KTM EXC 300 |
| - | Neil OCONNOR | Wcorn | Std Rte | NCh | Honda XR 280 |
| - | Alan PATON | EDMCC | Std Rte | NCh | KTM Freeride 250 |
| - | Steve PEAK | Mbuzz | Std Rte | NCh | Gas Gas Pampera 250 |
| - | John PRESLAND | NSMSC | Std Rte | NCh | Montesa 4Ride 260 |
| - | Paul ROGERS | Bridp | Std Rte | NCh | KTM Freeride 350 |
| - | Graham SMITH | HTC | Std Rte | NCh | KTM Freeride 250 |
| - | Andy STAGG | NSMSC | Std Rte | NCh | KTM Freeride 350 |
| - | Gary SUTTON | EDMCC | Std Rte | NCh | KTM Freeride 250 |
| - | Wayne TIBBLES | SDMCC | Std Rte | NCh | Kawasaki KDX 200 |
| - | Mark WHITTERS | Norm | Std Rte | NCh | Gas Gas Pampera 250 |
| - | Mike WILDING | Sshrop | Std Rte | NCh | Beta Alp 200 |
| - | Martin WORGAN | WG | Std Rte | NCh | AJP Ultrapassar PR3 240 |
| - | Nicholas WORGAN | WG | Std Rte | NCh | KTM Freeride 250 |
| - | Lionel COX | Berk | Std Rte | NCh,>60 | Ossa Explorer 280 |
| - | Steven DAY | Macc | Std Rte | NCh,>60 | KTM Freeride F 250 |
| - | Graham HARRIS | SDMCC | Std Rte | NCh,>60 | Sherco X-Ride 290 |
| - | Micheal MANT | WoEMC | Std Rte | NCh,>60 | Honda CRF 230 |
| - | John QUIGG | Mbuzz | Std Rte | NCh,>60 | Beta Alp 200 |
| - | Michael WHITEHOUSE | Taunt | Std Rte | NCh,>60 | Beta Alp 200 |
| - | Gary WOOSTER | SDMCC | Std Rte | NCh,>60 | Beta Alp 200 |
| - | Colin BEASLEY | Witley | Std Rte | NCh,>60,Tm | Honda CRF 230 |
| - | Roger BRAIN | KW | Std Rte | NCh,>60,Tm | Gas Gas Pampera 250 |
| - | Dave GEORGE | Berk | Std Rte | NCh,>60,Tm | Sherco X-Ride 290 |
| - | Merv MORGAN | WG | Std Rte | NCh,>60,Tm | Gas Gas Pampera 250 |
| - | Vince AUSTIN | Witley | Std Rte | NCh,Tm | Gas Gas Pampera 250 |
| - | Peter COLLINS | EDMCC | Std Rte | NCh,Tm | KTM Freeride 250 |
| - | James HIGGS | TRF | Std Rte | NCh,Tm | Yamaha XT 225 |
| - | Neil JARVIS | GestTC | Std Rte | NCh,Tm | Gas Gas TX Randonne 200 |
| - | Steve MASTERS | EDMCC | Std Rte | NCh,Tm | Gas Gas TXT 300 |
| - | Paul STEPHENS | WG | Std Rte | NCh,Tm | KTM Freeride 250 |
| - | Sam WILSON | CHG | Std Rte | NCh,Tm | Sherco X-Ride 290 |
| - | Adam COLBURN | Z1 | Std Rte | Tm,Chp | Sherco X-Ride 290 |
No.
Teams
CHG Volunteers
0
Ben Falconer - Gas Gas Pampera 333cc
0
Steve Venn - Sherco X-Ride 290cc
0
Sam Wilson - Sherco X-Ride 290cc
Falloffalot
0
Neil Jarvis - Gas Gas TX Randonne 200cc
0
Peter Collins - KTM Freeride 250cc
0
Steve Masters - Gas Gas TXT 300cc
Ghidorah
0
Colin Beasley - Honda CRF 230cc
0
Vince Austin - Gas Gas Pampera 250cc
Glos & Cots
0
Matthew Welch - Royal Enfield Bullet 350cc
0
Simon Welch - Gas Gas Pampera 250cc
Old Boys
0
Greg Wisniewski - KTM Freeride 250cc
Old Boys & Girl
0
Grace Hagan - Honda 250cc
0
Lionel Cox - Ossa Explorer 280cc
0
Dave George - Sherco X-Ride 290cc
Once Weres
0
Joe Bendall - Gas Gas Pampera 250cc
0
Henry Bendall - Gas Gas Pampera 250cc
Pike's Plonkers
0
Andrew Leahy - Sherco X-Ride 305cc
0
Tom Pike - Kawasaki KDX 220cc
0
Robert Pike - Honda CRF 230cc
Team 6t9
0
Stephen Kenny - KTM EXC 300cc
0
Kevin Stannard - Gas Gas Pampera 250cc
0
Andy Foot - Gas Gas Pampera 250cc
Team No
0
Damien Bottle - Gas Gas Pampera 250cc
0
James Higgs - Yamaha XT 225cc
Too Old
0
Roger Brain - Gas Gas Pampera 250cc
0
Kevin Miller - Sherco X-Ride 290cc
0
Adam Colburn - Sherco X-Ride 290cc
West Glos C Team
0
Merv Morgan - Gas Gas Pampera 250cc
0
Colin Jones - Beta Alp 200cc
X
0
Mike Wilding - Beta Alp 200cc
0
Mark Wells - Beta Alp 200cc
0
Christian Pearson - Beta X Trainer 300cc
---