Now Available: DVD's of club events, Recent Wyegates and various from 1983 to 1995, video'd on a then state of the art Betamax Camera. Talk to us for details.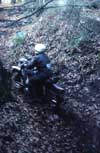 This page and its links will hopefully give you a greater understanding of what the Wyegate Trial is about. The trial has evolved over the years and if anything has broadened its appeal. We have good centre experts riding on classic bikes who won't be dropping many marks and raw first timers who will drop plenty, but all will go home with a warm glow of achievement. If you have been involved or ridden in previous Wyegates and would like to contribute to this page please send to admin@wgdfmcc.org.uk We have been promised more info still to come...
---
Deryk Wylde's Column 1985
Excerpts taken from TMX.

The report on the Wyegate started with the comment that it was an enjoyable event - once you had got to the first section! The report was totally accurate since the first few miles covered some incredibly difficult green lanes. Indeed I would class one of them as a gully (Devil's Staircase - not used in recent years- ed). A gem only handle-bar wide, climbing steeply with a rock step turn of 3 ledges each around a foot high. Hardly ideal territory for an early rigid; but a lot of fun nonetheless….
Pant-glas steps is a rocky sunken lane climbing out of a valley, a truly natural section that was enjoyed by all. That is what trials are about. I'll be back next year without doubt, but next time I will be prepared for those steps!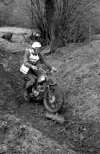 Some things don't change eh? Lots of challenging going, a few killer sections but essentially a fantastic day's ride, (or 2 in the case of this year).
Do you have any memories from past events you would like to share? Amusing anecdotes, tales of things going not quite right or even your successes - eventually cleaning Pant-glas steps after years of trying. We would love to hear them for the website or inclusion in the souvenir programme.
Have you got any pictures of past events, especially the early years? As well as sending digital photographs, we can also scan prints, negatives and slides and let you have them back.
What about videos? Do any of you have any video footage or clips? Talk to us about what format you have.
Contact Jackie the programme editor via admin@wgdfmcc.org.uk