Wyegate Trial 2013
---
More Pics to come. Has anyone got a good crisp shot of Joe? A Video is here. Are there more?
---
Want to see what happened in previous Years? (there are videos and photos.) Then go to the Past Winners List and click on the year number.
Also have a look at our Wyegate's Remembered Page
---
---
Ben's Press Report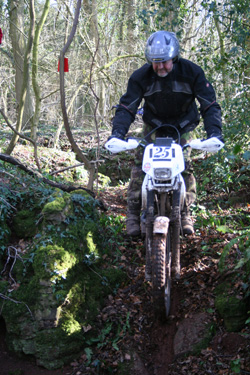 MISSING a section cost a three time winner a record fourth win in the Wyegate Long Distance Trial.
While Gavin Moore carded only six on observation compared to Joe Bendall's 10 over 24 classic trials sections, Moore, who has won three Wyegate titles on the bounce, incurred a 10 mark penalty for missing Wyegate Lane.
The classic event in the Forest of Dean and Wye Valley has tested riders on old fashioned no- inspection sections, over an 80 mile course since 1983 and this year's edition again demonstrated just how narrow the margin between success and failure is.
Section three at Wyegate Lane was where the trial was won and lost, as while Moore suffered the big penalty score, Joe Bendall was the only rider to clean it.
Results were available on Easter Monday thanks to efficient new Sec Helena. However, I wasn't ready so apologies for the delay in appearing here. They are linked on the right. Ed.
His team mates, dad Alf and Michael Hughes were also the only finishers to escape from the tricky mud hole for just a one mark loss, and they carried off the team title as well.
2004 winner and this year's runner up Steve Grindle had two prods on section three, and it wasn't until section eight at Devauden Lane that he and Joe Bendall lost marks again. The muddy slot quickly deprived riders of vital centrifugal force, and dragged feet off the pegs of all but two competitors.
Glyn Smith spotted an alternative route along the right hand side through the greenery, team mates Max Hawkins and Ben Falconer eased by for a clean and one respectively. Smith was delighted to have helped his team members but less so to take three himself.
Moore scored the other clean of the day here.
An even more fearsome muddy slot at Nannies Lane took three and fives off the whole entry, and Pant Glas 1 proved almost as much of a challenge. The rock steps seem to give riders a stiffer test every year and a coating of ice put paid to many valiant efforts including those of course openers Anth Moore and Mike Allen.
Joe Bendall and Grindle both cleaned it, along with Hughes and the other three time Wyegate winner, Nibbs Adams, for whom this stellar ride was a ray of light on an otherwise dark day for him.
A rocky streambed just up the road from the infamous Wixon's Rocks sections, was cleaned only by Grindle and was a welcome addition to the trial.
At Wixon's Rocks, only Moore cleaned all three sections but it wasn't enough to overcome the 10 mark penalty, as Joe Bendall only lost one mark in this group.
With a relatively close spread of marks covering most of the entry, clerk of the course Huw Watkins looked to have got the severity of the sections about right but he's already planning for next year with slightly eased hazards, and more off road going.
The club would like to thank all landowners, observers, the Orepool Inn and helpers for making the event a success.
---
The Video
Click HD or the Vimeo word to watch it in best quality HD.
---
Clerk of the Course (Huw) says...
Wyegate 13 – Unlucky for some?
As the newly appointed Clerk of the Course, twenty years of organising enduros, and 3 years as the clerk of the course for the Weston Beach Race still left me feeling that my first 'road' event would be a major challenge. The fact that my wife, Helena was my event secretary which meant that she would invariably remember the things I might forget was a big compensating factor. Some may remember my comments last year, especially about the 'Foresters' route directions ("left where the water tower used to be" and "turn right at the house that used to be a bungalow") and will nod quietly to themselves as I actually got to grips with the old names of the sections and lanes, and even referred to them in meetings!
I set my stall out very early, by saying that I wanted to build on the previous successes of the Wyegate since 1983, by using natural challenges, including just two begins and two ends on old rights of way hills. The intention was to take a few marks from the top riders, but to bring the social riders back by making more sections a bit more straightforward. Did it work? – in part yes, some room for improvement? – definitely.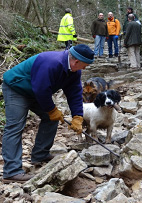 A challenge for me was getting the route accepted by the RAC, the local authorities, and residents on the route. With a few little hiccups, involving a minor route change, this was all sorted and the route was set. After a dreadful winter of rain and storms, several lanes needed some clearing work, including a work party to Limekiln to reset some of the rocks that had taken on the appearance of the Erzberg extreme enduro.
I was indebted to several senior members of the club for their advice and guidance, and to some very accommodating land owners for their flexibility in where we wanted the route to go.
In the run up to the event, the usual challenges of refining the road book (thanks Vess) and familiarising the course openers and closers with the route when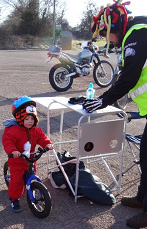 the course was covered with snow was interesting to say the least. Our normal 100+ entry was down when riders realised the significance of the date 31.3.13! Easter day, in the middle of the holidays was not going to be the most family friendly day, together with a clash with other events, but with an entry of over 50 we had a good crowd coming.
The day dawned bright and cold. The strange shiny thing in the sky was a sight to behold. The scrutineers were keen to see bikes with warm exhausts, if only to warm their hands. My sixteen month old grandson Theo tried to sneak through the start-line on his balance bike as he had seen the rest of the competitors do – one day no doubt he'll be there on a bike with an engine !
The route took riders from the Orepool, out through Rookery Lane, across to Forge Woods for the first two sections, a very short run on the main road before the climb up onto Wyegate lane and a section at Coxbury. After a slight detour off the right of way at Mork Farm, the section at Mork was simplified from previous years. A run down the Wye valley in glorious sunshine but bitter cold was next, with a run through the woods at Botany Bay, before a trio of sections at Limekiln started to sneak marks off some riders.
The run through Buckle Wood and up to the section at Devauden kept the off road ratio up, before a run along the ridge to Ty Fry, another lane which needed some clearance. Up Ty Fry and down Golden Hill before a short run to the longest section of the event, some 200 metres! Craig y Master nicked some marks as riders felt it was going on and on forever!
From Wentwood down Ysguborwen before a run through Llantrisant and fuel had riders back off road again up and down Allt y Bela. The short run to Nannies lane where a muddy section took marks off every competitor. Another few miles of quiet country lanes took riders to Llwyna, where a brand new section in a natural stream was popular with riders. The challenge that was Pant Glas followed ! The run across Hygga was disrupted by 300+ tractors on the National Vintage Tractor Run. We managed to miss them, and thankfully they missed our riders!
After a run from Parkhouse to Maryland, where the view to the left of the riders saw the snow covered Black Mountains and Brecon Beacons in a stunning panorama. Dropping down Sunnyside before a section from Whitebrook up to Tregagle warmed a few, with the route looping round the Narth to the lane at the Craig. The new section at Lydart was a challenge, but a good one. Many commented on the run across the fields and woods to Ian Wixon's farm where another three sections were set.
Following a run through Monmouth, the riders headed homeward, with two sections in Lord's Grove before a run across Wyesham Lane and the Burial Path kept the off road ration up. A section at Pingry and a short special test rounded off the proceedings.
Back at the Orepool, I spoke to many of the riders, checking how they had enjoyed their day. Most felt that they had been in an event and would feel the aches the following day! The write up on the event is by Ben Falconer, and is elsewhere on this page.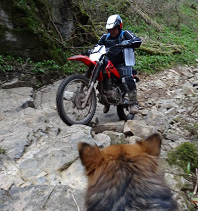 Congratulations to the winners and very well done to all the competitors. As always, my greatest thanks go to the club members, land owners, residents along the route, families, friends and others who contributed to what was seen to be a 'grand day out'. Without the commitment of the supporting cast, the event would fall flat on its ass! Also a special thanks to Millie the German Shepherd for helping to 'observe' on Limekiln.
We were superbly hosted by the Orepool, and while the observers, openers and closers are listed, special mention must go to Rod Jones, my 'contingency plan' and to Teresa Vessey, who not only fetched and carried kit, even found time for making cakes!
See you all next year!
Huw & Helena
---
Riders Say
Graham Smith says: A big thank you to everyone involved in last Sunday's Wyegate, it was a tremendous privilege to be able to ride in such a well organised event, in such fabulous scenery, those views of the snow-capped sugar loaf were just incredible. Personally I prefer the man-made sections that Huw tried to minimise - that's simply because my tight-turning Pampera is good at that sort of thing, whereas I'm not so good when it comes to committing to big rocks! - but I think looking at the results it's clear Huw's strategy worked pretty well. Congratulations and thanks to all involved on a great day out.
Alex Hume says: I had a really good day, and yes I think its the hardest LDT there is. If I come next year maybe I'll use a another bike. That XR500 is lovely but not the bike for Wyegate. Thanks to all for putting on a great trial.
---
Snippets
Ian Thompson (Like many SW riders, riding the Land's End Trial - 230 miles on the Saturday - feeble excuse for not entering! ha ha!) had an interesting suggestion for a special test for 2013 Luckily, not implemented. To view, you need to go to our new Randoms page. (We might have to excuse Paul Farley if he rides the rigid though!)
You will notice a new name taking on the Secretary role this year. Helena will not be a new name for some of us riders who have ridden 'the Welsh', but we have a photo so you know who you are dealing with!
I was filming at the Special Test and about to go after catching Alf flying through but stupidly put the Camera down as Joe Bendall came to the line. What an amazing performance. I didn't know Pamps could sound so crisp and revvy. He played a beautiful tune all the way around the short test, absolutely 'on it' At that time he was nearly 3 seconds clear of anyone else. Talk about putting a stamp on your win! ed.
---