The Rockfield Novice/Trail bike Trial - 17 Aug 2013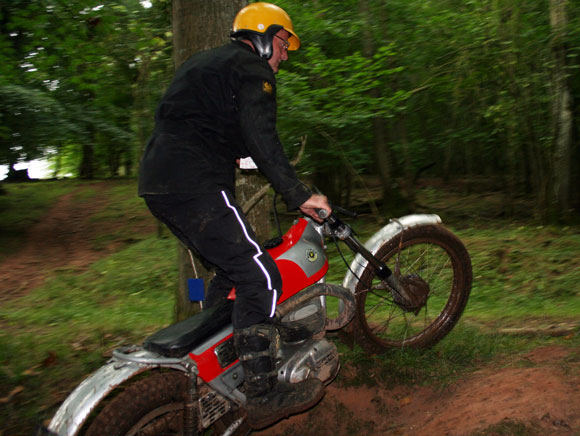 Results are Provisional (link in the right hand column) as I may have got wrong classes or bikes, but you will tell me about that , won't you? (admin@wgdfmcc.org.uk)
There are more photos but a bit blurred. Email me if you think I may have a shot.
Entries turned up on the day despite weather predictions of a downpour all afternoon. Thank goodness they got it wrong again, that was only spitting for some of the time.
Winner Gavin Moore dragged his dad out for a play on Cof C Darren's Hard route which was minor deviations from the sensible Trailbike and Novice route. There was an exception, of course, where the brave hard route riders stayed in the stream to wriggle past an imposing tree to be confronted by a massive step which might have been easier to surmount than the actual turn and climb to the right. This warned Gavin on the first lap with an 'only just' clean, that he'd better concentrate. Nerves got to him on lap 2 with a prod and a dopey dab on 10 but that was all - job done! Quietly just behind him Dai Clothier was concentrating but could not better a dab on the the evil exit of 4 to loose 3 more for a second place.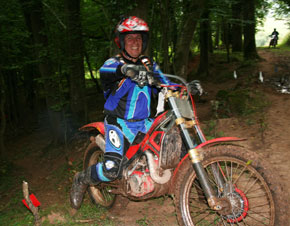 5 Trail bikes tackled the hard route including Gavin's dad Graham and he still beat our CofC Darren and Grant who opted for the hard route as he'd helped set out most of the sections.
With a number of enduro riders taking to trials bikes only Lee Hook had confidence enough to enter on his new Gasser Enduro which needed running in, Unfortunately his lock was worse than the test bike used for turning circles (my CRM) so he had a few too many dabs forced on him.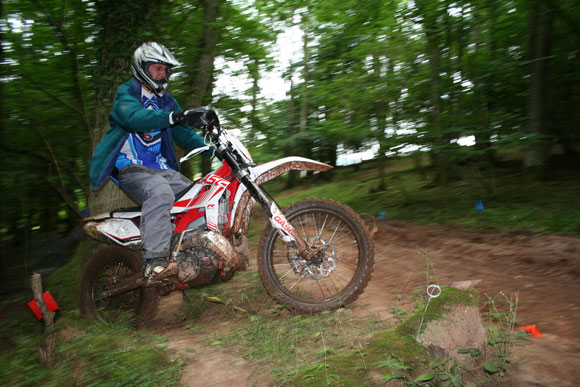 Ian Wixon's pre 65 Triumph had no problems, but the rider did, dropping 4 fives he could have done without. Top Trailbike on the Standard route was Sam Wilson on the X-Ride who stayed away from 5's all day but left one section un-punched so we gave him one anyway! He was no way near Paul Mahoney on the 4 stroke Scorpa though as he took the Standard win on 8.
Goff Hannam had brought out his Bultaco Sherpa T for an airing rather than use the 500 Ariel. How many of us can remember when that Bulto was first offered by Sammy Miller as a build it up yourself kit for about £300? I bet there was some extra overtime worked then. I wanted one desperately but being a youngster, only had a paper round to fund it! Goff didn't have it easier with the lightweight 2 stroke though as he performed a stunning dismount to save the bike from falling down into the stream but deposited himself down there instead. His day didn't get better either with reports of him and Sam Wilson pulling on either end of his forks when they stuck down to no avail. He retired with a much reduced ground clearance and the promise we will see it out again.
Many thanks to our hosts Roy and Debbie for such a pleasant day out.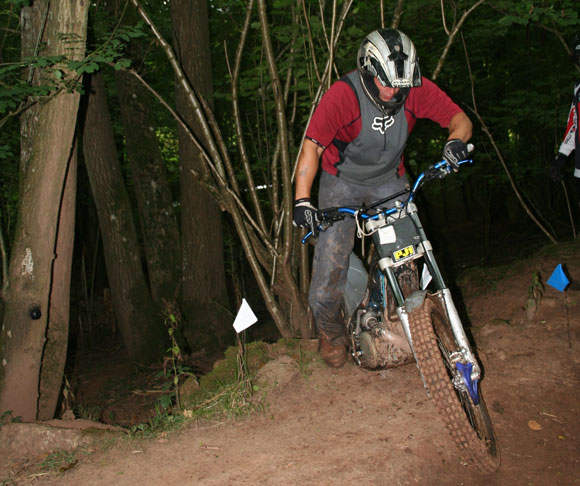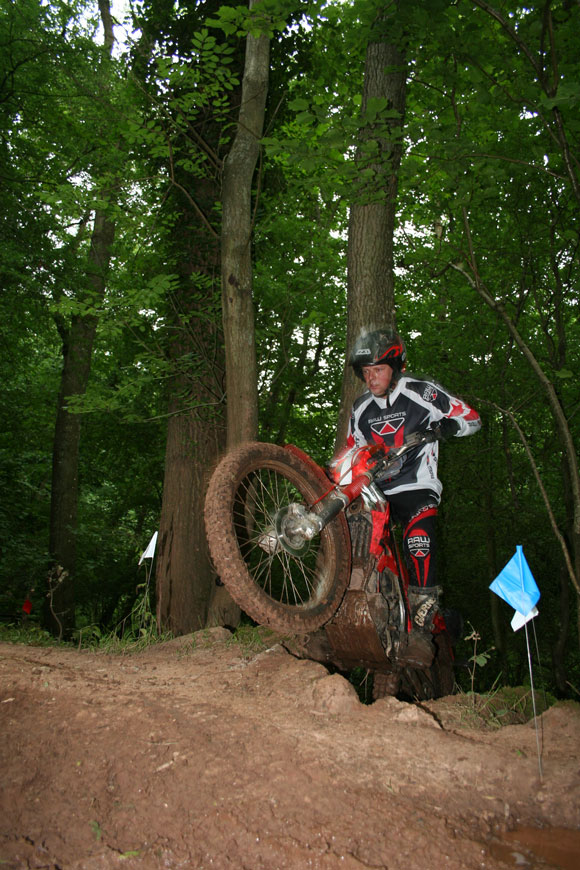 ---
Section Statistics
Section
0
1
2
3
5
Tot
Std
1
47
7
1
1
2
22
2
43
5
1
4
5
44
3
13
27
11
3
4
78
4
29
13
2
8
6
71
5
34
15
4
3
2
42
6
34
9
4
4
6
59
7
28
13
2
8
6
71
8
20
20
7
10
0
64
9
33
7
6
9
2
56
10
13
8
10
17
9
124
Rte Tot:
294
124
48
67
42
631
Hard
1
30
1
1
0
0
3
2
25
5
1
1
0
10
3
22
8
0
2
0
14
4
8
9
2
9
4
60
5
28
2
2
0
0
6
6
18
2
4
5
3
40
7
26
5
0
1
0
8
8
20
5
3
3
1
25
9
17
7
4
4
0
27
10
16
1
2
9
4
52
Rte Tot:
210
45
19
34
12
245
---