The Old Hendre Trail Bike/Easy Trial - 12 Feb 2012
Previous Hendre Easy Trials: 2011, 2010, 2006.
Photos by Jackie Jones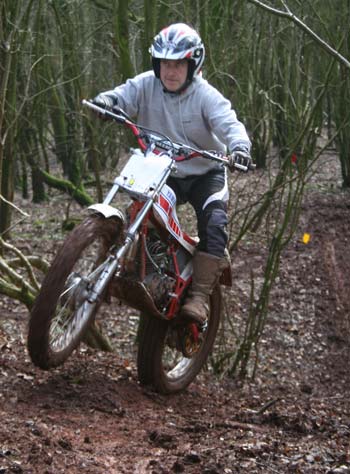 Latest: Updated Again Provisional results are on the right. Now we've edited the video we've spotted some who clearly were doing easy route and some who were doing a bloomin good job on the standard route.
Spectator's view: Is it safe to blame the frost for changing the ground? Well you can always waste time allocating blame, but from a spectator's point of view we noticed a bit of whinging on the first lap changing to a lot more getting on with it on lap 2 to a lot of tired riders reviewing their day's achievements after lap 3.
Clerk of the course Darren had a tough job catering for such a wide range of riders and machinery. We had very capabale riders like Rob Breakwell going completely 'Wrong Trousers' with his incredibly unsuitable enduro bike, the Yam YZ 250, entering into the spirit with a 'lets have a fun ride' attitude. We had riders entering their first event ever, (what an initiation) alongside pensioners shining in such conditions!
(The Video is bit messed up thanks to me forgetting to change settings, sorry. Click the 'Vimeo' word for High Def version.)
With a lack of observers punchcards were the order of the day, and not everyone got to grips with that. (We have a quick guide to using them planned for the future.) Consequently, don't be too sure that the results show the right score for the right section in the right order. (mis-quote attributed to Eric Morecombe or Goff Hannam?). You should also be aware that as some riders chose to demote themselves to the yellow route part way through the day, so we have shown them on the easy route though some of the scores would have been obtained from the hard route.
It looks like Graham Norris had the best glue on his footpegs with Nibbs, although in a different class, close behind but being pressured from Wyegate contender Jase Bendall and Rob Breakwell on the beast. Incidentally both Rob and Sam Jones took the option of riding for no award with the wrong rear tyre fitted in the enduro class. This means Dave Johnson wins the enduro class as he suffered a trials tyre plus the lack of lock and the incredible seat height.
It was interesting watching riders waiting for Rob to go through the section first as he cleared a line free of mud in every section (You'll see what I mean in the video). Mind you, you still had to be able to follow his path to benefit.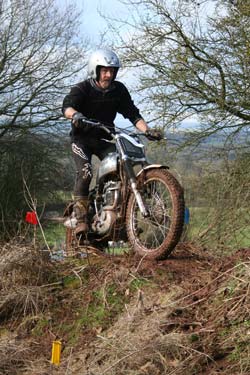 I missed filming any of the Pre 65 boys but their marks show they were finding the grip well enough, or is it with age comes experience? Speaking of experience and Age, there were some master classes going on but being given by pensioners!
Otis walked away with the youth class win with some very savvy rides. And first timer Oscar was seen getting more grip by the end of the day.
Many thanks to Eva and Maddy for providing Tea and Cakes. There weren't many left at the end and thanks to rider's generosity they raised £37 for the local Great Oaks Dean Forest Hospice.
We hope for better weather at the next novice event but date to be decided. The next Trial for Trailbikes and Pre 65's is the Wyegate and for Normal Trials is the Stony Green event in May.
---