Longtown Trial - 28 July 2019

Final Results (v3)
---
See what happened in previous years: 2018, 2017, 2016
---
Info
Final Results are now linked on the right.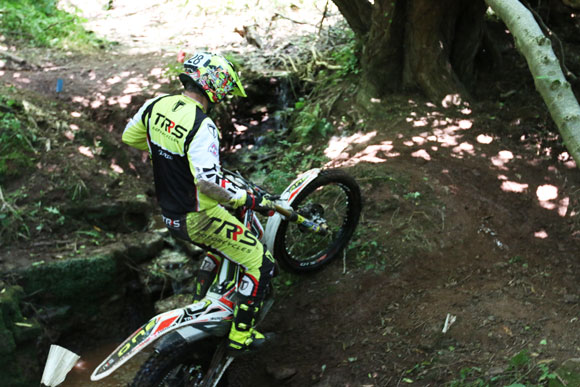 This was a Sunday Trial for youth and adults of all abilities. The trial also happened to be day 3 of the ACU Western's Youth Development Squad's Summer Training Camp. Adults and youths who had booked into one or both training days to try out their newly found skills in a proper trial on day 3 at whatever level route they choose. The large farm venue is walking distance from a campsite and there is a great pub nearby to relax and dine in. The venue is right on the Welsh Border and entries are open to any other centres too.
The ACU Western Youth Development Squad, who make this Trial possible and provide workers to help West Glos have regular updates on their Facebook page and more info about how to book future training days on the ACU Western website.
---
Snippets
Apology time: I'm still not sure exacly how I came to issue so many duplicate numbers. After spotting that we'd misslaid the supposedly full set of 1 to 100 class coloured cards our plan B was to use the packs of remainders from previous trials and keep a cross-reference on a tally sheet, my job (Colin). I must have got distracted and missed ticking that I'd used a number - not a few times but, evidently, 9 times!
Good to see the Conducted Hard route utilising the full blown adult sections. And the stats for their route show they had the hardest time of it too.
If anyone thought it was too hard then we had 3 intrepid Pre-65 riders determined to embarrass the slightly more trick modern bikes.
---
Section Statistics
Section
Score Incidence
Tot
No.
0
1
2
3
5
10
Marks
Avg
Expert
1
4
5
0
1
2
0
18
1.5
2
11
1
0
0
0
0
1
0.08
3
6
2
1
3
0
0
13
1.08
4
2
3
0
2
5
0
34
2.83
5
8
3
0
1
0
0
6
0.5
6
9
2
0
1
0
0
5
0.42
7
5
2
1
3
1
0
18
1.5
8
5
1
2
3
1
0
19
1.58
9
12
0
0
0
0
0
0
0
10
9
3
0
0
0
0
3
0.25
11
2
1
4
5
0
0
24
2
12
9
2
1
0
0
0
4
0.33
13
7
2
1
1
1
0
12
1
14
9
2
0
0
1
0
7
0.58
Rte Tot:
98
29
10
20
11
0
164
0.98
Club/Exp
1
21
0
0
0
0
0
0
0
2
20
0
1
0
0
0
2
0.1
3
2
2
0
11
6
0
65
3.1
4
20
0
0
0
1
0
5
0.24
5
13
3
2
1
2
0
20
0.95
6
6
3
3
5
4
0
44
2.1
7
13
6
2
0
0
0
10
0.48
8
15
4
1
0
1
0
11
0.52
9
9
9
0
2
1
0
20
0.95
10
21
0
0
0
0
0
0
0
11
2
5
5
8
1
0
44
2.1
12
11
2
2
5
1
0
26
1.24
13
5
6
2
6
2
0
38
1.81
14
3
11
3
3
1
0
31
1.48
Rte Tot:
161
51
21
41
20
0
316
1.07
Clubman
1
36
2
0
0
1
0
7
0.18
2
36
3
0
0
0
0
3
0.08
3
20
10
3
3
3
0
40
1.03
4
29
1
1
4
4
0
35
0.9
5
33
4
0
1
1
0
12
0.31
6
15
4
3
9
8
0
77
1.97
7
27
7
1
2
2
0
25
0.64
8
23
8
3
3
2
0
33
0.85
9
12
11
6
6
4
0
61
1.56
10
39
0
0
0
0
0
0
0
11
3
5
6
17
8
0
108
2.77
12
17
14
7
1
0
0
31
0.79
13
3
1
3
20
12
0
127
3.26
14
23
10
5
0
1
0
25
0.64
Rte Tot:
316
80
38
66
46
0
584
1.07
Sports Plus
1
21
4
0
1
5
0
32
1.03
2
30
1
0
0
0
0
1
0.03
3
21
1
2
2
5
0
36
1.16
4
14
2
2
7
6
0
57
1.84
5
26
2
1
0
2
0
14
0.45
6
4
5
6
6
10
0
85
2.74
7
4
8
6
8
5
0
69
2.23
8
15
6
5
2
3
0
37
1.19
9
28
2
0
0
1
0
7
0.23
10
30
0
0
0
1
0
5
0.16
12
6
12
7
5
1
0
46
1.48
14
15
2
7
5
2
0
41
1.32
Rte Tot:
214
45
36
36
41
0
430
1.16
Sportsman
1
18
5
0
2
8
0
51
1.55
2
28
2
2
0
1
0
11
0.33
3
34
0
0
0
0
0
0
0
4
11
6
3
2
12
0
78
2.29
5
18
12
0
3
3
0
36
1
6
5
6
0
7
16
0
107
3.15
7
7
7
3
13
4
0
72
2.12
8
6
2
4
6
15
0
103
3.12
9
26
7
0
1
0
0
10
0.29
10
28
4
2
0
0
0
8
0.24
12
23
5
1
2
3
0
28
0.82
14
23
3
2
6
1
0
30
0.86
Rte Tot:
227
59
17
42
63
0
534
1.31
Conducted Hard
1
3
0
0
5
13
0
80
3.81
2
11
0
3
0
7
0
41
1.95
3
11
5
2
3
0
0
18
0.86
6
16
2
0
2
1
0
13
0.62
7
9
1
8
2
1
0
28
1.33
8
5
0
1
2
13
0
73
3.48
Rte Tot:
55
8
14
14
35
0
253
2.01
Conducted Std
1
9
0
0
2
5
0
31
1.94
2
15
1
0
0
0
0
1
0.06
3
11
2
1
0
2
0
14
0.88
4
11
2
2
0
1
0
11
0.69
5
13
1
1
0
1
0
8
0.5
6
9
2
1
2
2
0
20
1.25
Rte Tot:
68
8
5
4
11
0
85
0.89