Longtown Trial - 23 July 2023
Info
Final Results now linked over on the right with awards.
Photos and Video down below.
This is a Sunday Trial for youth and adults of all abilities. The trial will also be day 2 of the ACU Western's Youth Development Squad's Summer Training Camp. Adults and youths who book into the training day will get to try out their newly found skills in a proper trial on day 2 at whatever level route they choose. The venue is right on the Welsh Border and we normally have a large entry to support the Youth Development Squad from all sides of the border too.
The ACU Western Youth Development Squad, who make this Trial possible and provide workers to help West Glos, have regular updates on their Facebook page and more info about how to book future training days on the ACU Western website.
---
Ben's Press Report
Trials in ACU Western proved it is in good shape for the future when almost 80 riders made a long trip west to the Black Mountains for two days riding in classic trials country.
Following the ACU Western Youth Development Squad's training session on the Saturday at Coldbrook Farm, Longtown, West Glos & Dean Forest MCC staged a trial at the same venue.
More than 20 of the starters were current or former YDS members, and just as importantly some squad members helped run the training and trial too by taking up signing on duties, observing, marking out and clearing up after the event.
The YDS is now in its 11th year and it aims to grow trials for the next generation on and off the bike.
While former ACU Western and current ACU Wessex champion Kurt Brain was an impressive and convincing winner of the Expert route on 5, even he couldn't manage a clean lap but he was way ahead of the rest of the expert pack. Section seven took the most marks from the Experts, with Kurt having a two on lap one while second placed Rhys Davies started well with a clean but he could not replicate that on laps two and three, then Kurt got the measure of the rocky gully halfway up the Black Mountain with two cleans.
The Club/Expert route was a tightly fought battle with just two marks covering the top three. Ian Wakeford took the win on 11 with a tie break giving Julian Collins second from Dan Bishop, both on 13. Section two gave this class the toughest challenge, where they had to attempt the Expert route, which was a long, steepening climb through deep mud. The Club class had another convincing winner in former Welsh champion and Trailbike champion Julian Page, who kept his score in single figures despite a five on section 12 when he was caught out in a very narrow gully.
The Sports+ class attempted half of the Club route and half of the Sports route and Colin James lost only 10 marks on lap one which set him up for the win with 24 marks lost. The Sports class was won by Ken Brown with Dai Clothier in second, and Youth C rider Scarlett Collins in third, on 8, 12, and 21 marks respectively.
Alongside the main trial, which featured 15 youth riders, another six competed and learned in the conducted trial. Milly Tillings edged out Isla Crabtree in the Expert class and Molly Hassall was the clear winner on the Easy route. This event was a round of the ACU Western Youth C, D and E championships (Overall Championship results now updated - One round to go.) and following this round, those classes are topped by Harry Bishop, Ben James and Oliver Hinckley.
Out of the 87 entrants, 76 started and of those, 7 retired. The club and the YDS would like to thank the landowner, the observers, the paperwork team and riders who travelled from all over Wales, the West Midlands, West Country and beyond to make this event a success.
Ben Falconer.
---
Video
Ben's video.
---
Gallery
All shots, at the moment, by Colin Jones, and taken at Section 12. Ask if you would like a Free full size version admin@wgdfmcc.org.uk. Only phone quality sorry.
Use the arrows to scroll through.
---
Winner Kurt demonstrates the perfect line.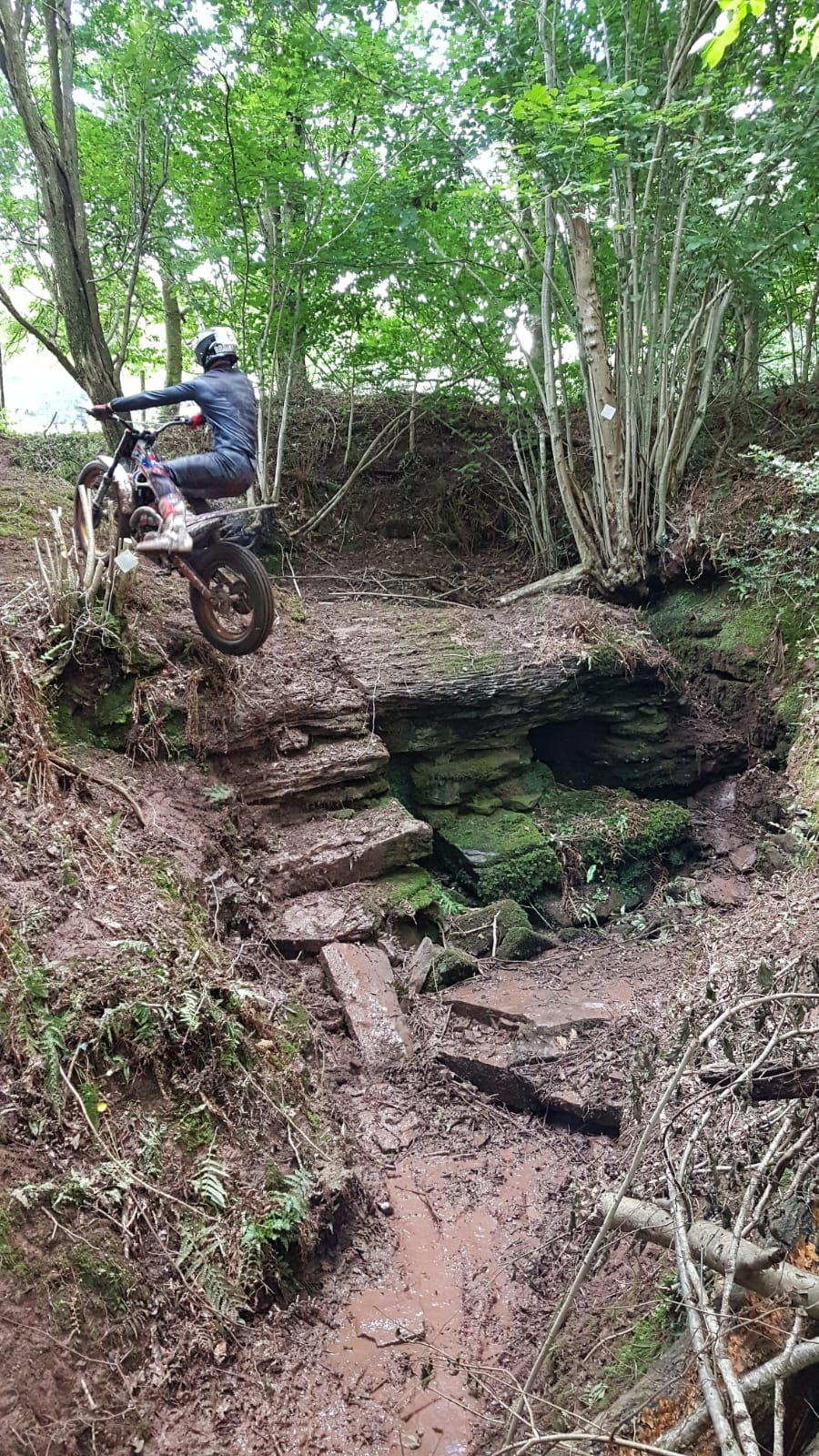 Oliver shows there is a safer line to use but a certain 3 for anyone attempting it.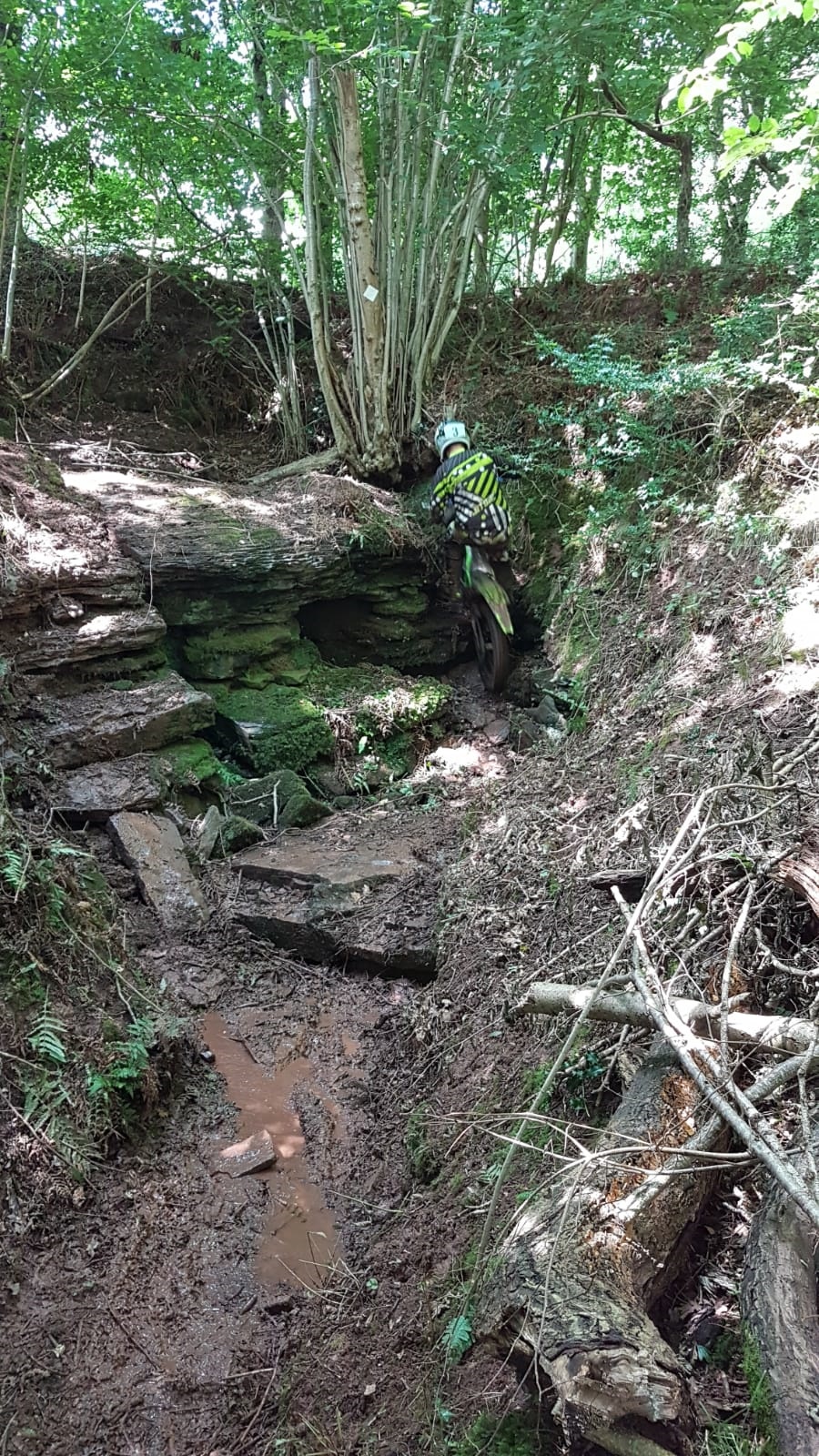 Nathan tried the safe line on lap 1. but this lap,even with the step mastered, the turn at the top prompted a 3.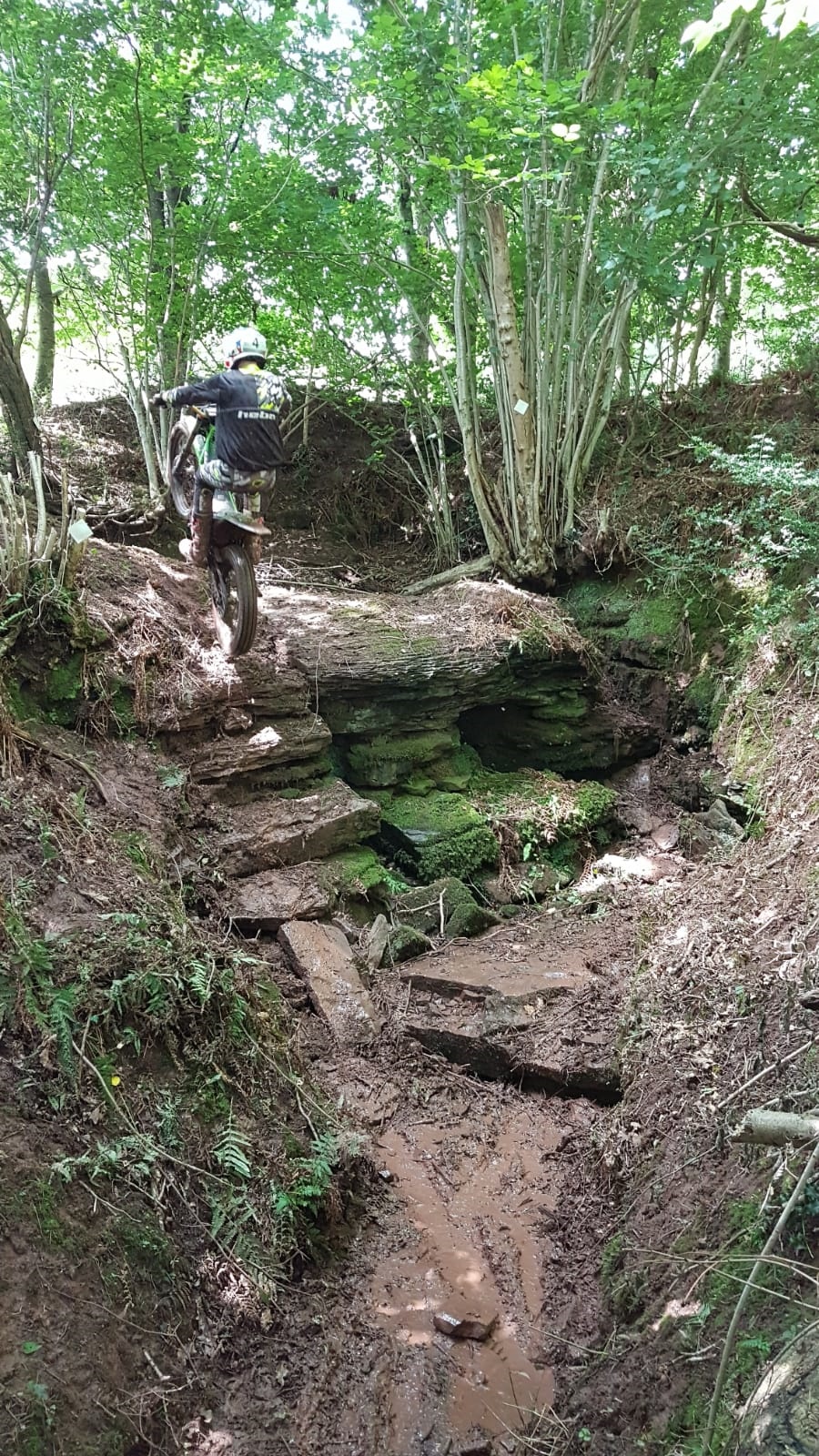 Viv squeezes through the Club route. It's no good hiding that leg, the Observer saw it.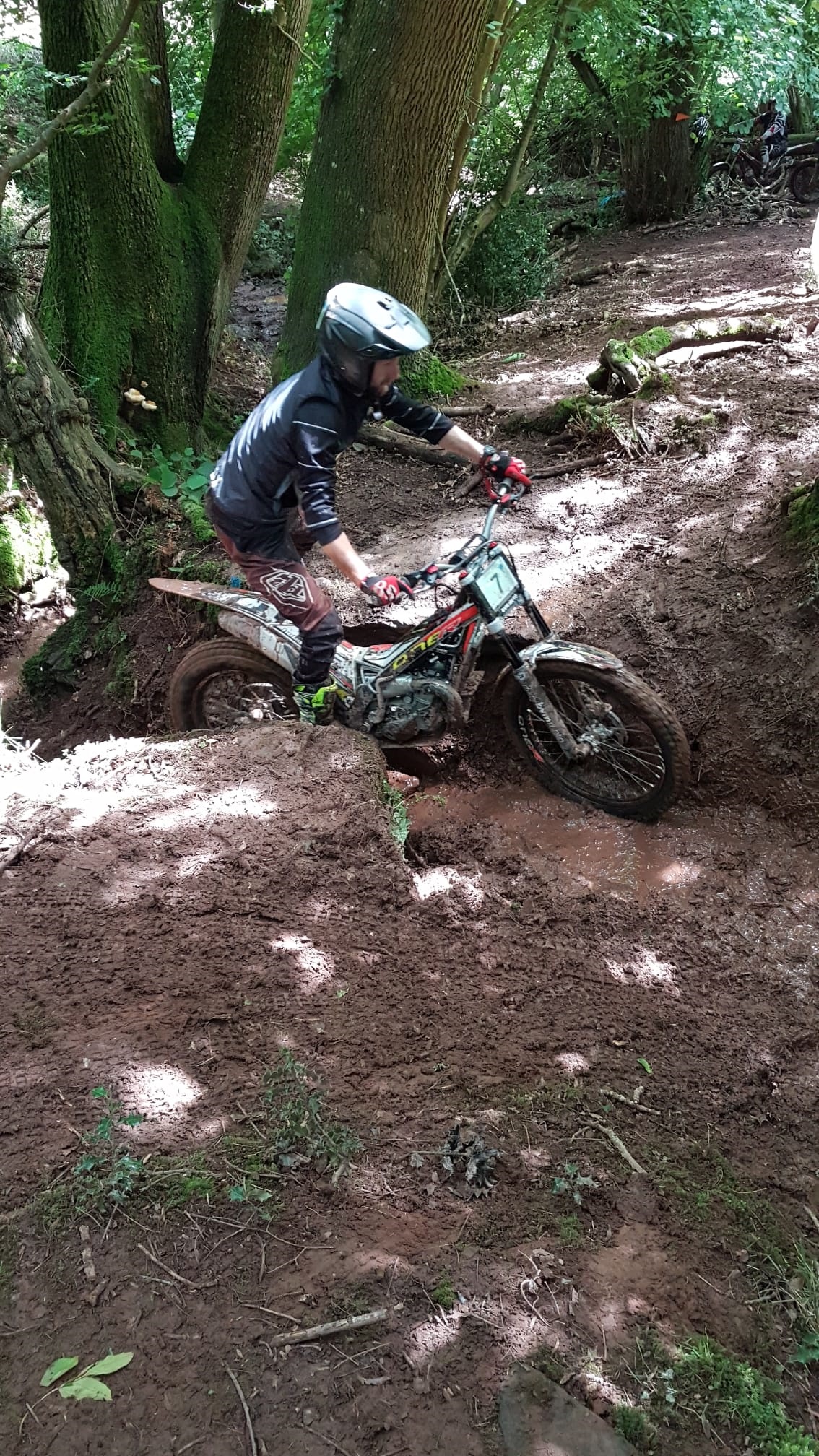 Top Youth B rider Fred persuades his back wheel to keep up with the front.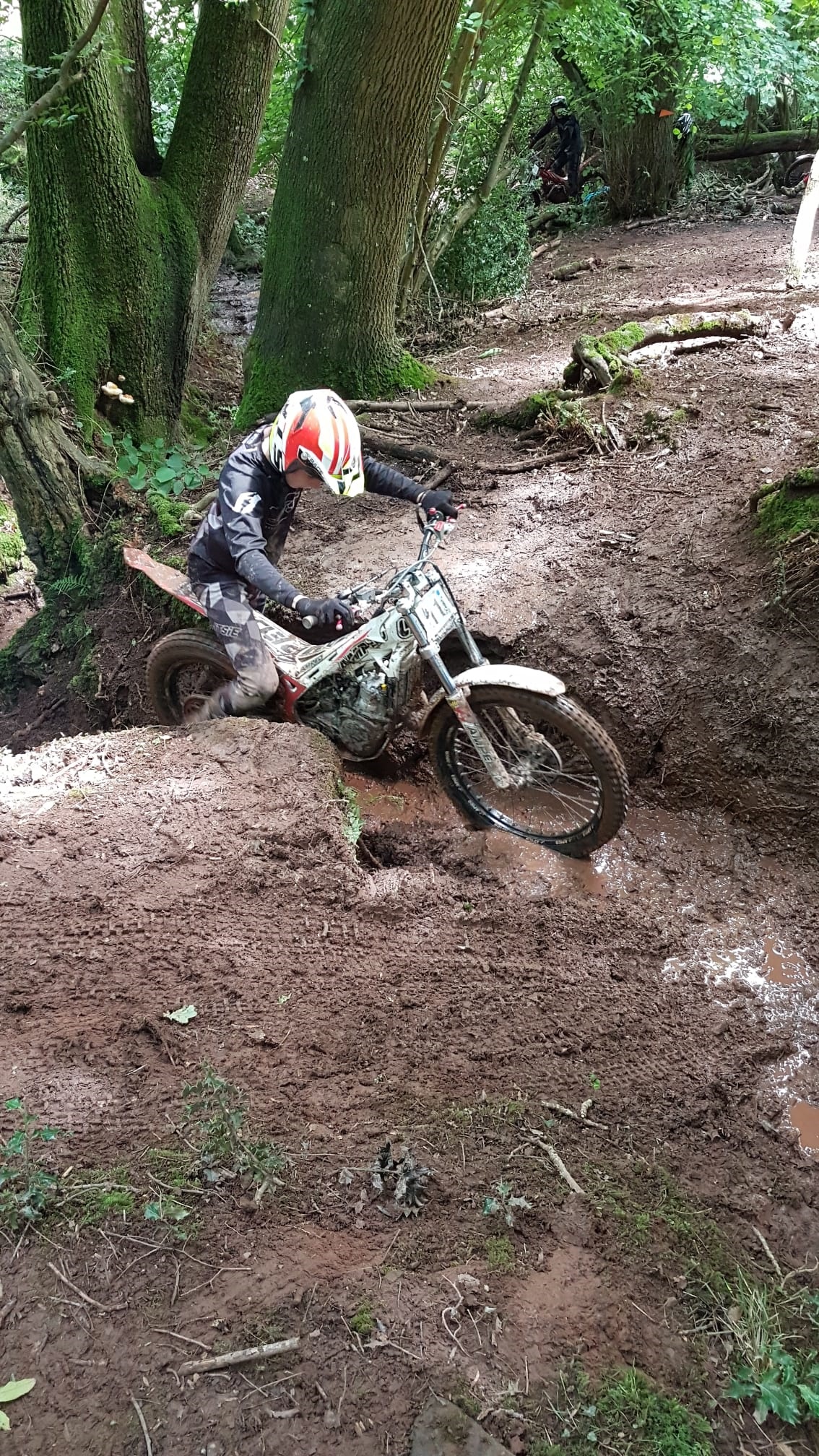 2nd placed Julian Collins only lost 2 dabs here all day.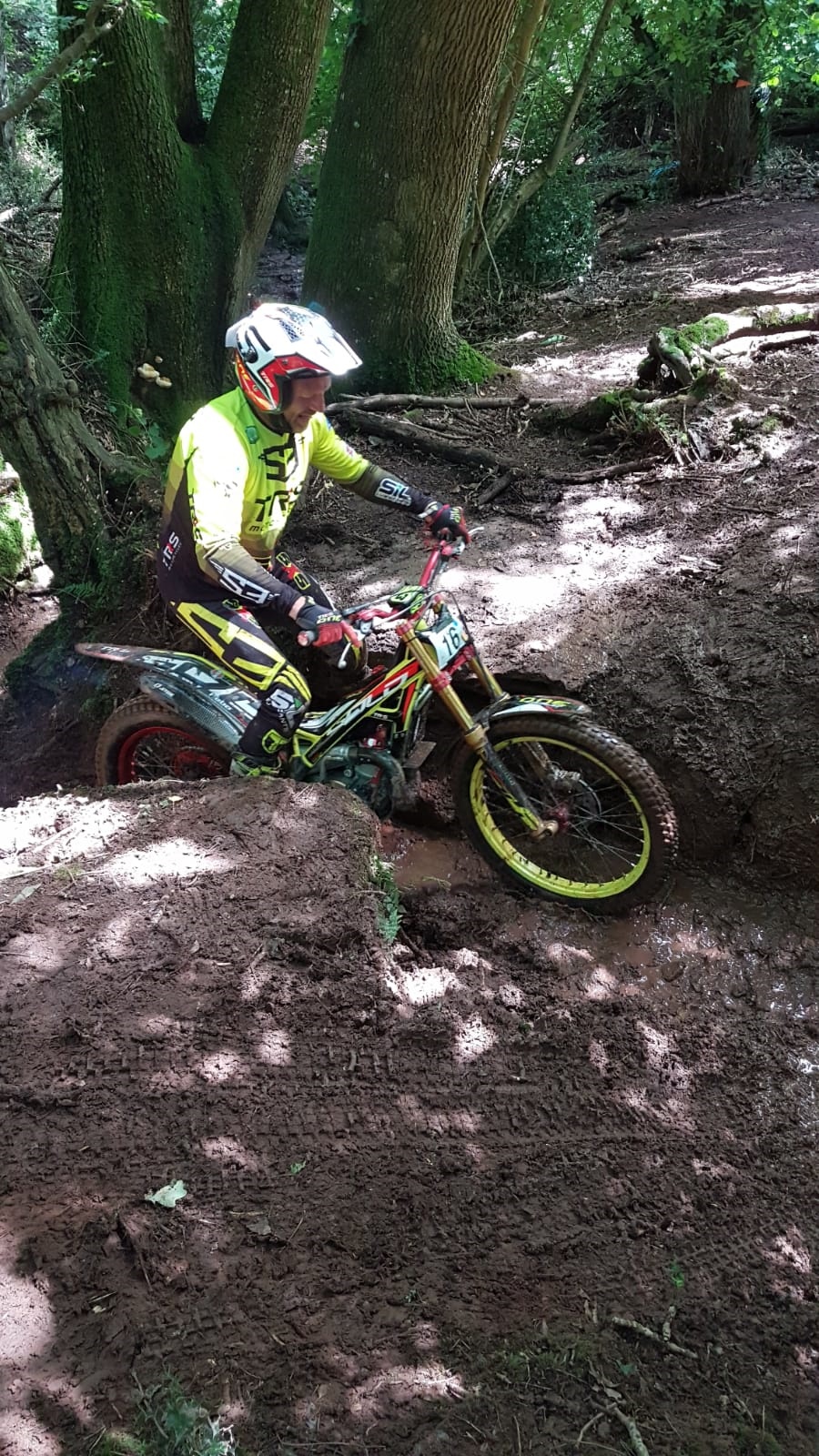 Dan Bishop loses out to the tie decider with Julian Collins.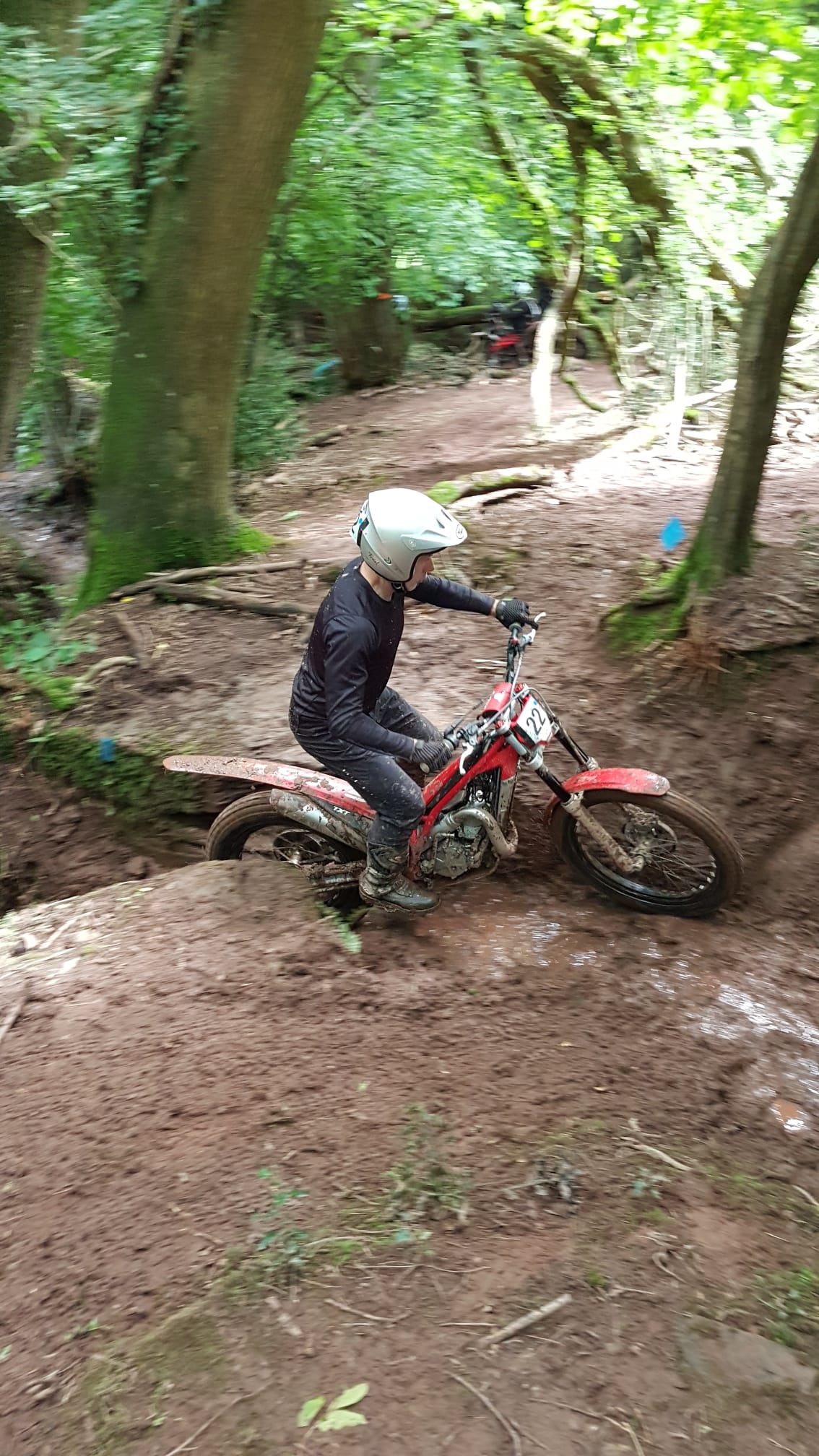 Paul Howells coaxed his Bantam through for a dab.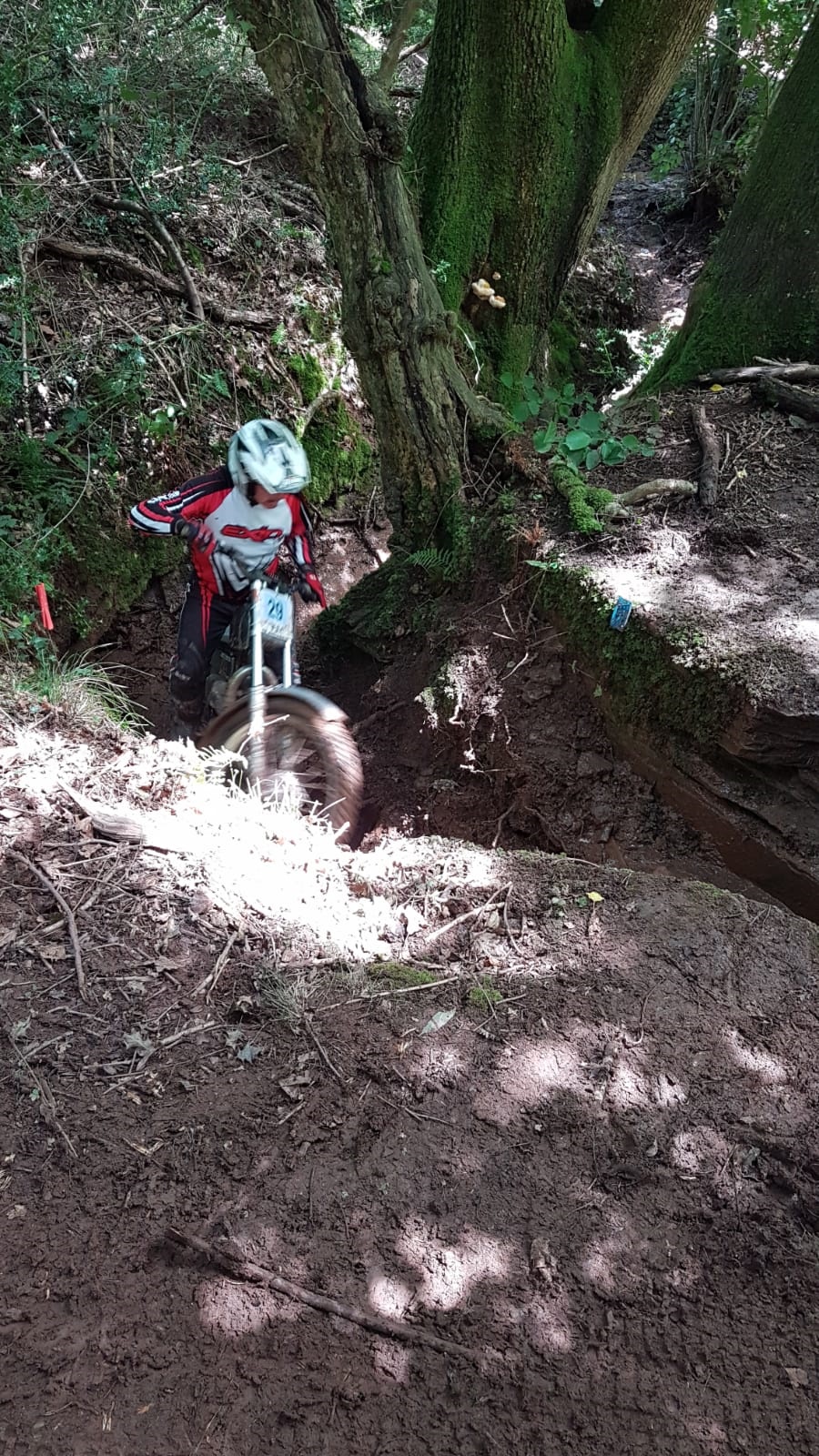 Coldbrook was Ashley's playground when he was growing up.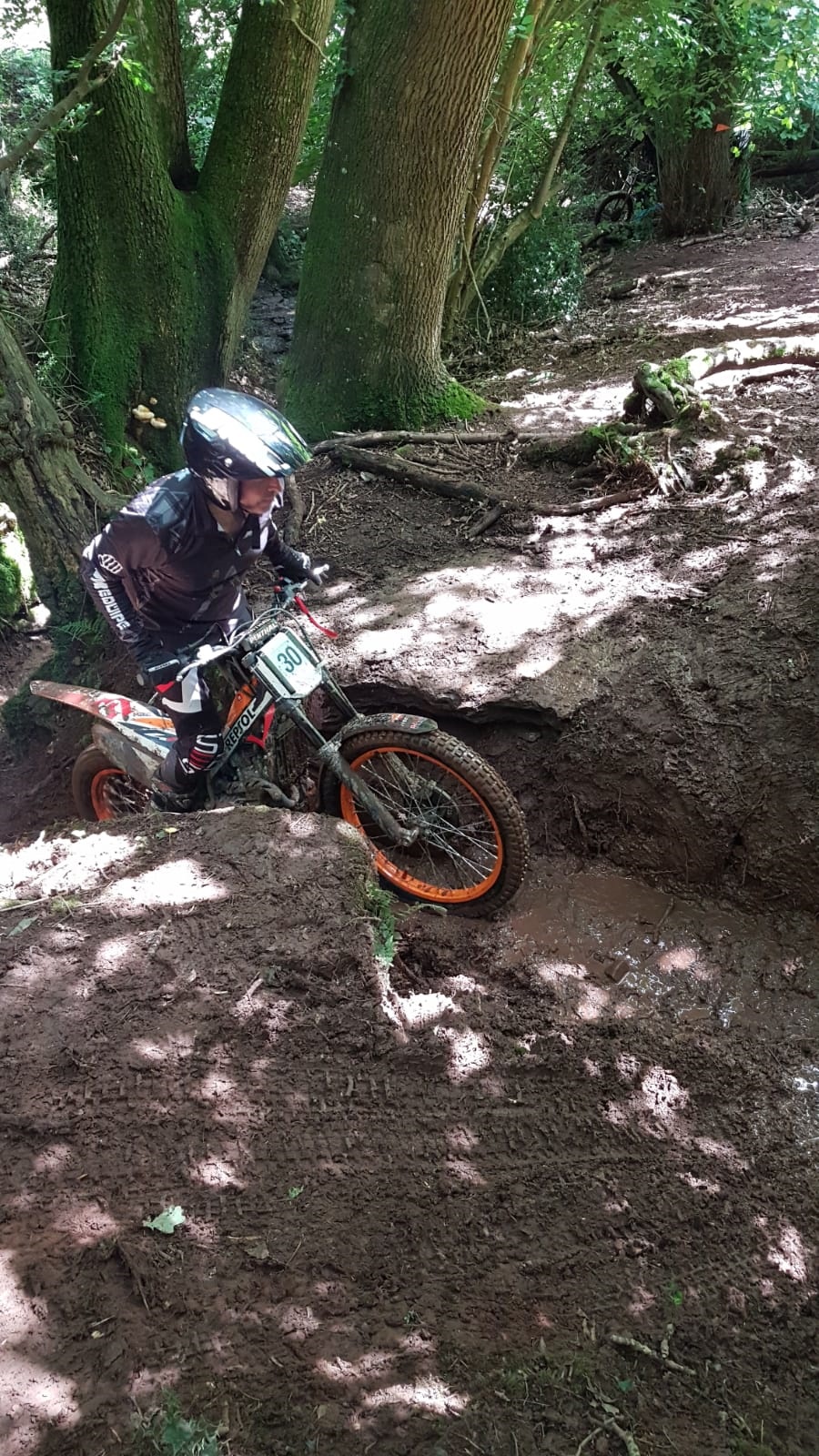 David Beckett avoided 5's here all day. (I thought it was only road-racing where you could get your knee down!)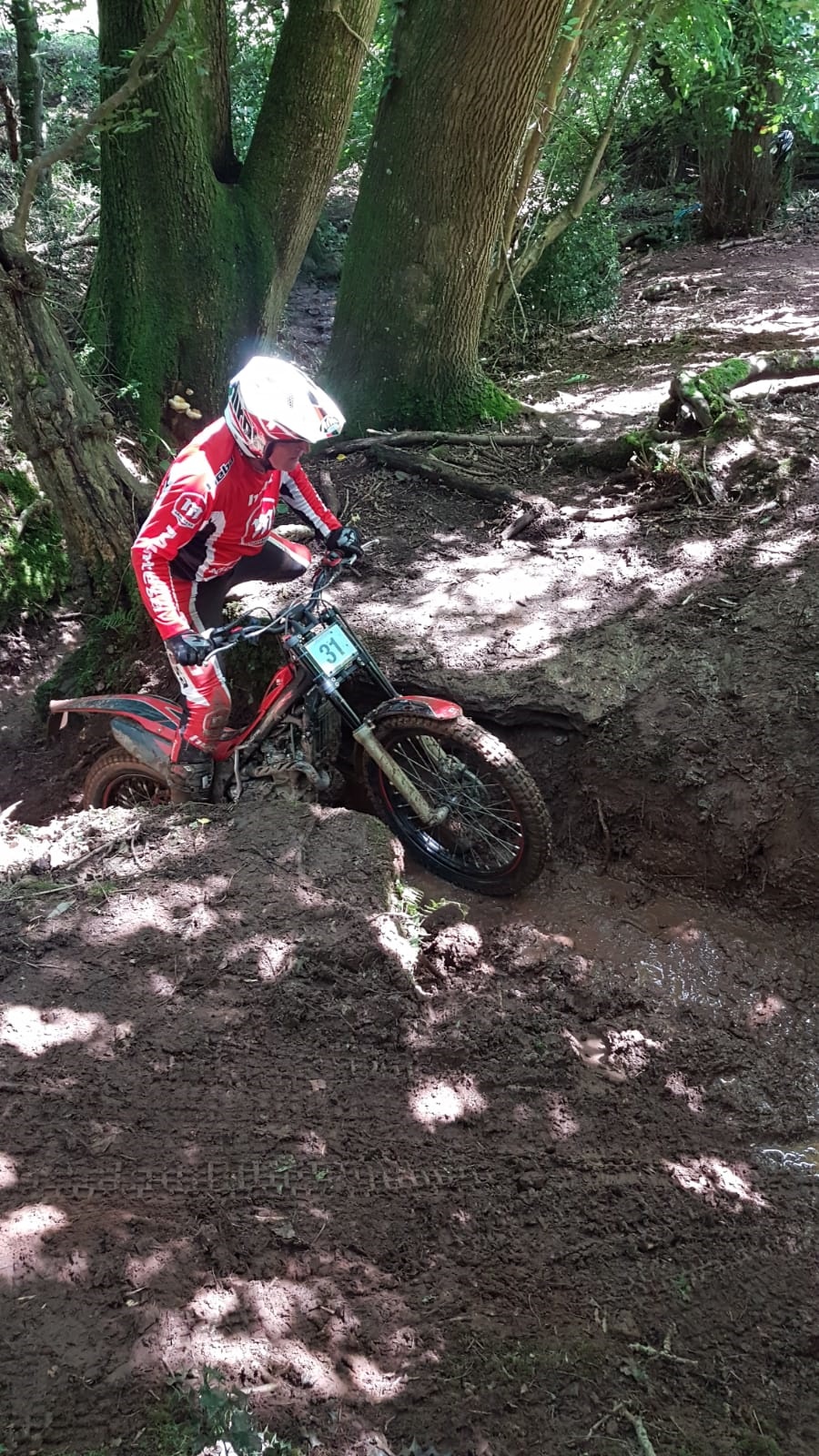 Steve Nowell only stopped here to show us how big the corner step was. He'd 3'd it the other times.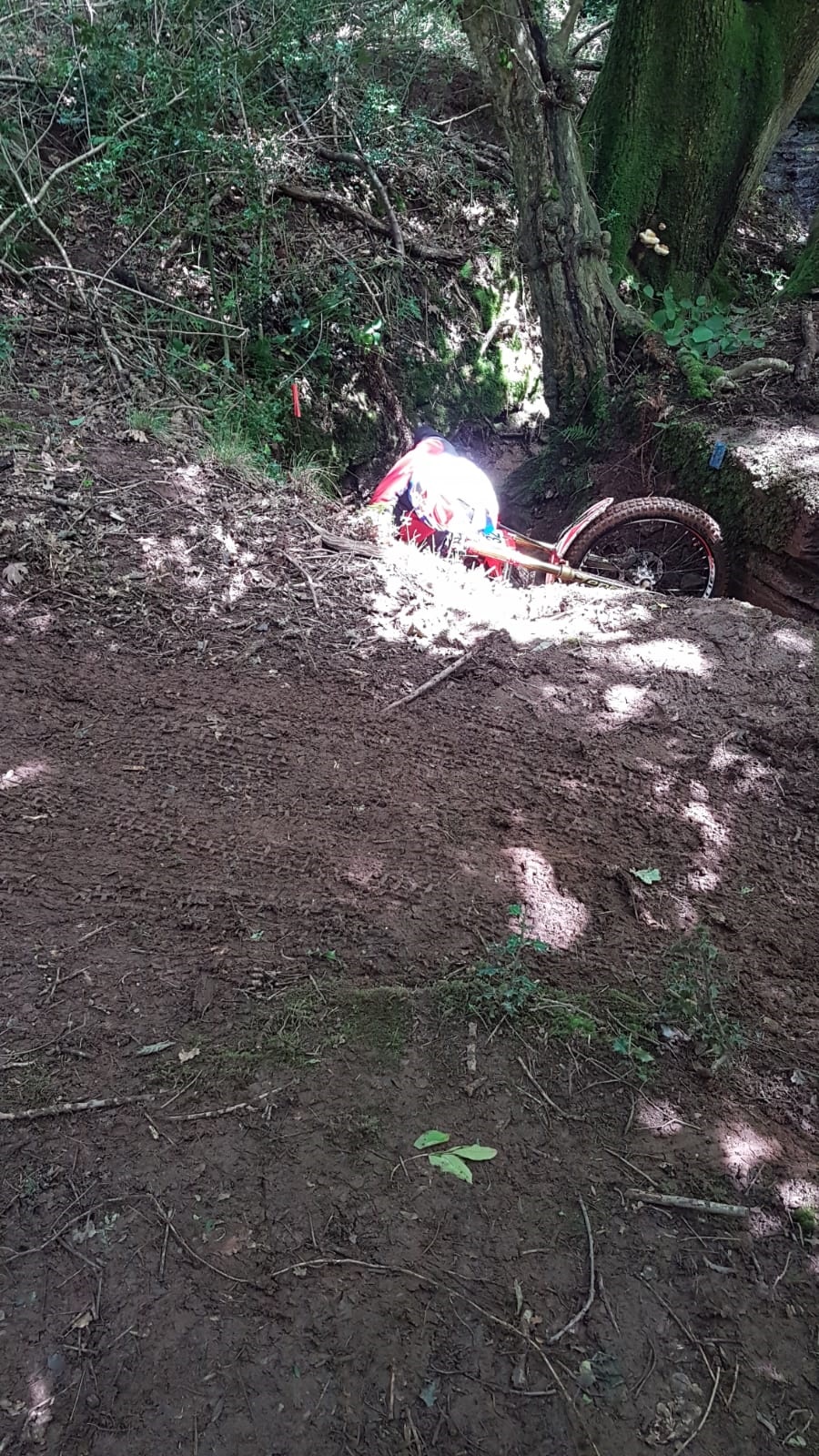 Julian Page annihilated the opposition to win Club class, despite having his only 5 of the day here.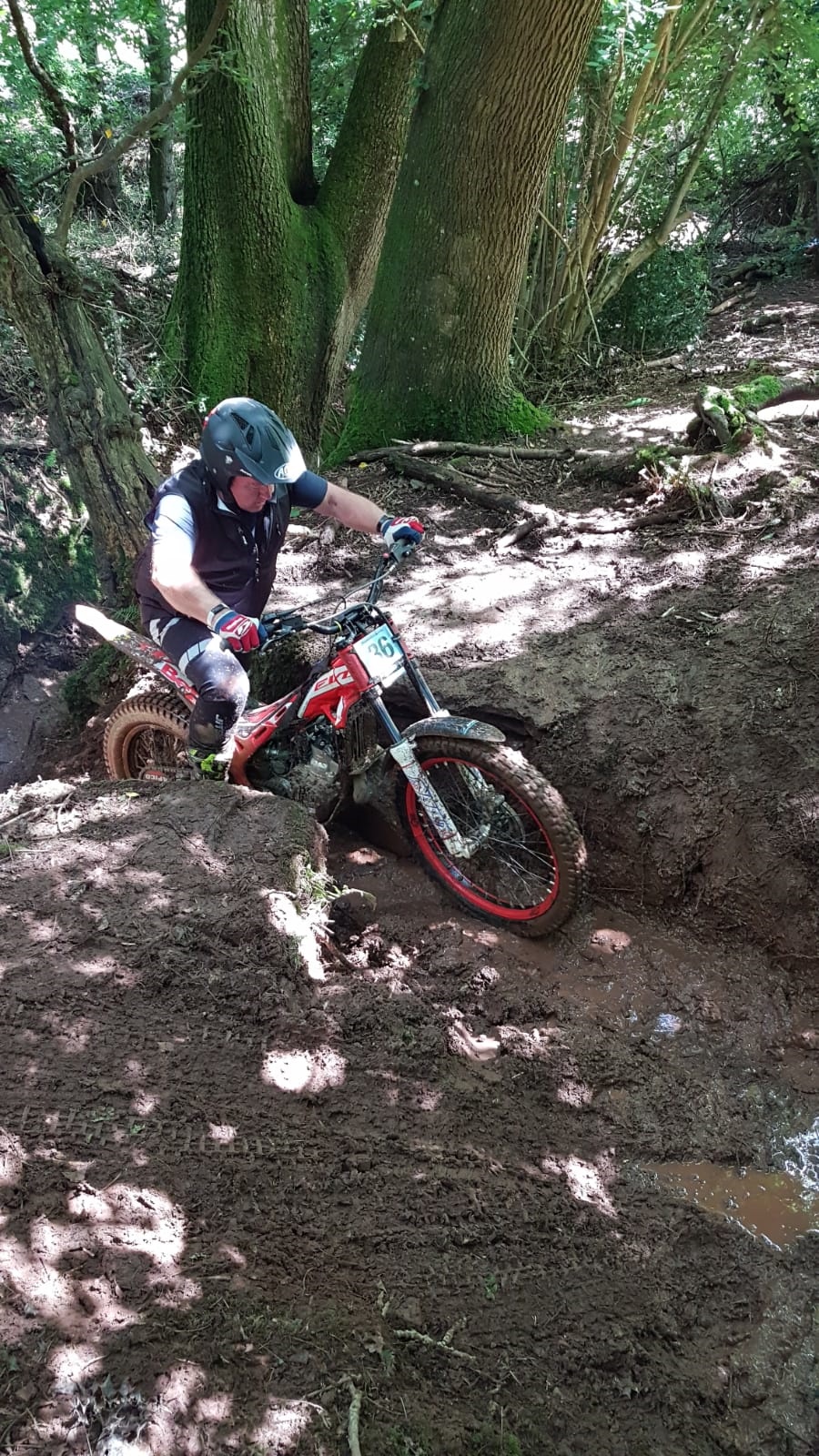 Harry demonstrates good use of the spindle-through-the-cards rule, only then can you dab!.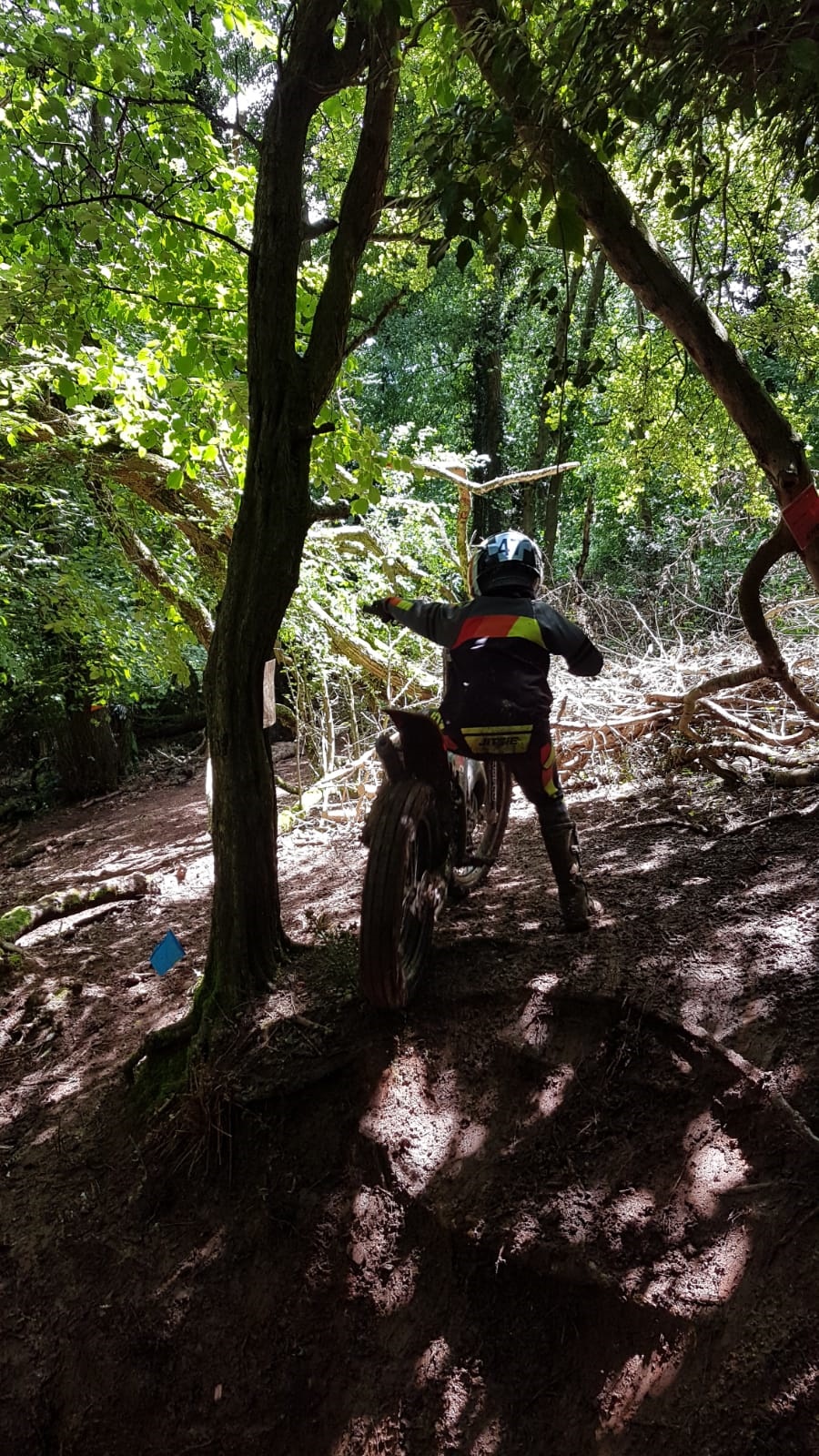 Jim Towsend knows from his last lap how slippery this is. He cleans it this time.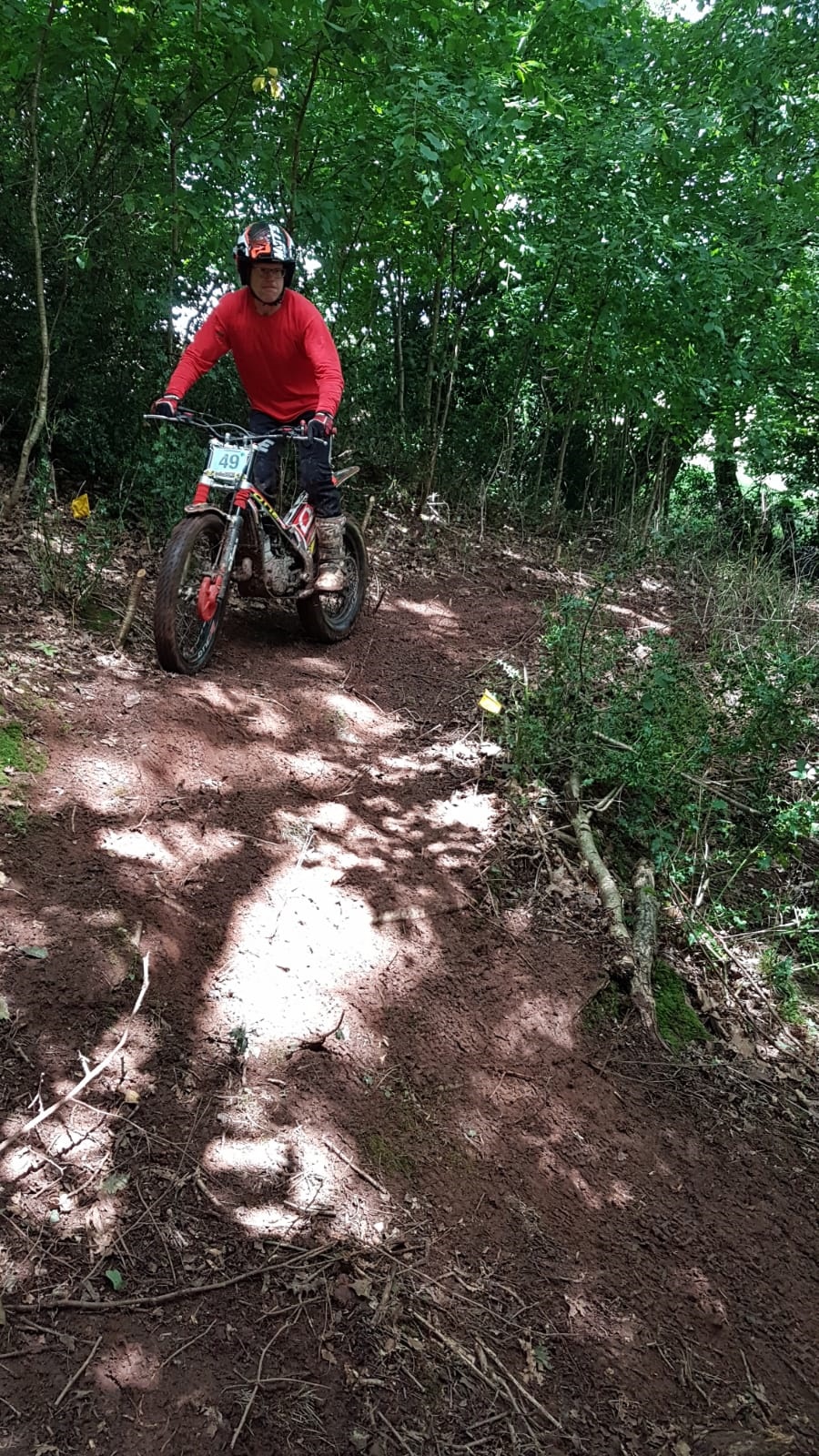 Roger is as focused as Kurt, and close to a class win himself too.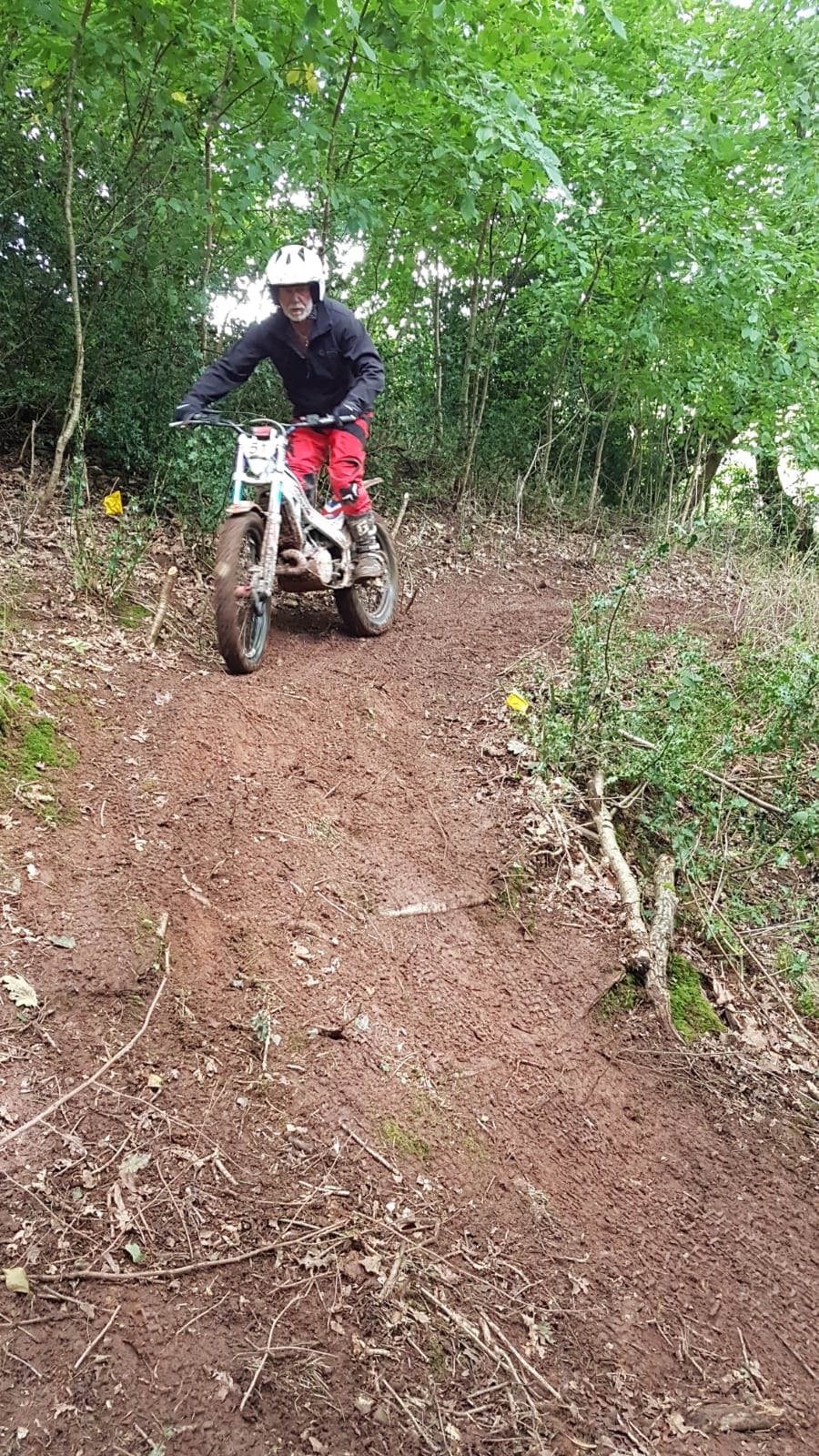 Ben Vaughan gets a perfect clean on his last lap.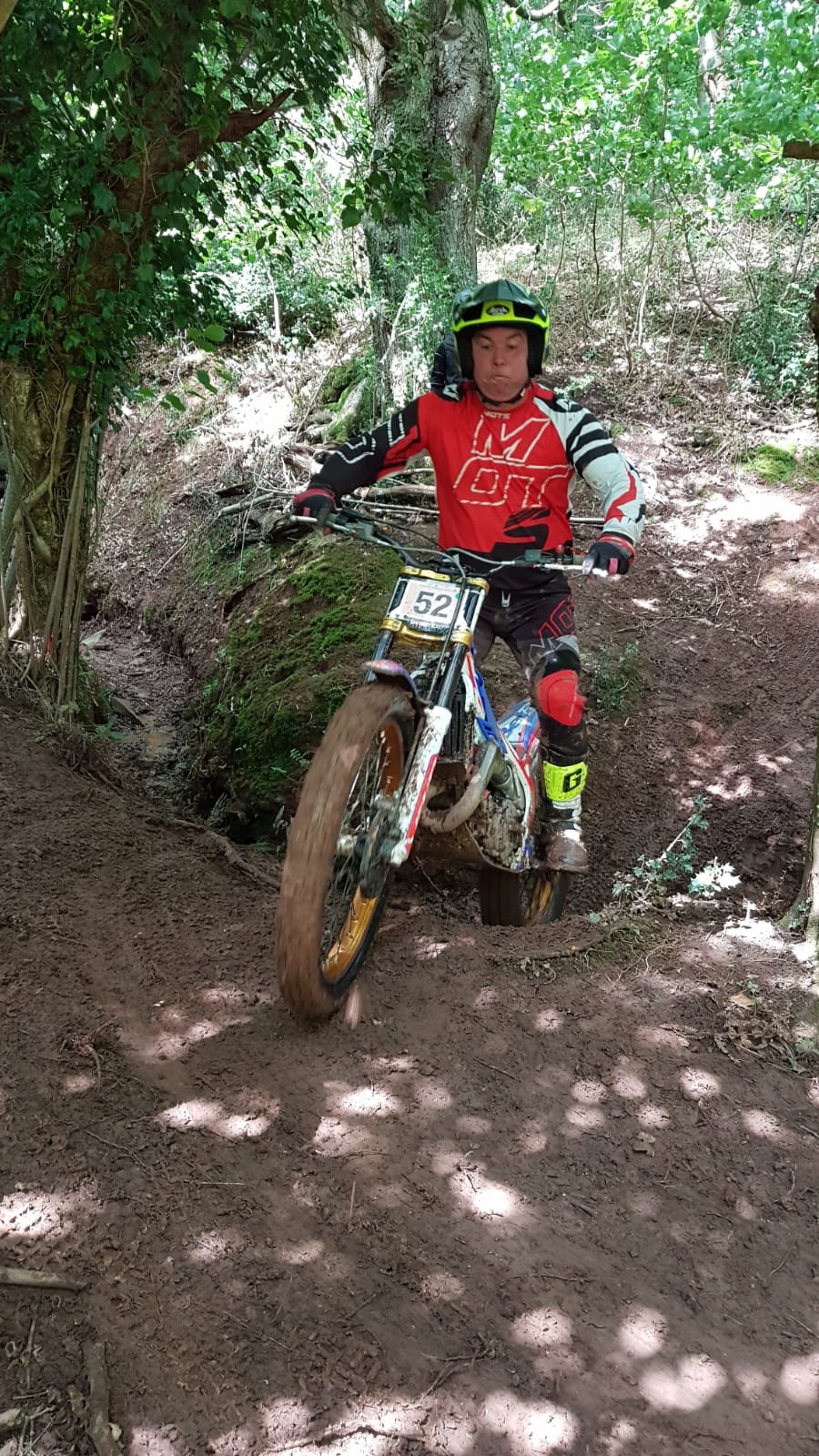 Scarlett cleans again to claim 3rd in Sports.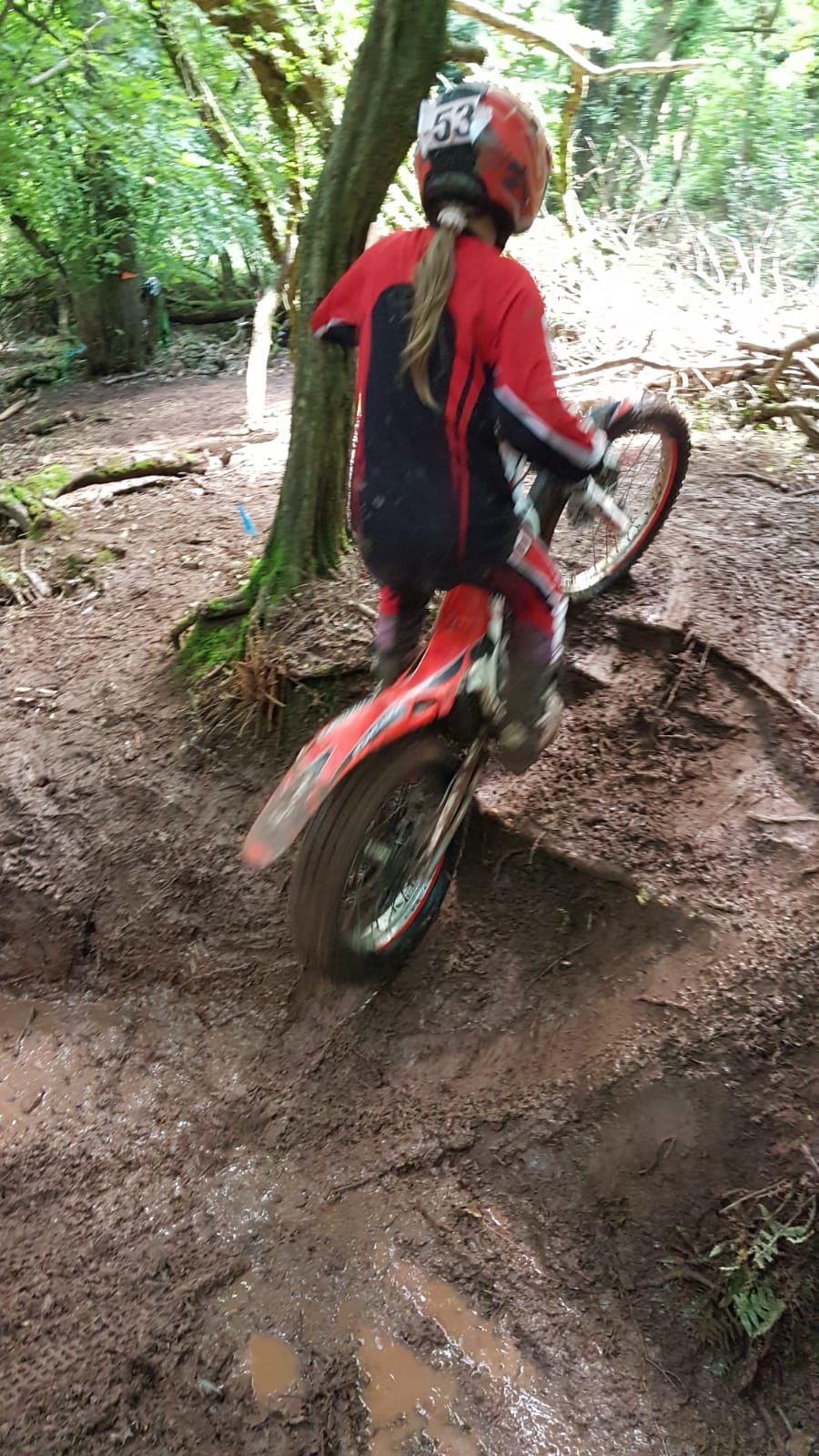 Dillan also claims points in the CDE championship and 3 cleans here.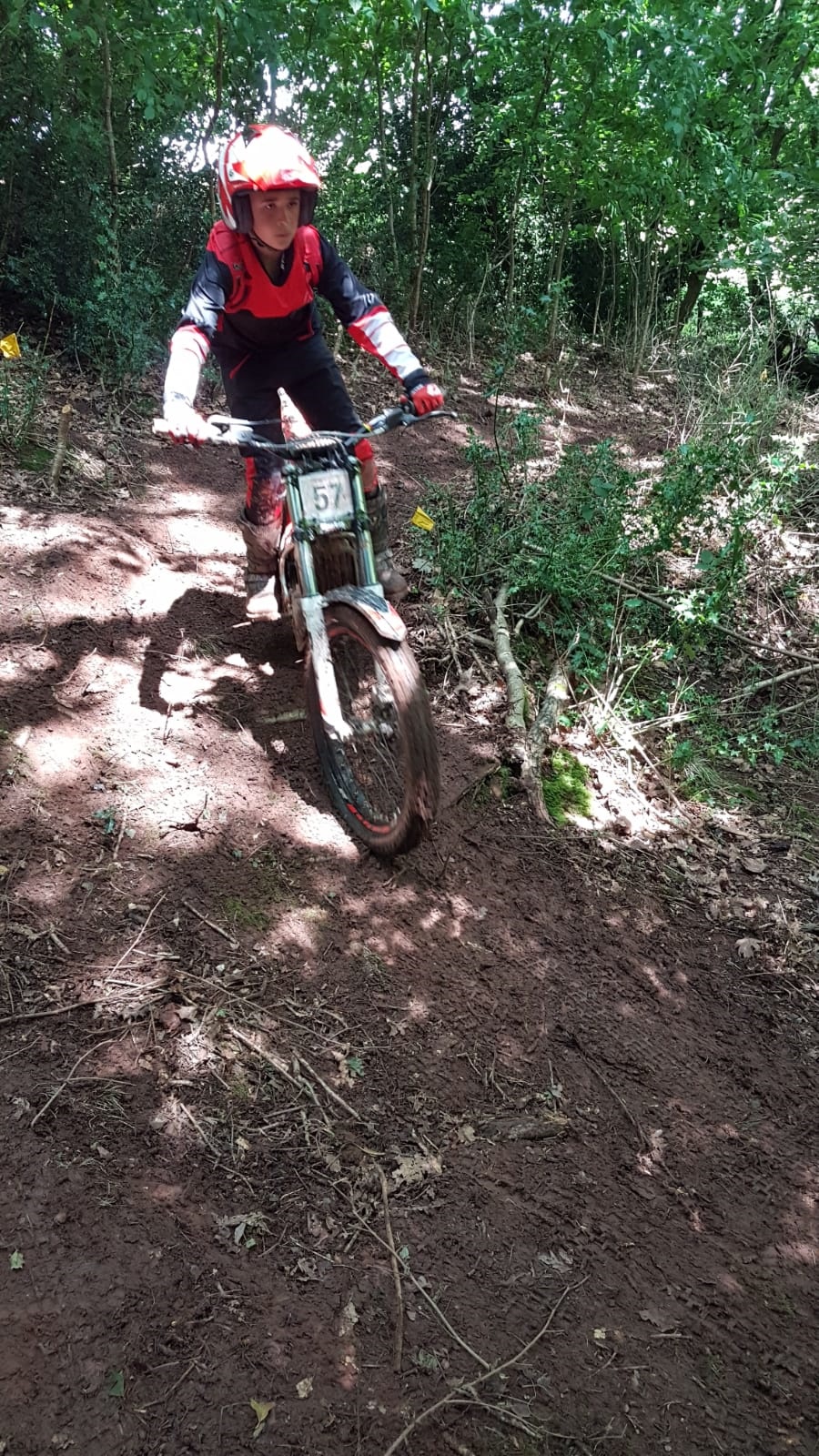 Riley's first trial taught him loads. 7 cleans proves he's getting there.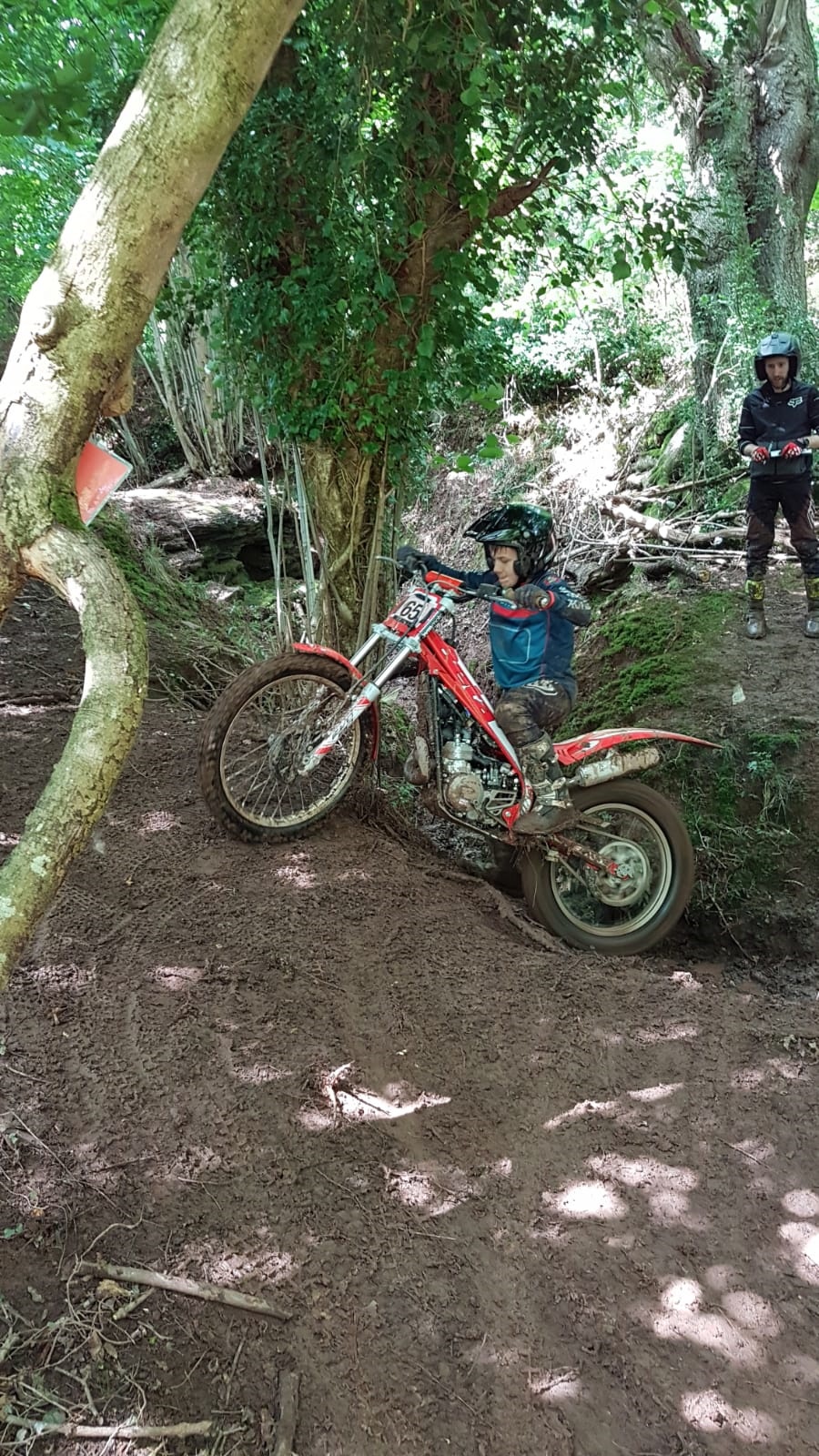 Dan Moir has a first ride on a 250 and improved his performance on each lap, from 33 down to 16 on his last lap. Clearly not tired like everyone else then Dan!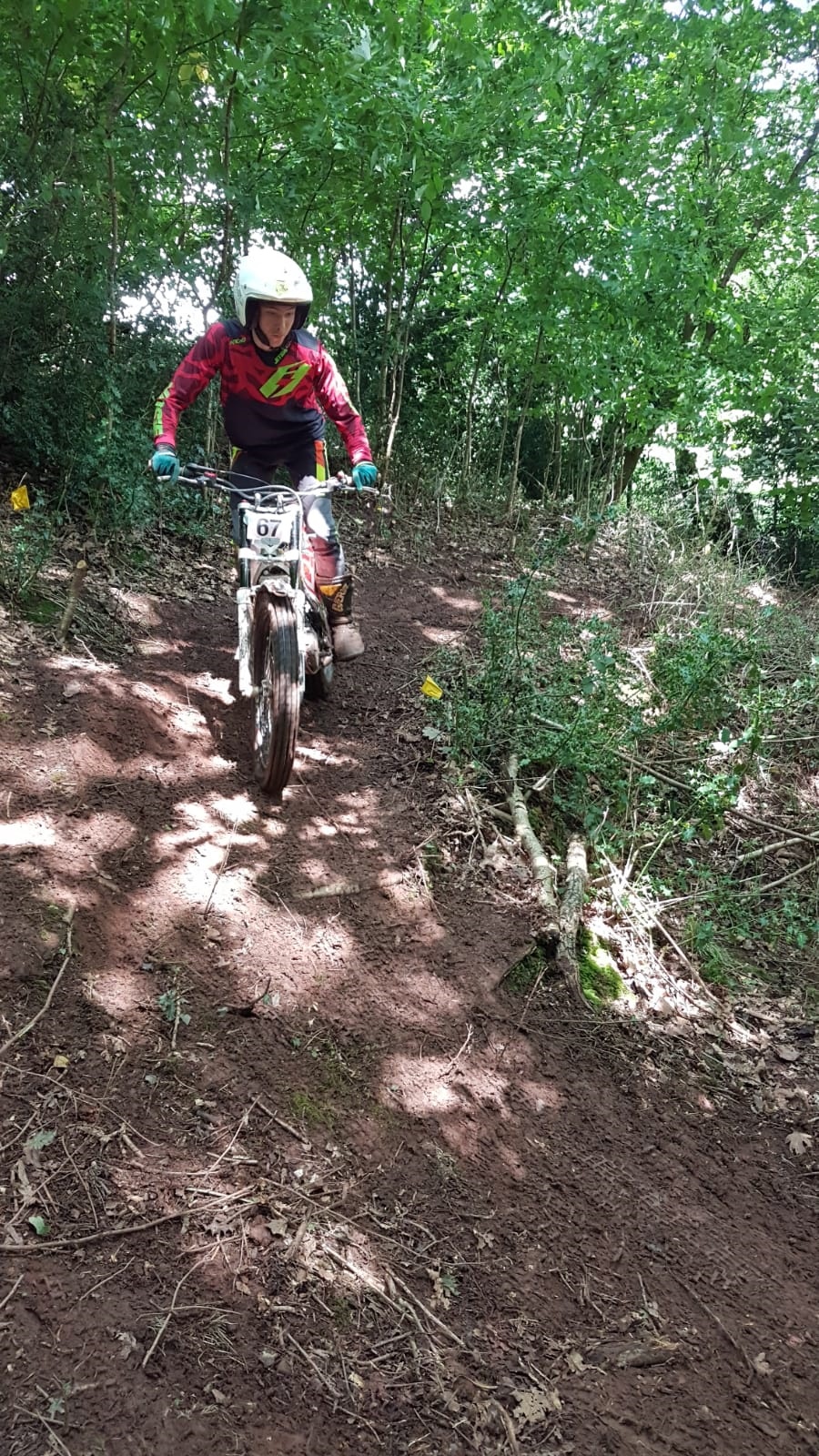 Lawrence Kettle had a good mid-field ride.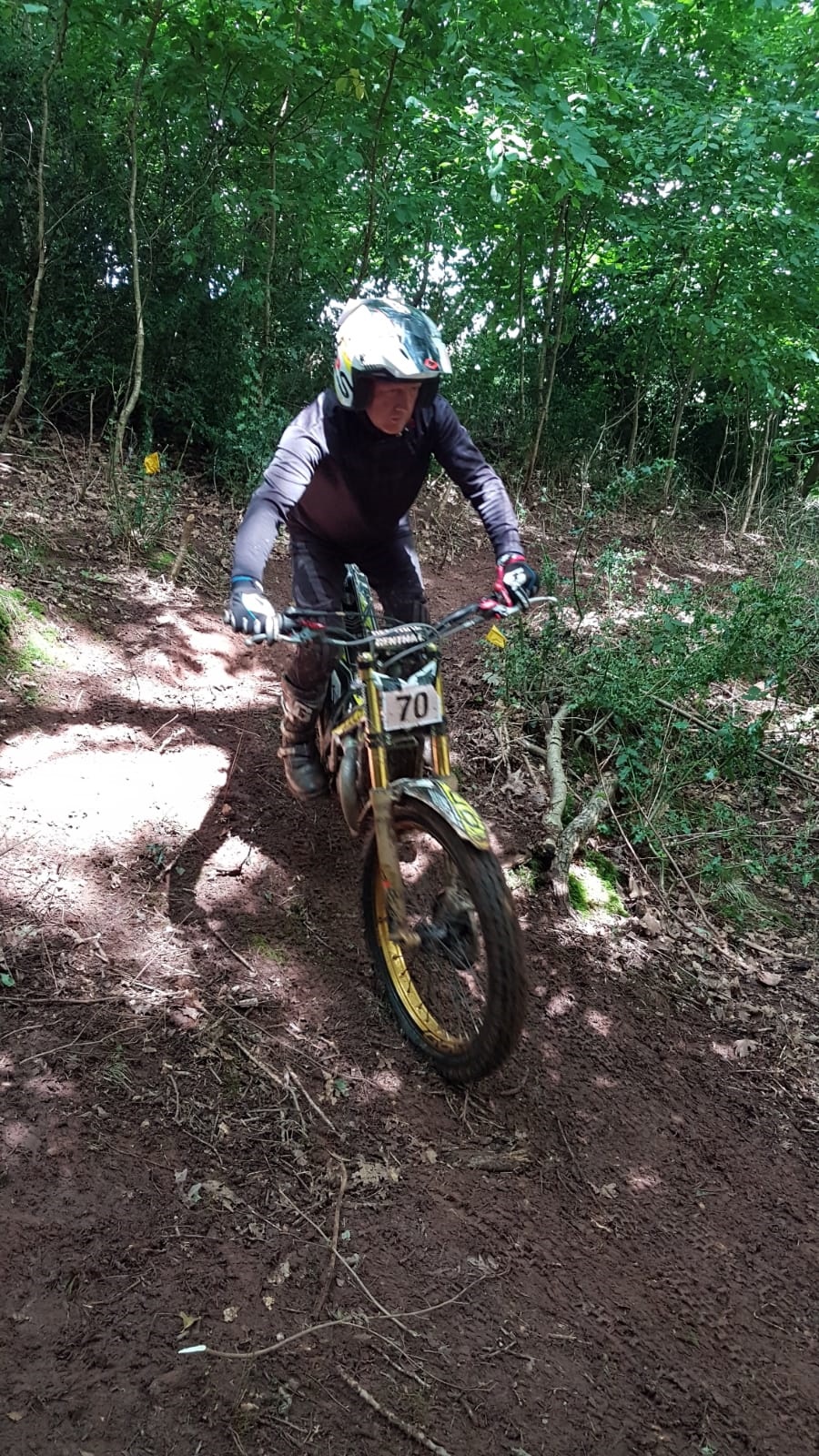 Dai Clothier had a great ride for 2nd in Sports.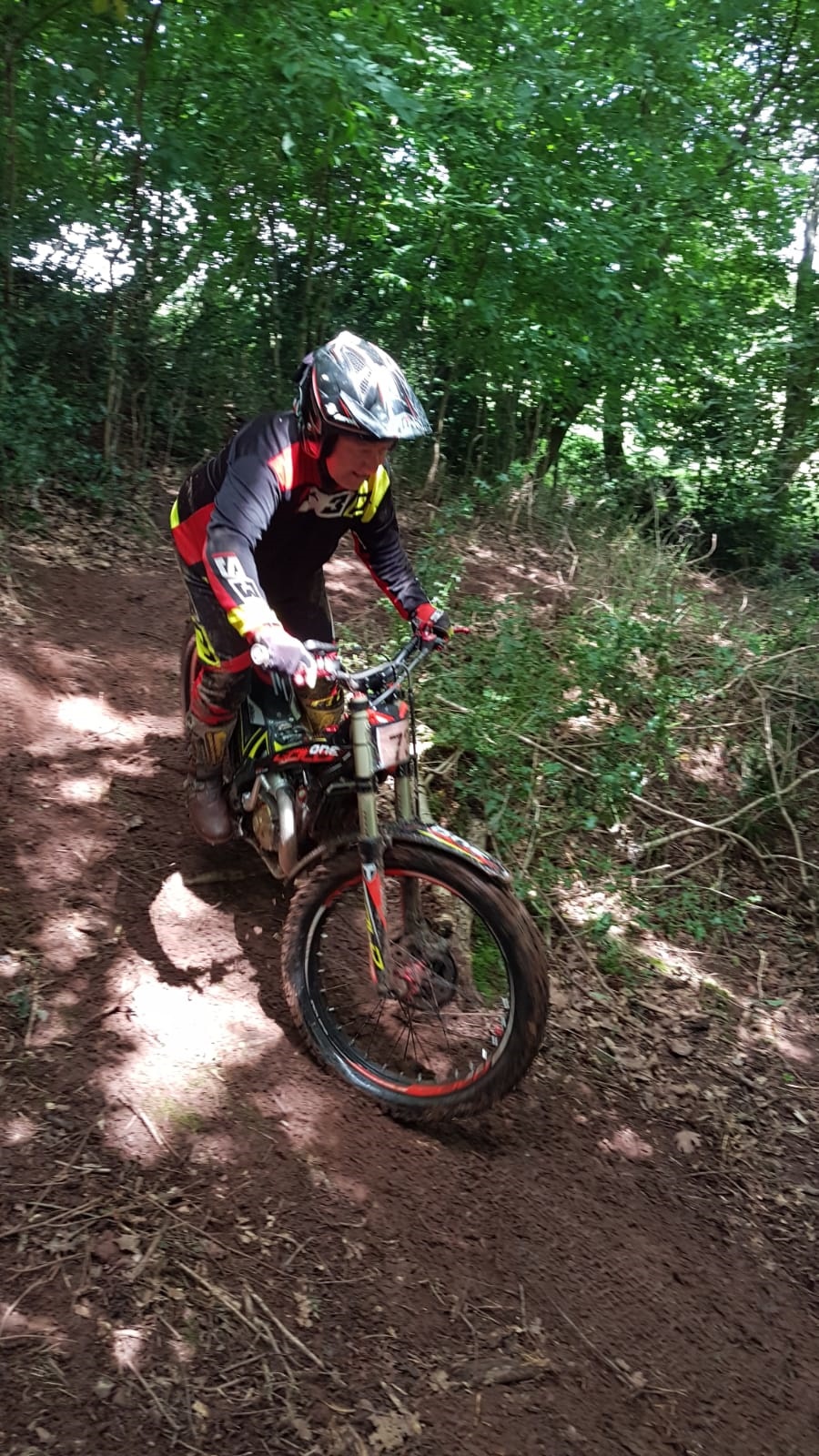 Shaun Brammer eases down the cambered slope ready for another clean.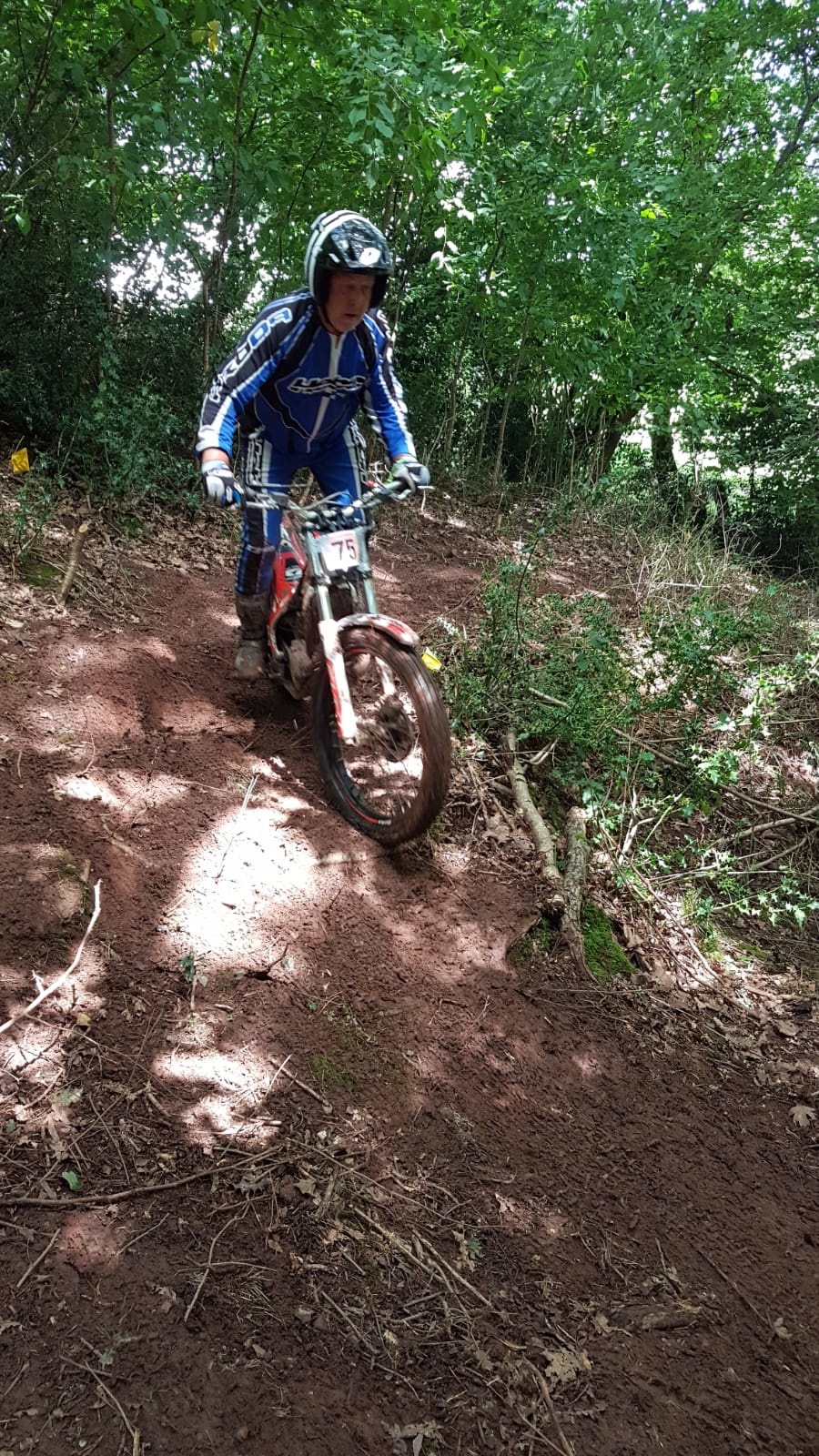 ---
Section Statistics
Section
Score Incidence
Tot
No.
0
1
2
3
5
10
Marks
Avg
Expert
1
10
0
0
0
5
0
25
1.67
2
4
2
1
6
2
0
32
2.13
3
6
2
0
1
6
0
35
2.33
4
15
0
0
0
0
0
0
0
5
9
3
1
1
1
0
13
0.87
6
10
2
1
2
0
0
10
0.67
7
3
0
1
7
4
0
43
2.87
8
11
1
3
0
0
0
7
0.47
9
6
3
1
4
1
0
22
1.47
10
13
1
1
0
0
0
3
0.2
11
2
3
2
4
4
0
39
2.6
12
3
3
1
6
2
0
33
2.2
Rte Tot:
92
20
12
31
25
0
262
1.46
Club/Exp
1
39
4
1
2
1
0
17
0.36
2
7
1
1
14
23
0
160
3.48
3
33
8
3
0
2
0
24
0.52
4
33
7
1
5
0
0
24
0.52
5
35
1
4
4
2
0
31
0.67
6
7
11
4
8
16
0
123
2.67
7
45
1
0
0
0
0
1
0.02
8
17
12
6
6
5
0
67
1.46
9
25
13
1
2
5
0
46
1
10
38
4
2
0
2
0
18
0.39
11
31
4
2
8
3
0
47
0.98
12
8
15
8
9
7
0
93
1.98
Rte Tot:
318
81
33
58
66
0
651
1.17
Club
1
23
0
1
2
2
0
18
0.64
2
3
4
5
11
4
0
67
2.48
3
9
8
3
1
6
0
47
1.74
4
22
3
0
0
2
0
13
0.48
5
9
6
3
7
3
0
48
1.71
6
16
5
1
3
4
0
36
1.24
7
18
7
1
3
0
0
18
0.62
8
9
5
5
9
1
0
47
1.62
9
8
6
2
8
4
0
54
1.93
10
23
2
2
1
0
0
9
0.32
11
7
3
2
9
6
0
64
2.37
12
1
3
3
10
10
0
89
3.3
Rte Tot:
148
52
28
64
42
0
510
1.53
Sports Plus
1
51
0
0
0
1
0
5
0.1
2
11
4
0
11
26
0
167
3.21
3
48
1
0
0
2
0
11
0.22
4
43
4
2
1
2
0
21
0.4
5
30
11
6
4
1
0
40
0.77
6
22
10
1
8
11
0
91
1.75
7
12
13
8
12
8
0
105
1.98
8
13
1
3
27
8
0
128
2.46
9
49
2
0
0
0
0
2
0.04
10
41
4
0
6
0
0
22
0.43
11
5
4
2
5
30
6
233
3.76
12
41
9
1
0
1
0
16
0.31
Rte Tot:
366
63
23
74
90
6
841
1.27
Sports
1
51
1
1
1
1
0
11
0.2
2
15
1
0
10
29
0
176
3.2
3
34
6
1
2
10
0
64
1.21
4
37
7
6
2
1
0
30
0.57
5
18
4
3
17
10
0
111
2.13
6
46
6
1
0
1
0
13
0.24
7
0
6
6
14
28
0
200
3.7
8
6
10
7
9
22
0
161
2.98
9
39
9
1
1
1
0
19
0.37
10
27
12
0
9
3
0
54
1.06
12
16
7
8
2
18
0
119
2.33
Rte Tot:
289
69
34
67
124
0
958
1.64
Conducted Exp
1
3
3
0
0
3
0
18
2
2
5
3
0
0
1
0
8
0.89
3
0
0
5
3
1
0
24
2.67
4
1
3
2
2
1
0
18
2
5
6
0
0
2
1
0
11
1.22
6
8
0
0
1
0
0
3
0.33
7
1
4
0
2
2
0
20
2.22
Rte Tot:
24
13
7
10
9
0
102
1.62
Conducted Easy
1
8
0
0
1
0
0
3
0.33
2
1
3
2
3
0
0
16
1.78
3
6
0
2
0
1
0
9
1
4
1
1
1
4
2
0
25
2.78
5
3
2
0
3
1
0
16
1.78
6
4
2
2
1
0
0
9
1
7
8
0
0
1
0
0
3
0.33
Rte Tot:
31
8
7
13
4
0
81
1.29
Some more stats from the event
| Make. | Qty |
| --- | --- |
| Beta | 26 |
| TRS | 22 |
| Gas Gas | 10 |
| Montesa | 8 |
| Vertigo | 7 |
| Oset | 5 |
| Sherco | 4 |
| Mecatecno | 2 |
| Scorpa | 1 |
| EM | 1 |
| BSA | 1 |
| Club. | Qty |
| --- | --- |
| West Glos & Dean Forest MCC | 16 |
| Stroud Valley AC | 8 |
| Leamington Victory MC & LCC | 7 |
| Dulais Valley MC | 6 |
| Llandrindod Wells & District Motor Club | 6 |
| South Shropshire MCC | 5 |
| Gloucester & Cotswold | 5 |
| Kingswood MCC | 5 |
| Waltham Chase Trials MCC | 4 |
| Swindon + District MCC | 4 |
| Merthyr Motor Club | 3 |
| Cheltenham Home Guard MCC | 3 |
| Redditch MCC | 3 |
| Mendip Vale MC & LCC | 2 |
| Neath Motor Club | 2 |
| ACU Limited | 1 |
| Zona 1 | 1 |
| Kings Norton MCC | 1 |
| North Berks. MCC | 1 |
| Trials Training Wales | 1 |
| Wye Valley Auto Club | 1 |
| Bexleyheath & DMCC Ltd | 1 |
| Milton Buzzard MCC | 1 |