Scottish Six Day/Pre65 Trial - Blogs 2011
Intro: Colin Jones. Blog's: Various, Photos: Ben Falconer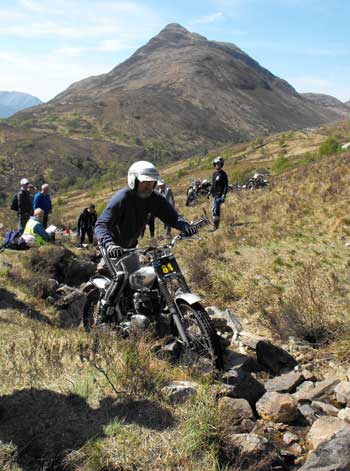 From our local club riders we have Ian Wixon in the Pre65 part of the event on Friday and Saturday riding his trusty Triumph 350 twin and Henry, Joe and first timer cousin Jason Bendall in for the 6 Days. We know there are some other associate members who also got in for the Pre65 ride and they are mentioned in Ben's Pre65 report on the Centre site.
And don't miss his full report, photos and more videos on the Centre Site.
Here is an extract from Ben's preview:
THREE Gloucestershire motorcycle trials riders are heading to the Scottish Highlands for the 100th anniversary of the most famous trial in the world.
Brothers Henry and Joe Bendall, with cousin Jason, will take on 180 observed sections of the Scottish Six Days Trial from Monday, May 2.
This will be reigning ACU Western Centre trials champion Henry's fourth attempt at the SSDT - last year he claimed his maiden first class award.
Joe returns to the event after a year away, and the experience of a very wet week in Scotland in 2009 will stand him in good stead.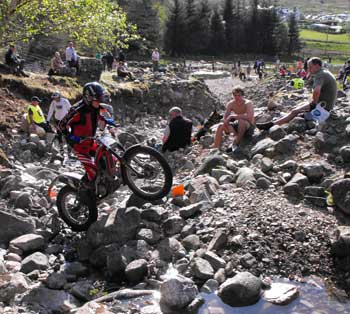 Jason is an SSDT newcomer but a one mark loss in the Wyegate long distance trial last month, until mechanical gremlins struck, indicates he is in good form.
The Bendalls hail from Aylburton, and will represent the West Glos and Dean Forest MCC.
We hope to bring you any late and breaking news from their progress if Pete and Alf have time after their support work is done each day.
We should be able to track the Bendall's progress live as the SSDT website usually have the score sheets entered live as they came in. Click on Results on their menu bar.
Ever wondered what it takes to prepare your bike for such a tough event? Here are some tips from those in the know: John Shirt tells us about Gas Gas Pro and John Lampkin covers the Beta Evo
Just noticed 2 newcomers a few riders behind the Bendalls are the current British and Ex World Champion Downhill Mountainbiker Steve Peat riding with, or should I say against, ex British champ Downhill rider and occasional Western Centre Trials visitor Rob Warner. (Yes, I know, I digress again.)
Anyway, here is the blog with latest at the top.
The Blog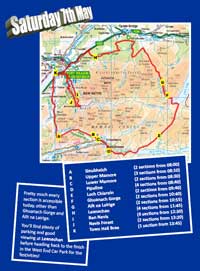 Late start and shorter mileage today. There will be some bodies pretty happy about that, but I have a feeling our 3 are just getting into their strides. Perhaps next year they should blag some pre65's and ride those 2 days for a warm up!
We may not get a Pete report today as I think they will be getting on the road home as soon as the wheels stop turning, but Jason and Lydia are having a well earned rest before the trek back.
Well, the results are more or less up and They did it, they got all 3 home after 6 gruelling days. Not content with that, all 3 improved their places on the last day when they could have been flagging. More to come...
And the Final words go to Jason: Sorry for no report last night, last out and last back so had to get out to celebrate!! Henry and Joe both riding well today, I found it really hard as I think the 5 days were taking their toll and we had the hardest moor crossing in reverse direction. Fitted new tyre in the morning as old one was completely knackered, kept pressure quite high as didn't want a puncture, works fine on the moors but doesn't grip the rocks so well, managed a clean on pipeline 2 so pleased to have kept up my 'at least one clean a day' record!! No mean feat in Scotland.
Henry had some problems with his clutch today and rode some sections without one, not that you would have noticed as he still had some superb rides, with a bit of mechanical help and advice from Joe he managed to get it sorted.
No lunch stop today which was really missed and a lot of the refuel points were out of water, Luckily I had my camel pak on otherwise I would have had my head in the river!!
Pete gave me a much needed mars bar just before the ben nevis sections, which gave me an energy boost for the last 9 sections.
Fought on round til the final section at town hall brae, Henry had a five here, Joe a fantastic clean followed by me having a five. Found out after that Joe had let his tyre right down for this one as he too had been running higher pressures all week, as he could have made parc ferme even if it punctured!
Really pleased we all made it back, Henry gained a 1st class award, Joe a 2nd class and I had a well earned finishers medal.
Went to the award ceremony in Fort William last night, picking up not only my awards but also Joe and Henrys as they went straight home, so got to meet Gordon Jackson 3 times! James dabill took the win after an incredible weeks ride with Emma Bristow taking the Ladies win, and in doing so beating a lot of the male entry. Was a fantastic extremely hard week and am made up that I got to finish it.
Thanks to Everyone for there good luck wishes and support and especially to Pete and Alf and my wife Lydia. Cheers!
(Congratulations, but don't rest on your laurels yet Jase, there is another 6 day's event you know - ISDE!)
| | Day 1 | Day 2 | Day 3 | Day 4 | Day 5 | Day 6 | Tot |
| --- | --- | --- | --- | --- | --- | --- | --- |
| Henry | 58(135th) | 49(136) | 33(123) | 49(122) | 72(128) | 41(116) | 315 |
| Joe | 78(206th) | 80(214) | 55(197) | 78(195) | 87(191) | 53(176) | 431 |
| Jason | 113(253th) | 113(252) | 112(252) | 91(246) | 119(239) | 107(236) | 655 |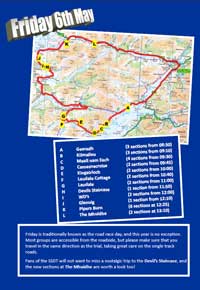 Darn. I've missed Pete on the phone tonight, but his message said the lads were still going after their early day and it was, as Pete predicted, a tougher day for them as Henry lost 6 places. It may have felt tough but Joe and Jason both gained places with 4 and 7 respectively. It got a bit warm for them today, it was raining at the start but didn't last so they ended up with too much clothing. Looking forward to their late start tomorrow for the lie-in but not finishing last.
Jase says: Had a hard day today, thought it was gonna rain so put on my heavy but waterproof KTM kit, but no it came out very sunny and the heat nearly killed me.
Some hard moor crossings AGAIN today and hard sections too. Got tangled up with the big boys so got split from Joe and Henry who were managing to keep in front, The top boys are an absolute nightmare with pushing in to queues, The tight time checks could cause rider rage!!!!
Gonna have to put new tyre on in the morning as grip on the moors is awful. Still...really pleased to have completed 5 days. Fingers crossed that all goes well tomorrow and I get to meet the famous Gordan Jackson! All going ok with Joe and Henry, late start tomorrow, so off to pub now!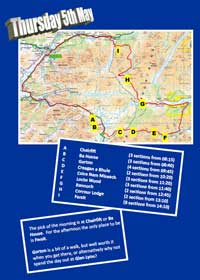 Pete says the boys have had another good day despite the rain. Rained hard for a few hours today but still not made much change to the sections, well, regards depth that is, but early riders were finding some parts really slippery then after about 30 riders had been through, grip came back and everyone was getting through ok. This could be a problem for the boys tomorrow as it is their early day and they'll be about 40th on the road so expect some higher scores especially as rain is forecast for the morning.
Joe had a broken brake lever when the bike was in a queue and Henry broke a gear lever after trying to straighten it. Henry changed his rear wheel this morning and the disc could have been out of line or something as brake pad wear has gone up dramatically. Last year he managed the week on one set of pads.
Jase seems to be coping better and looks like he will finish the week on the same tyre. The bikes are all sounding good and now the results are up Jason's concerns about being late in were unfounded. This also makes Jase today's biggest climber with a 6 place rise.
With Henry and Jase on Gassers, coming into the Gas Gas pit for any work is definitely timed wrong with so many star riders around their numbers they understandably get all hands on deck, but looking on the bright side, out on the sections you get to see how the stars ride the sections. Fellow Gas rider Dougie Lampkin had a 5 today and looked to have hurt possibly his ankle. And Joe is managing well on his Sherco. (OK, so I clearly didn't listen well enough to Pete, thinking he was on Mont before when he was talking about previous years. That is why our press officer is a professional and I live with the clangers!)
Interestingly, only one clean today in the hands of Ian Austermuhle and James Dabill is now leading.
Jason adds: Another day done! Had light rain today, kept the dust down but made choice of riding gear difficult, gets cold on the road but hot over moor crossings and in sections, opted for 1 extra layer and was about right, just bearable on the rd and not too bad for the crossings. Nothing dramatic to report today, couple of quite hard moor crossings. Henry and Joe are like mountain goats, My body won't take the punishment that theirs must be getting and I have to go at a slightly slower pace, Really enjoying them though even though they are hard on the body!
Had some good rides today, beat Joe on 2 sections! and recorded 2 cleans. 4 days done...2 to go, I think I was slightly late in today, Some big queues today at a few sections and not having Dave Knight's ability to fly across the moors, every minute counts!
Still enjoying it though...roll on day 5 :)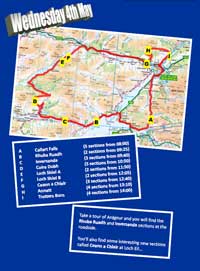 With 4 clean sheets from the whole entry today it could mean it has been easier than Tuesday, we'll see if the lads have improved.
Pete tells us the lads had a virtually drama free day, with them checking their bikes over regularly. One of the checks showed Henry's exhaust on its way to coming loose but that was quickly sorted. Joe had a practice at freestyle get-offs with a 'superman' over the bars when the bike went into a bog. So a good day was had all around plus the times were slacker and they all came in over an hour early.
Tomorrow morning is when the mid event tyre changes are going to happen, well back wheels for Joe and Henry at least. Henry is thinking of an gearbox oil change too.
The pit crew have been watching the 3 Greeves riders with fond memories of the real things, sadly there only seemed to be one left today. They also discovered how to get a quick ferry trip on the corran crossing, just take your bike on when a petrol tanker is on the ferry and they don't load any cars, saves waiting for all that loading.
The results are out and looks like Henry gained 13 places today, Joe moved up 17 and Jase kept his place and avoided the one extra dab that would have been really scary '113 every day'.
A quick look at the scores show Henry had 14 cleans and only one 5, Joe 9 Cleans and 3 5s, Jase had one clean and only 16 5s.
Latest update from Jase:
Another day done, think I raised my score today from 113 to something higher!!! Really enjoyed the day though and managed to get up some massive slabs of rock, even though I fived the section I felt well pleased that I managed to get the bike up unassisted many times. Kind of frustrating when you do the first part of the section great and then mess up near the end and still get a five for it.
From a personal point of view i am really happy with how I am managing considering the size and length of the sections! Had a hard moor crossing today, Joe had a spectacular over the handlebars off and luckily I was behind to witness it. He was ok so I was able to laugh! Had a less dramatic one myself but joe was too far in front to see!! Managed to get the bike up Trotters Burn, fived it but still happy to get up it.
It's so much bigger in real life than it looks in the dvds! In with plenty of time today, so can't blame anything for my higher score!
Got the long day tomorrow so hopefully bike and body will hang in there, Not seen the results yet but Henry still doing ok out in front!
cheers, Jase.
And here is Henry riding Leanachan from Ben Falconer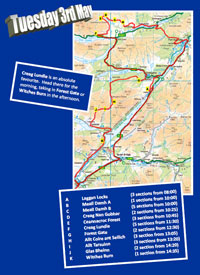 A trip north for Day 2 and the weather is still perfect.
Pete Hughes, one of our men on the spot, has just phoned in. The boys have all got in today but not without drama. Joe had to do a gearbox oil change and spent longer than he thought, and with Jason hanging on for him they were down on time. Catching time back up is hard to do and even harder for Jason as the newbie. The support crew think he is realising that you have to be on enduro pace between the sections and poor old Jason doesn't have his favourite tool the 525KTM to help him along. We're sure he'll be dialled in by Saturday! Both Joe and Jase think they were late getting in so will suffer time penalties, 19 for Joe and 21 for Jase.
All the boys said today was a better day, that could be their muscles getting used to the punishment so we'll see if their positions have improved when all the figures are in.
Henry pushed on throughout the day and even came in with 30 minutes to spare but at one of the fuel checks earlier he'd looked down at what he thought had been some plastic sticking out near his footrest. Deciding to investigate further he found the swinging arm bolt starting to come out. The retaining nut was still there but it took some improvising to get the darned thing pushed back in and tightened up.
The weather is still looking good for tomorrow which will keep spirits up. And let's hope Jason doesn't drop 113 again or it's going to get spooky!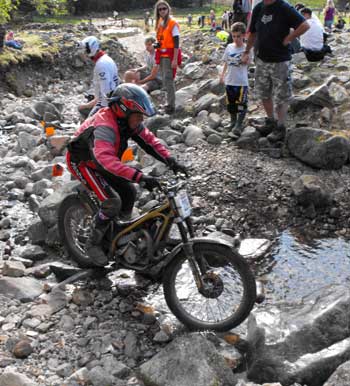 Speaking of Jason, our press office just got this through from the man himself:
Weather still beautiful up here, Had good day today, less clothing def' the way forward, started the day with three cleans, then back to normality!! Not aching as bad today though and moor crossings much easier. Joe had a good off while crossing the moors, he caught his foot and footpeg on a rock, shame I missed it as I was in front at the time! hopefully the pain will have gone by the morning. He's been a great help to me, so must have him fit for the morning!!!
Slightly late back today, as held up by two swing bridges and a long wait on one section with no time delay, Pete tells us we need to ask the observer, guess this is where experience counts.
Attempting sections that I never dreamed I would ever go up, with some good results and some not so good. Not used to the length of the sections, they go on forever!! Scotland certainly has some big rocks!! Henry's been out in front today so not sure how he got on and haven't checked the reults yet to see how we are doing, but I'm very happy to have two days under my belt. Will report back tomorrow, cheers, Jase.
I bet there is a wry grin on Gordon Jackson's face today - No cleans on the leaderboard today.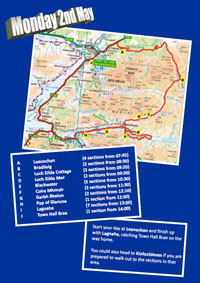 The map shows where they have been today.
Henry started the day with a 2 and left the first group of sections on 10 waiting until section 5 for his first of 9 cleans. Joe started with 2 fives and left Leanachan by the chairlift with 15 but knocked up 5 cleans through the day. Newbie Jason had a good start with a 3 but collected 18 on the first group but completed the day, which is a great achievement despite only 1 clean.
1 Day down, 5 to go!
Two riders, Dougie Lampkin and Michael Brown, cleaned the whole day.
Now Ben Falconer is back we have some footage of Joe and it is one of his cleans:
Results are now in for Day 2. Well, SS didn't manage to do a Jackson though was damn close, not that it would count as it was only 2 days, but managed to win on 2 and beat Neil Gaunt. Keith Wells pulled off a win of the Rigid upto 250 class again. Dave Eeles came in for 126, Ian Wixon dropped a few more at 144 then Keith on 152 and Andrew Weddle brought the Panther home on 229. Looks like the weather held out for them too. I'll bet it won't stay dry for the 6 days though.
Ian Wixon started his ride this morning with a clean but met some tough going as only one rider managed a day long clean sheet, you may have guessed it would be Steve Saunders. Ian dropped 79 with some of our Wyegate riders scoring 71 for Dave Eeles, Keith Wells lost 84 and Andrew Weddle got the Panther around for 106 but was not last. Have a look for yourself at the Provisional Day 1 Results.
We've just heard from 'Newbie' Jason. Bike all prepped now, too late to prep myself anymore, just hoping for a dry week and maybe a touch of sunshine! Can't see me repeating my one dab Wyegate result but I would like to get a finish! If I can finish I will be made up, If I happen to beat either of my cousins then I guess that would be the icing on the cake!
(True to form then Jase, the wind ups start here. I can't help thinking this is one occasion where the youths have the experience and Henry and Joe will be anticipating their first 'Told you so.' ed.)
---