Other World notes
New Zealand Notes
From Simon Thomas who now lives with the Kiwis.
Happy new year to all. Just keeping you in loop, after some limited success with the YZ 465(a couple of top tens in the old farts class) it decided to destroy its clutch, stupid bike!! so it's been pensioned off.
However, this VMX thing is quite interesting, so I went and bought a 'new' bike or three. Still backed by Bike shop, but I now own 3 PE Suzuki's and get this, you'll like this, I've got the triple crown, the tri-wizard cup, the three amigos, etc etc.!!!!!!!!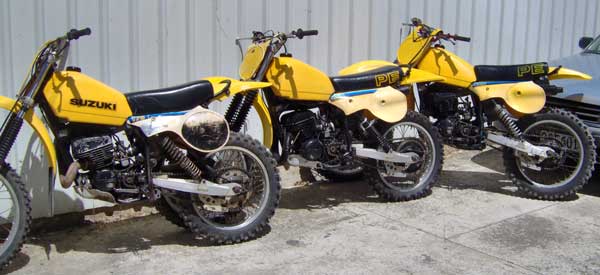 Look a 175, a 250 & a 400 plus a shed load of spares & they all run. Bit of a bonus the last one, so I'm gonna start my own team, I know its a big gamble, but you have to take a chance now & again right?
So look for me in TMX, I'll be the old bankrupt team manager/owner fleeing New Zealand, YEAH RIGHT!!!!!!
28Aug2010: G'DAY. How are things in pommie land. Just a quick note to let you peasants know I, yes me, "Simon the Great" has become a sponsored rider. Last week was my first outing on my Palmerston North m/cycles backed YZ 465. See pics. WOT A BEAST, you older boys will be wetting your pants to get a ride on one of these!!!!!!!. I didn't say it was brand new, but she goes like the wind, or a rather loud fart may be more appropriate. Any road, it costs me nothing so not complaining. Palmy North M/Cs is owned by my mate Neil Watling, he's from doncaster originally, very good rider and just taken delivery of an 86 Maico 500, so YZ passed onto yours truly.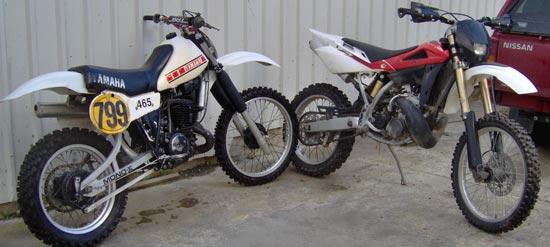 We were riding at a track just south of Levin about 40 mins from home, track very smooth about 7 km's in length, more H&H than MX, very sandy with nice wooded sections to break things up, and a bit of mud thrown in for good measure.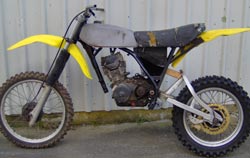 Things were going well until clutch started slipping on YZ, decided to stop rather than do more damage. Bike is having a new clutch pack fitted this week ready for Tangimoana VMX on 12 September. Have included pics of new Husky & YZ, old knacker is TT 250 under restoration.
I see Andy Tillings has re-appeared on scene,ask him about a RM 250 up a tree @ biddestone amca meeting some years ago, hahaha! West Glos page still entertaining reading, keep up good work. Love to all my followers. Simon.
3May2010: Sorry been such a long time and no contact. Just thought I'd drop you a quick note.
Dirt bike season in N.Z. seems to have no end at moment, what with charity trail rides, VMX, Lower North Island Enduro Series, Deer hunting, and now its duck shooting season.
Have got another bike, traded Gas Gas for a Honda (sorry, shouldn't use bad language) didn't like it, so traded up to a 2010 Husky WR 250 and very nice it is too!
Did a trail ride just outside of Tokomaru, where I live, up over the Tararua ranges, good 50k loop with lots of tight bush (edited for the sake of our younger ones but you can guess. ed.)
Borrowed a yam IT 465 to do VMX last weekend, what a beast, YoY do people think VMX is fun? Like riding a 5 bar gate. (Strange - Roy has some very happy memories on such a beast! ed.)
Also trying to do enduro series, not really enough time to fit it all in, plus had dear old mum & dad over from UK, nice to see them after 3 years, (nice to see back of them too, no really, luv you mum!)
Have just bought one of they cameras you stick on helmet so will get some footage of local terrain and send it over. Regards Simon & crew.
28Oct2008: G'DAY All - we don't really speak like that, just thought I'd throw it in for authenticity.
Well another day out for the Thomas Whanau, (pronounced farno, that's Maori for family, see even picking up the lingo) at the first Bushriders X Country 4 hour mudfest.
What a day, it had been persisting down most of the week and the forecast was less than good, as we headed out to Tirumea, about 100k east of Palmy, up in the Puketoi mountain ranges.
We parked up right next to pit lane, 1st mistake. Got bike off trailer, 2nd mistake.
Senior race was due to start at 11:30 but 2 junior riders got lost on the course so the start was delayed to midday. Midday came, shotgun went off, 50 riders slipped & slid up the first hill in a huge shower of grass & mud with a fair amount of cow muck mixed in for good measure, fragrant yet nicely sticky.
So we were off, a 32k lap of Drew's & Ant's, (Moors that is,) laced with bogs, rivers, some gnarly uphills followed by the equally gnarly downhills. (See the bruised ribs, I hate going down hill, always manage to crash).
I Came to this huge mudhole surrounded by marshals and nearly full of bikes, after some encouragement, like - 'go that way you pommie #!*&'er, I dipped a wheel in, gave it a big handful & popped out the otherside. Call me a pommie! I showed 'em & showered 'em too. Haha!!
This seemed to be the general pattern of things for quite a while, then came the run into the finish, top gear over Ant & Drew, down another hill (nice smooth one, didn't fall off!) and into the pits.
Not too bad first lap around 50 mins, thinks to himself 'this is ok, will go do another lap, fuel bike and body and off we go again'. In the words of captain mainwaring, YOU STUPID BOY!
Much of the same 2nd time out, decided to stay & play in the bogs some more this time round, had to go on to reserve tank about 3k out, thinks, this is not good, ah well, it'll be ok.
2nd lap slightly longer, 1.5 hours.
YOY did I try for a third lap, filled fuel tank, had energy drink, buggered off out again.
Really done it this time, it was peeing down, tyres were clogged with mud, bike started making clunking noise from backwheel, had to tip bike end over end to get out of a bog, throttle jammed full of mud, petrol peeing out of overflow, I was having so much fun I had to sit for a while and gather my self, decided to carry on despite noise and leaking fuel like amoco cadiz.
Note to Vess & Glenn, remember 2006 hafren rally, wind & rain, blowing a gale?
Got blown, literally, into a fence while cresting one of the many peaks, already decided to stop at this point (yeah, I know I'm a wimp.) Finally hobbled into pits to find field rapidly emptying as people buggered off home.
Very tired, very sore, bike in a sorry state, wife & kids soaking wet, truck covered in mud (some clown parked right next to pit lane, didn't I!)
CAN'T WAIT FOR NEXT YEAR, best fun I've had for ages.
sorry no results yet, no pics either. (Theresa said "I'm not going anywhere in this bloody weather") it was only a light shower honest.
Luv to all, Simon - trainee kiwi mud wrestler.
21October2008: Sorry I've not been in contact, not much going on over winter. Yes, our winter is your summer. Did a couple of local trail rides, all for charity, schools, fire brigades etc. Very good really, turn up pay $30 ride all day round someone's farm and a BBQ after. Great fun.
Sunday 19th saw Thomas clan travelling to Mangatanoka to do a gravel sprint, (same as last year). Mangatanoka is the home of the TUI brewery - not a bad drop either. A mix of bikes, quads & cars. First car went at 10am, for some reason they have priority, followed by quads then bikes. Running at 1 minute intervals and using a F1 type light countdown system takes some getting used to, hard to judge that last light going off.
Managed to get 5 runs in this time after 4 or 5 delays due to cars going off the course. Don't know how cars crash, they've got navigators to tell them where to go, 'get some bottle and ride a bike!'
Tech. note: I re-geared the Gas Gas up 1 tooth on the front & down 4 on the rear, through the speed trap I got up to 143km/h might not sound much but pretty good on gravel I think. The guy who won, called spanner's for some reason, riding a CRF450R was running a 40 rear sprocket and a 15 front, got up to 192km/h on the straight bit, a slight dis-advantage on my part.
All in all a good day rounded off with beer and burgers at TUI HQ.
Next event is the 4hr Bush Bash east of Pahiatua. Gonna do ironman! Will let you know how it goes in next report, bet you can't wait eh!
Regards to all. Simon - West Glos reporter in NEW ZEALAND. Now over to Jim for the weather report. If you can see the mountain, it's gonna rain. If you can't see the mountain, it's raining.
Update 23rdOct: It took some doing but I finally got Simon to admit he came 2nd. (Si, Trumpets are for blowing at the top end as well as the bottom!) Si said 'Yeah results, I was second bike, fastest time over 8k was 5mins 6seconds. Spanners' fastest time was 4-38. So you can see what a bit of gearing will do. For some reason the bikes & quads were run as 1 group, a little unfair on the quads I think, but I don't make the rules.
Just so you know how much he caned that poor Gasser, consider that this video clip was from a rally car doing the same hill but 40 seconds slower!
Thailand Notes
We leave these notes here to remind us of happier times for Taff. Taff died in November 2013.
Some notes from another of our ex-pats - Taff (Alan Davies) reports on a 6 Hour Enduro
Having lived in Pattaya 18 months now an annual cycle is beginning to develop.
Pattaya 8 hour 2007 was the best organized and physically demanding event in toyland. This year Urs is organizing a set of 3 events, the first being 23/24 February, the next in August.
Being my second year on the circuit, I entered my own A-TecRacing team. With 6 hours to ride in this year's series, only 3 riders per team is required.
With 8 customers over for a trail tour, Wimm and Ron agreed to team up just for some fun, having turned down the chance to ride with Oz Brian and Irish Mat, my Sunday trail riding buddies.
I knew we would be up for some good banter as both teams were in the over 40 VIP class. Brian and Mat had got a French guy up from Singapore for the weekend in their team, I wasn't too concerned about that as I'd seen him ride last year.
Having just ridden 1000Kms the week before on a tour on my trusty '03 WR250F with, what must now be well over 50,000kms on the same piston & rings, although Plainer had reshimed the valves over two and a half years ago. In truth it had started burning oil about 10,000kms ago, with not a lot of compression either. I knew another of the WRs was well up for 6 hour use, with no problem. That of course was overlooking the fact we had 2 front wheel punctures. Only using 2 out of 3 Of the WRs meant Yod, my Thai mechanic, could strip down and use bits of old trusty.
We signed on and completed a sighting practice lap of the 7km course to see it was laid out with MX style banked bends, tight and tricky switchbacks, fast straights and 2 rocky loops up and down a hill with plenty of deep loose sand.
In fact we needed the water pump seal as well as the front wheel and radiator header tank because I caught up some wire in the back wheel, with only 2 laps to the finish, I couldn't believe hearing a chatter and grinding noise which I continued to ignore until it quieted down. At last I could open my first Leo beer as Wimm did one more lap to finish the event.
At the presentation we picked up 3rd on 32 laps. Brian and Mat were also on 32 but we were one minute behind them and another 2 minutes behind 1st place. Results to be posted on www.enduroracingthai.com
I was really pleased with the way my team mates got stuck in, especially as they were the ones paying for the Trail Tour. For me, it was just another weekend in Toyland.
Enjoy your riding. Taff.
UAE Notes
Some notes from yet another of our ex-pats - Richard Lee gives us the lowdown on bikes and life in the desert
I recently bought a KTM 640 Adventure here and have hooked up with a group of guys here who regularly ride out in the wadis and deserts, usually 50/50 on/off road. Read the full story on Richard's Blog...
Shortly after relocating to the UAE in 2008 we somehow got roped into marshalling on the UAE Desert Challenge, even worse, I was to be responsible for the stage finish controls each day. Read the full story on Richard's Blog...