Bill and Liz - Croatia Made Easy. (2015)
Words and Photos By Bill and Liz Brown
Back to Articles
The Plan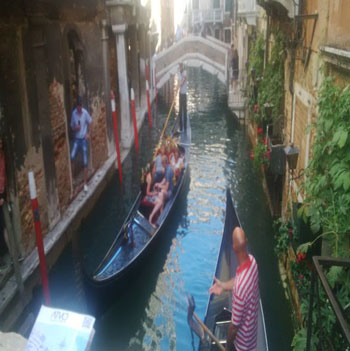 Guess where.
Stage one to Brugge then Düsseldorf. Stage two overnight to Villach on Train Then 4 days in the mountains self catering, 4 days in the Pula peninsula near Trieste self catering then Venice for day sight seeing and 3 day slog home. The bike is a 2004 BMW Boxer Cup called Max, Liz on the back and our other passenger is Tom finally accepted as suitable navigator.
Mossies are rife, wear insect repellent patches, they don't work but make you feel better. Heat is as much a problem as cold and rain, be prepared, use layered solutions, and if you can, carry short boots for comfort. B&B found through French Chambre D' Hote Web site. The site is a bit tedious but not impossible.
---
Day 1. Chepstow / Brugge
Trying to break free of work is difficult in such an important time but we load the bike bit by bit sending texts to the office to remember this to do that and making notes about jobs before adding yet another bag to the bike, gradually finishing the jobs of normal life adding more to the bike then, suddenly, we are off. God I just remembered something else, more worry, send a E mail when we stop, must remember, my god that was a big pot hole must concentrate on the road!
We are going now, fuelled up ignoring the option of 16p off on the Tesco litre, forget work let's go. Easy cruise to the M25 settling down now but very busy traffic, eventually having to filter for about 10mls, stopped for fuel at Clacket lane and quick hassling text to son have you done this? Off again to tunnel, less worry more speed getting there an hour early only to discover I had been told the wrong time of train and arrived late, but due to the vagaries of life, we were bumped forward to the previous, ie our train! Chatted to bikers on chunnel, soon we were off. Tom says 1hr 15 to Brugge so off we go, new mental note to hassle son, arrived at hotel Hollywood, fantastic room and sent text to Will to be told all was well and forget it ie stop pestering him. Went for walk and pleasant meal. Chatted to French couple up from Laon for evening meal.
277mls.
---
Day 2. Brugge / Düsseldorf
After a great breakfast in the Hotel Holywood we looked out on a slight drizzle, by the time we packed it was full on and by the time we got to Düsseldorf it was apocalyptic. But the rain did stop as we stopped for lunch at a motorway services. Wouldn't you know! the Germans don't like working Sundays in these parts, so resto' closed. Made do with a garage sandwich instead, which was very tasty. Made it to DB Deutsche Bahn to be surrounded by about 100 Dutch Hells Angels or as they called themselves Dutch Marines with very loud Harleys of all sorts. Made it on the train scraping my helmet on the underside of the upper deck despite ducking, found carriage and familiar cabin easily. Sadly, we discovered that the service is to be shut down so this will be our last time. Went to restaurant car at about 20:00hrs only to find it, you guessed, swamped with Angels, went back to cabin to eat peanuts instead. Made it back an hour later to find some of the Angels had fallen so got a seat and had a noisy but enjoyable dinner (sausages, well, it was Germany) Notable German efficiency failed and the train left 55min late again. Had a decent sleep for a couple of hours but god knows what he did to the carriage in the middle we didn't half get shaken about for a while. Arrived Villach 30 min or so late, very wet and rainy.
About 600miles by train.
---
Day 3. Villach / Kobarid /Svino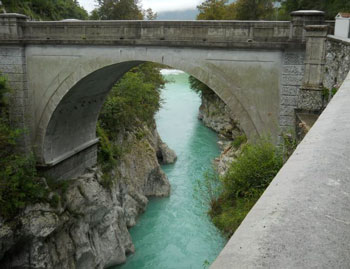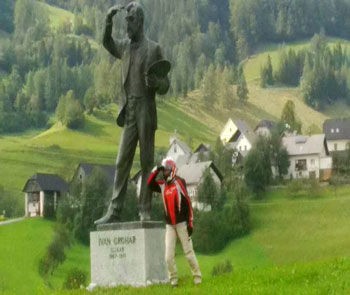 Great Views and Statues
Max struggled off the train then near catastrophe as fellow traveller decided to reverse his trike into Max! Fortunately, he responded to an extremely loud yell and screeched to a halt 50mm away, phew! Set Tom on windy road option to our destination and set off in downpour, again. We were treated to the magnificent countryside and houses of this part of Austria and then briefly Italy then Slovenia, all very biker friendly and mostly good roads. Weather suddenly dried but got very windy. We found our apartment in Svino near Kobarid and very friendly owners. Liz's newly found ability to speak Italian with a bit of German thrown in worked well and helped a lot. Great area for canoeing, mountain biking, walking etc. Lovely scenery and friendly people. Girl next door is resting here three days she is walking the Alpes Adriatic route about 600KM! Went for walk to village and local waterfall.
About 50 very wet miles today.
---
Day 4. Svino / Svino
Good start it's raining. Went for a tour to Kanal using windy road option, fantastic, great roads more hairpins than a hairdressers shop! Only about 80 mls but fantastic, road surface was grippy all over despite rain all day. Fantastic views super houses and cosy villages everywhere, most people speak English well, in shops and cafes anyway. Visited Ossuary In Kobarid 7000 plus dead from La Premier Guerre de Mondial.
---
Day 5.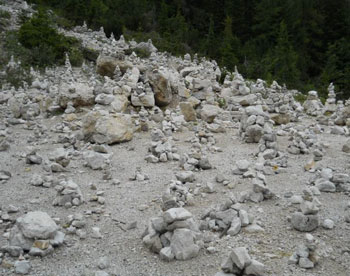 Popular spot for cairn building
What a difference a day makes. Awoke to sunshine and dry roads. After breakfast of bread and jam, set off to tour round one of the northern mountains. These are some of the best bike riding roads we have came across. On the whole real grippy surface dry or wet, fantastic views and villages, great houses. We visited an Alpine flower arboretum, only I suspect we should have gone in May as the flowers were a little past their best. Went on Vršic Pass built by Russian POW's during first WW on road between Soča and Kranjska very rough on way down with cobbled surface on bends that kept me on my toes! Met thousands of Harley types coming the other way, turns out it was HD holiday week here in Slovenia 150,000 of them are here, that explains a lot. Had best ever apple strudel for lunch though it is possible an Austrian would disagree that it was strudel. Despite running out of tarmac on the last three hairpin bends coming down the mountain (I mean there was no tarmac at all just gravel) and the poor surface on this part, the experience was great. Any more of this and I will have to fit knobblies! Saw several 1st WW memorials and read lots about them On the road from 10:00hrs to 19:15hrs 160MLS Max suffering from power pack failure or dodgy petrol mmm! we shall see.
---
Day 6. Cividale
A round trip about 80 very wriggly miles.
Cleaned rust off power pack to see if that helped it may have, but not a lot. We chose some of the smallest mountain roads possible for our trip today, very bumpy patched up tarmac so our speed was reduced to a crawl but again it was a hugely enjoyable trip spotting many wild flowers, including Chinese lanterns and Autumn crocuses, growing wild and magnificent scents and views. Went to Cividale del Friuli for lunch which was Pizza and jolly tasty, couldn't eat it all so asked for a cartoni and took them home for dinner. Drove home over some slightly wider roads, heard a strange noise on way up the hill but carried on. Visited local 1st WW museum which really highlighted the local involvement between the Austro Hungarians and the Italians (as there was no Slovenia at the time) Horrific struggle no less barbaric than in Ypres or the Somme though fewer losses. Returned to bike to go home to discover that the generator light had came on, unseen because of Tom, and guessed that the alternator belt had broken. Stripped bike back at the apartment to confirm later. Our landlady summoned neighbour to assist and he advised that the nearest dealer was 50 miles away and volunteered to organise spare parts in the morning and loaned us a battery charger for the night so we removed the battery. Very helpful indeed. Drowned our sorrows on some local white and red and remains of Pizza.
---
Day 7.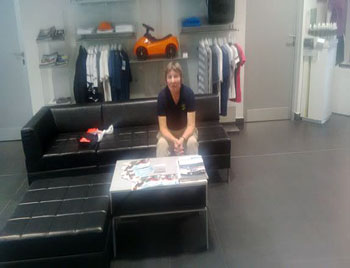 Waiting for Max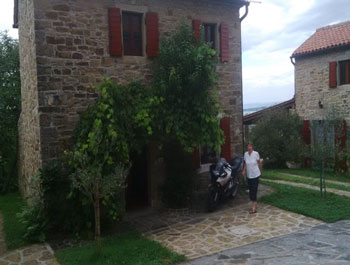 Our two bed appartment
Our now annual visit to exotic BMW garage, this time in Nova Gorica! Battery fully charged and lights disconnected we made it no problem lovely ride down the valley with smooth sweeping turns all the way, looks like the police had woken up to Harley invasion and had a few representatives in the occasional village watching.
Arrived no problem and after a lengthy wait (with much pacing by me thinking I could have done it twice by now) Max re-appeared and was pronounced fit and healthy only to be taken away immediately because the lights had stopped working! Mama had been very brave until this point, suddenly lost the plot and exploded. Stayed clear for a bit myself then, thankfully Max came back fully restored. They did a good job at, I think, a reasonable cost labour wise although the list of parts was impressive. After telephoning ahead to our host off we went at high speed to Koper just south of Trieste our next stop all motorway but what a motorway, amazing bridges built over the hill tops with occasional tunnels, wish had we had time to look at the views, they were great. Met our host at a pre-arranged petrol station and followed them to our rented two bed house. It is about 300 years old in a village on top of a grape and fruit strewn hillside. Super little house re-built in sympathetic style with added electric and gas.
About 90 miles altogether. Difficult sort of day.
---
Day 8.
Aargh! The 2 pints of milk we bought for tea turned out to be drinking yogurt!!! Makes a different sort of breakfast! Nice dry day, went to open market and flea market in town (nearly half of it was second world war guns, knives, grenades etc. don't fancy getting through customs with that lot), then the sun came out and we rode to Piran to dip my toes in the Adriatic and drink some Coke. Mama did a couple of mermaid poses on the rocks. Super ancient town on a peninsula, now practically all restaurants with non local cars being kept out and people being bussed in from park and ride, works well if you can read signs!
After a pleasant Couple of hours we went to Izola which was a tidier and less busy version of same thing back home then for a BBQ and some local vino.
---
Day 9. Manzam to Opatija Manzan
125 MLS
Woke to brilliant sunshine so set off for the coast. Getting used to drinking yogurt now! Usual Tom wriggly route abandoned donkey track option for wine soaked goat track but had a great ride despite wishing for a KTM enduro instead of sports bike. Ended up trying to ride through a farm on gravel track but gave up in middle of farm and had an interesting conversation with the old farmer which I am sure meant we could go on or go round another way. After a cheery wave we tried the other way. Slightly easier detour proved we could have used gravel track when we picked up other end. After crossing border heading for Buzet we discovered a hill top fortified town and went to visit and walked round. Mostly built by the Venicians in the 16th century
Eventually we got to seaside. Mama getting a bit fed up now with wriggly mountain paths (ie small roads), so she was a little tetchy when we arrived in Opatija, a wonderful beautifully kept Edwardian town still magnificent, unlike most of this area. Had great lunch of Calamari risotto. (mama fungi risotto) very concerned that it may cost us about £2500.00 until we realised the missing dots on the menu prices. ie beer was 20000 Kuna, turns out to be £2.00 roughly. Then we went to swim in the sea! Unheard of luxury, sea was warm-ish and easy access with large concrete steps in and out and a sheltered sea pool area for those intimidated by the lively waves. We had a couple of very relaxing hours there before riding home on an avoiding highways option which, whilst still using small roads, were at least still recognisable as roads, great scenery with huge variety, scary moment when both wheels hit patches of sand at same time, fortunately, only served to waken us up a little. Back into Slovenia and home in 2hrs instead of the 4hrs to get there.
---
Day 10. Manzan Pula Manzam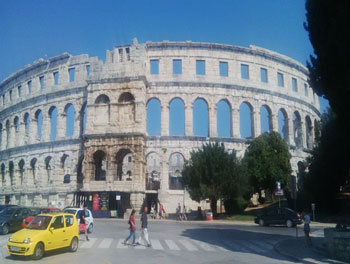 Pula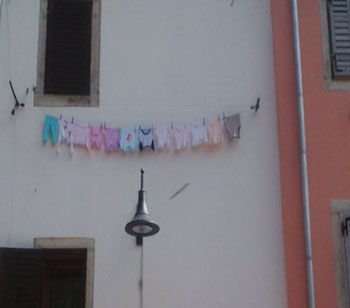 Pula too
130 MLS
We chose the avoid tolls option to be rewarded by proper roads as in B class all the way and fantastic views again for the first half of the trip. After that it became the usual patchwork of farming vineyards olive groves and scrub, all of this much greener this year because Slovinia and Croatia has had a lot of rain. Thankfully, missing just now. Arrived Pula to be slightly disappointed as we were greeted with crumbling tenements and dockyard scenes. But lo there was a sight, a Coliseum, complete in all its splendour, the outer walls anyway. Great, that was well worth the visit. Had a good if pungent (wild garlic) meal of grilled calamari and then rode to Porec on the west coast, a beautiful seaside town. Watched a fairly professional crew of 10 moor a 50ft Bavaria (Posh Yacht. ed.) all in their finest matching crew clothes, mama very impressed with white skirts the ladies wore. I was jealous of the mooring, very professional. Then we bumbled up the coast home for another BBQ and local brew, great. Noticed locals starting to pick grapes in greater numbers.
---
Day 11.
We knew it was going to be difficult. We were both sweating before we got our jackets on, about 30 degrees today I think, and the trip to Padova about 150 miles. Interesting start when large flying insect got stuck between my glasses and my cheekbone and it didn't like it, so it bit, ouch! Thankfully no problems with it. To gave us a (route) choice of tolls at about 2 hours or no tolls of about 5 hours we chose the latter, but after broiling for three hours we gave up and went on toll road for the last 100 km. We did stop for a picnic over looking a Napolionic star fortress town called Palmanova, absolutely amazing. A monstrous amount of earthwork and brick laying went into this death trap, double moated with garrisons on each of the 12 star points and god knows what else there to surprise an attacker. I am assured by my noble wife that these were not only de rigeure a few years ago but that there are lots of them. If so, I am ashamed as seeing this was my first. Huge trailer loads of grapes being shunted around in this area, serious stuff. Blasted down motorway at 130Km/h which seemed amazing for a while after two weeks of sub sonic speeds but we got used to it and arrived at our B&B at 4:30 pm to a welcome jug of orange juice. Into Padova for dinner. Good choice, we went to Antico Brolo, recommended by our host, a gourmet restaurant plainly for us. Really good food, very well served, and affordable local wine, a Merlot Cabernet Sauvignon, much better than the usual Tesco offering and at 22€ in that environment cheap. Turns out we were nearly eating with the stars as all the F1 drivers eat there when in town, sadly not last night.
Total 165Mls 160 before reserve came on!
---
Day 12. Venice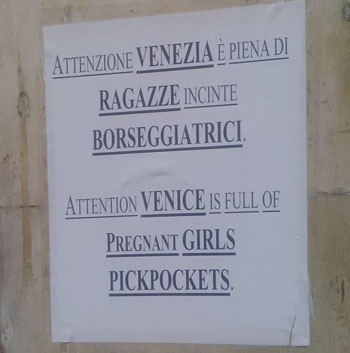 Says it All!
Took the train to Venice, tick done that. Took the train to Padova, tick done that, went back to Villa Camilla then to resto' for evening meal.
Great food in local restaurant at very reasonable prices I had bacon lard with Polenta (sounds horrible but tasted great, probably not good for Chlorestoral levels). Mama had cured ham with soft cheese rolled up inside then we both had a local fresh fish served very dramatically by an over muscled show off, much to Mamas delight.
No miles.
---
Day 13. Padova to Combloux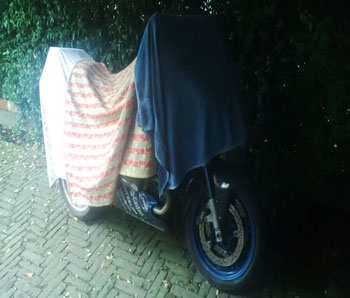 Protection by our host!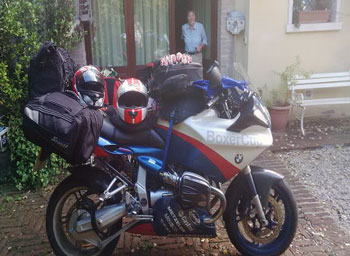 Max ready to go
320MLS
Used motorway as alternatives were deemed too lengthy and had an uneventful trip, lovely temperature of 27 degrees, decent sandwiches in Italian motorway services, entered Aosta valley after Turin and was treated to magnificent views for the next 40km before entering the Mont Blanc approaches when we spent the next 30km in tunnels before the Mont blanc tunnel itself (11.5km) this time not too hot and smelly from lorry exhausts. Paid a quick visit to Chamonix and saw the glacier then off to mountain top Chambre d'hote in brilliant sunshine to stay in typical Haute Savoir farm house type building. Simple but great tasting dinner with home grown vegetables. And local hooch including an illegal apricot distillation which everybody has here and was great.
---
Day 14. Monte Blanc to Champagne
Bright and cool trip down the mountain with great views, nice to see in daylight and while not raining. Diverted to Beaune (our favourite town) for lunch in town centre. Then on to destination in the Champagne region for some authentic Creole cooking in an amazing beautifully restored farm owned by an authentic Creole family. After 300miles on motorway we had enough and did the last 75 on smaller roads much better if a little slower. Noticed several groups of bikes on trailers going home to Germany after their tour (I want to say cheats but then we use trains and occasionally ferries don't we) another bunch of Harley riders had all their luggage in a support truck, really!
---
Day 15.
Sadly all good things must come to an end and this was it, 475miles to home. Had a really gentle ride as far as Laon and after all these years managed a quick lap of the old city which was beautiful, helped no doubt by bright sunshine but had ran out of time then, so on to the A26 and blasted up to Calais. About 10 miles from Calais noticed what I thought was rubbish in central reservation on passing the rubbish turned out to be a black guy lying on top of the two Armco barriers as if sleeping! Odd. Anyway arrived Calais with 10 minutes to go only to find that there was a huge backlog and there was a two hour delay!! Bloody annoying . It turned out to be a one hour delay, not as bad but the damage was done. Really good ride home round M25 and M4.
Total for trip 2657 miles about 40 underground and 20 under the sea! Those of you who read Bike magazine will have read recently that there is an alternative to the soon to close Autozug motorail from Holland which we may try out on a trip to Turkey next year, that is 2016 as we are off to New Zealand after Easter.
Watch this space.
---